And we're on to Week 3! This one is so fun and the designers really had fun with it too! Here is the prompt:
Week 3: Fairytale
This theme is a child's dream come true! This week you're going to translate a fairytale into everyday wear.


Be sure to VOTE
for
two of the designers at the end of this post.
Baby
Nest U
SA - Modern Alice
Hi again! This is Richelle and Reine for Week 3! When the theme was revealed for Week 3, me and my daughter already knew we needed to do Alice in Wonderland. She's one of our favorite characters. Alice is so much alike like my daughter - entering pre-puberty, sensible, adventurous and has insatiable curiosity about her surroundings. Her style is feminine, but not overly feminine and she is always wearing a beautiful shade of sky blue. Alice has a very effortless look that's always ready to partake in adventures that require comfy clothes. I spent some time visualizing what we wanted to convey on this outfit without hitting the viewer over the head with it. After all, the theme is to make a fairytale into everyday wear.
I wanted to do something modern but still have the features of the classic, contemporary style. My idea behind the whole outfit was what would a 10-year old Alice would wear in 2020? So I decided on using cotton and denim fabric to give it texture, modern vib

e, and structure without losing the whimsical and feminine features of Alice's clothes and sacrificing the wearability and comfort.
I used the Little Lizard King Oxford top as base and self-drafted the puffed flutter sleeves. I also drafted a pleated denim skirt using this medium weight denim fabric from Califabrics. I wanted to add some hard features and this denim was perfect for giving a nice volumized skirt. It features a flat waistband and elasticized back for comfort and ease whenever Reine had too much of the macarons and teas. To give a nod to Alice's apron, I self-drafted a suspender that can be attached to the skirt. Alice loves bows so I made sure we incorporate that to the outfit. I made a removable bow brooch that attaches via a brooch pin. She also loves her black hair bow but to make it modern, I made a scrunchie with a big bow using the Little Lizard King Birmingham bow. Now to my most favorite item from this collection -- the bunny circle purse. This was a labor of love! I quilted layers of padding and cotton and added this Boho Bunny Applique from Hazel Alekmond. I mixed hand embroidery and topstitching to give a mixed media feel. The main fabric has some shine and glitters that look like leather in real life! I used gold hardwares and zippers to complement the gold thread on the denim and suspender and the gold hearts from the brooch and applique.
We had so much fun making this collection. I hope you love it too! For more photos and behind the scenes, visit us at Instagram and Facebook. Reine also made some printable coloring pages. And don't forget to vote!
Sew a Little Seam - Tale as Old as Time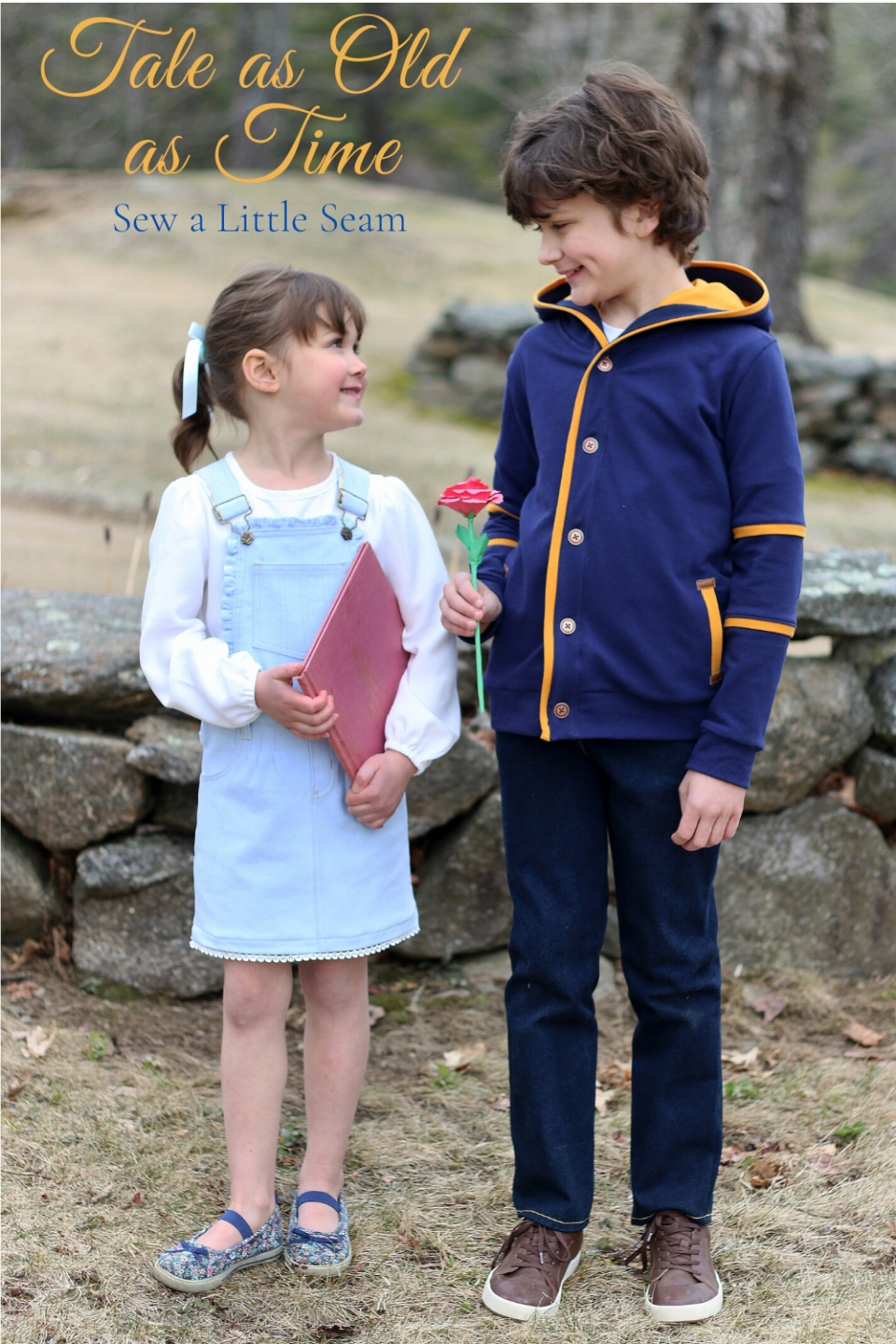 I'm so glad I made it to week 3 for Fairy Tale week! I'm a huge fairy tale fan and one of my favorites is Beauty and the Beast. I asked my son if he wanted to be Gaston or the Beast and he chose the Beast. I had to explain that he wouldn't actually get a full fur costume. But it worked out great because their relationship reminds me of Belle and the Beast - so stubborn one second and then so sweet the next. I decided to go with the Disney look of Belle in her blue dress and the Beast in his blue and gold suit.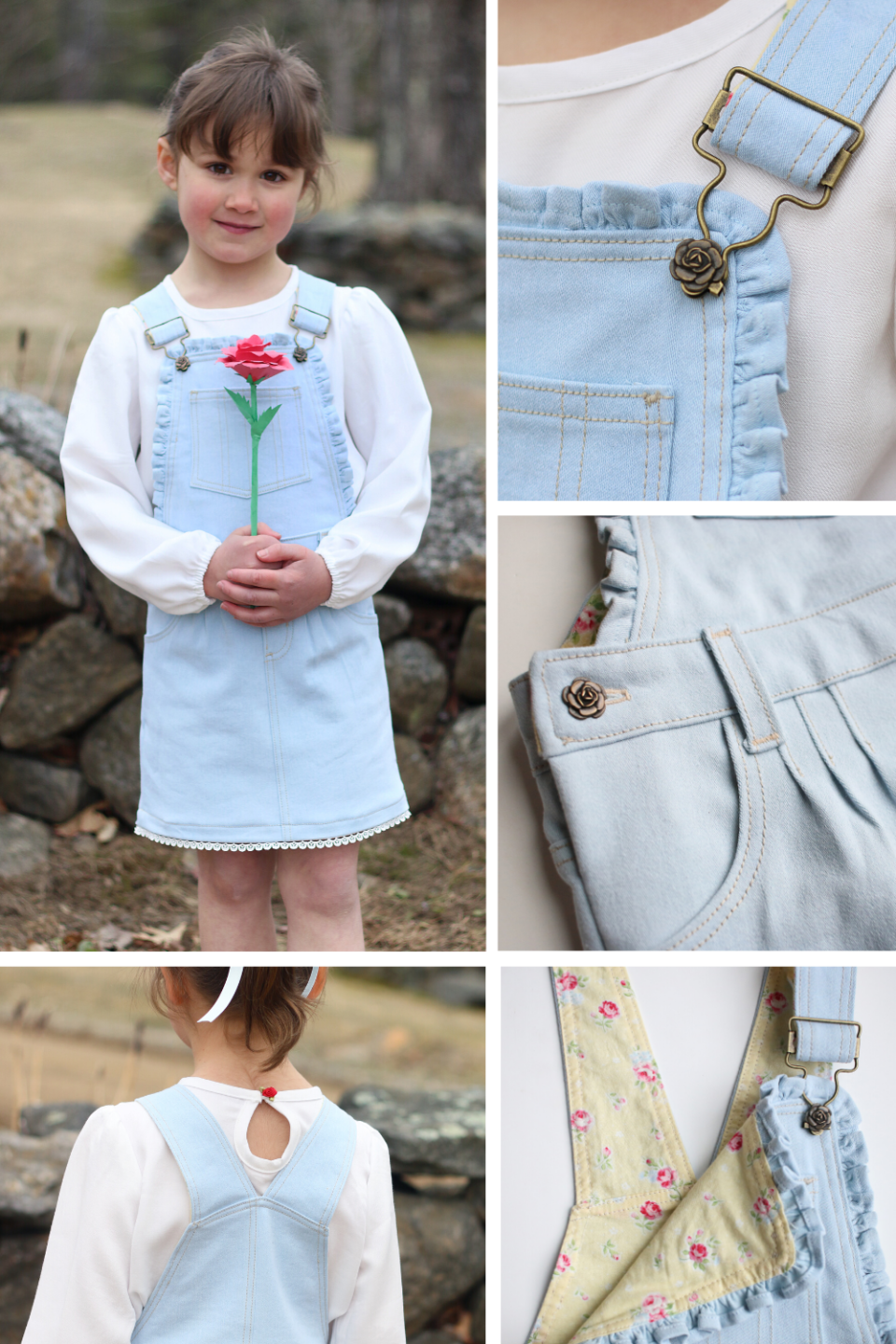 For Belle's look I drafted a denim overall pattern. The skirt has three pleats on each side and curved pockets, and the bib has a patch pocket and a cute little ruffle. Belle needs some roses, so the buttons are antique brass roses and I used a red ribbon rose on the keyhole of her top. The lining fabric has roses on a yellow background like Belle's ball gown. I also added some white trim to the hem of the skirt. Her top is the
Juniper
pattern modified to have a keyhole back and the sleeves from the
Willow
pattern. I used a viscose twill that is really soft and drapes nicely. The bottom is finished with a pretty leaf trim if she wants to wear it separately.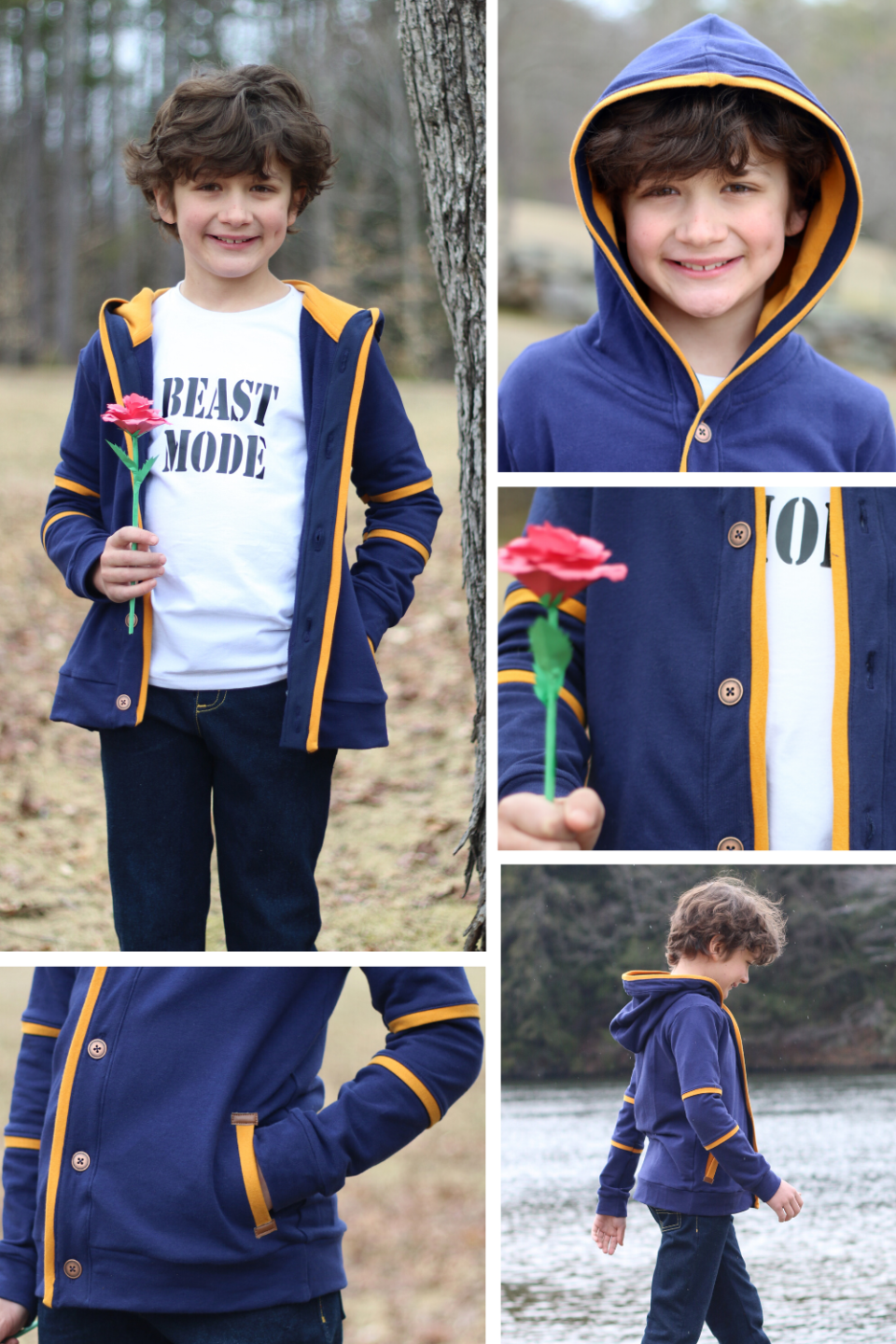 For the Beast's look, I modified the
Constance
pattern to have a button front with gold trim that wraps all the way around. I used the welt pockets from the
Ollie
pattern and added some leather trim to the edges for a little extra detail. I added gold trim to the sleeves too. The white tee underneath is also made from the Constance pattern and I added vinyl to the front. The jeans are the
Grady
pattern. We also made some paper roses as our art project for the week to use for the photos.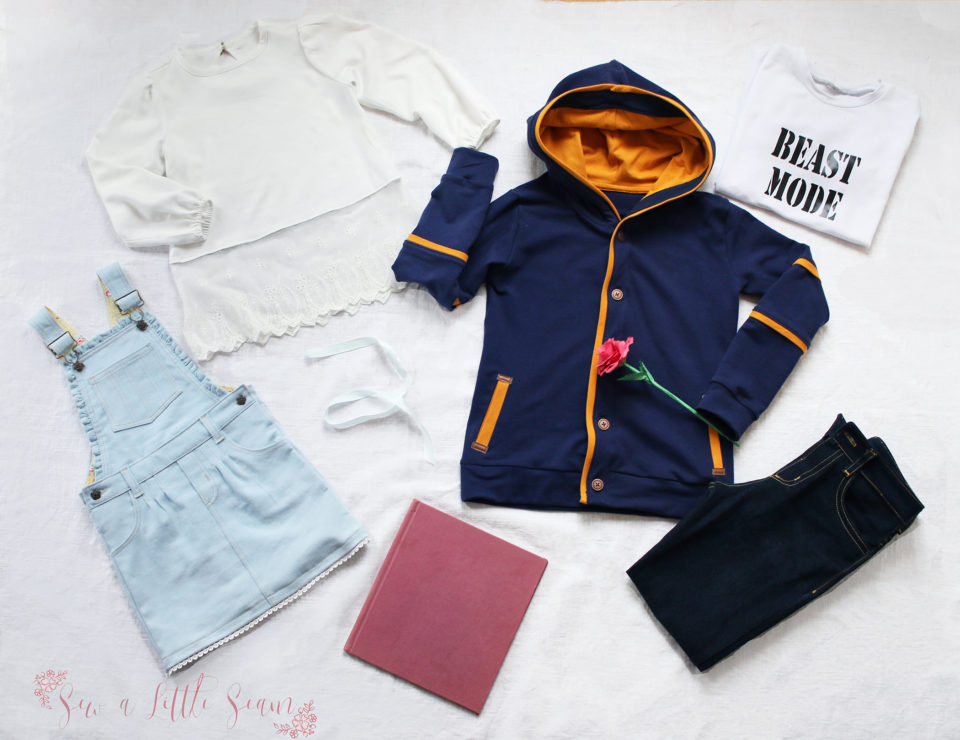 Thanks for reading about my fairy tale look! If you'd like to see more photos, you can head to
my blog
.


Tip Stitched - To Grandmother's House We Go


Out of the four themes, this week was the one I was most worried about. Miss Socialite is twelve so she's not as into fairy tales as she used to be. Still I thought her pick would be Ana or Elsa since Frozen 2 came out recently and she has been watching it. To my surprise she immediately said "Little Red Riding Hood!" when I asked her for a fairy tale idea. Obviously that meant a red hooded cape, but what else? When I asked her what else would go with it she said she had to think about it. While she was searching pinterest I was thinking up a cute dress, maybe a knit bodice with a woven skirt.
Well she put a halt to those thoughts. She handed me this sketch of a red cape, white tee, gingham shorts and a red overskirt. It seems I have a little designer on my hands. Whelp, she asks and I deliver. She originally wanted red gingham, but I had to swap it to black because is what I had on hand. I actually think it works better and in the end I think she agreed with me. I also opted for a tie closure for the overskirt. Aside from those small changes I feel that I accurately created her vision. One of the perks of sewing is that I can make these kinds of ideas come true for her.
For the cape I used McCalls 7460, view C because I definitely wanted the hood and she chose the the squared hemline. This red crepe, from Minerva Fabrics, was in my stash and is the perfect shade of red. I also used the crepe for the overskirt which I drafted myself using her measurements. Lastly the shorts are McCalls 7150 and modified them to have a flat front and adjustable button elastic back. The black and white gingham shirting was supposed to be a shirt dress for me. Sadly this is not the first time she has claimed fabric from my stash that I already had plans to use. Thankfully, I still have two yards so maybe that shirtdress is now a shirt. LOL
She loves all the pieces and I love that she designed it to be practical for everyday wear. Head over to my blog,
TipStitched
, for more pictures and details of how I drafted the overskirt and modified the shorts. Fingers crossed I'll see you next week, Tiffany of
TipStitched
That's Sew Kari - Present Day Princesses
Yay!!! I've been looking forward to Fairy-Tale Week from the moment the themes were announced. Over the years, I've created numerous fairy-tale-inspired dresses for my two girls. However, my girls are past the frilly dresses and of course, I want them to wear it afterwards! I knew immediately I'd choose Princess Aurora for my youngest. Her name is Aurora and I can't believe I've never made her a single thing Aurora-inspired. I had an idea for my oldest based on her personality and I was pleased that she picked the same -- Princess Belle. As I was formulating my idea, I decided to bring the princesses to present day as tweens like my girls are.
Princess Aurora :
I sewed up a casual outfit with just the right amount of glam. To start, I made a pair of cropped jeans with hand-beaded light pink and iridescent jewels added to the pockets. I started with the Tyler Skinnies by Petite Stitchery & Co. I cropped them and finished with a frayed hem (stitched above so they won't fray too high). On the waistband, I added a light pink jeweled shank button. The denim is
Indigo Washed Designer Stretch Denim by Cali Fabrics
that I got with my pre-season shopping spree. To let you in on a little secret: this denim is actually inside out. The backside was just the right shade of blue for my nod to Aurora's fairy godmothers fighting over blue and pink. For the top, I started with the bodice of Wimberley by Little Lizard King, added the high-low peplum from the new Thistle Dress by Jennuine Design for One Thimble Issue 23 and added self-drafted bow sleeves with peek-a-boo shoulders in likes of her famous pink dress. It's sewn up in a super soft knit so it can double as a sleep shirt. My Sleeping Beauty requested the "Nap Queen" iron-on so I grabbed my Cricut to make it happen. The final piece of the outfit is an oil cloth cell phone purse. It features a single shoulder strap, large grommets and matching zipper. The oil cloth is also from
Cali Fabrics
! (I snagged the LAST yard...)
Princess Belle:
For Belle, I knew I wanted to go with a preppy outfit as a nod to her love of books and learning. I started with a self-drafted skirt with a fitted side-zippered waist in a bright yellow floral eyelet. The skirt has a built-in white cotton pettiskirt under the main layer. Next, I turned to the Give Piece a Chance Crop Top by Duchess & Hare and used just the lining pieces and added the desired length so it would end at just above the top of the waistband. I used a solid white linen from Riley Blake Designs and adorned the back overlap with 5 red heart buttons. I added a large rose in red foil iron-on from Cricut to tie in the rose that the Beast has under glass. The final piece of her outfit is a cropped, fitted denim jacket from my remaining denim from Cali Fabrics. I started with the
Clementine Jacket from Violette Field Threads
and removed the front overlap, cropped it several inches, and added a bottom band. I also pieced the back of the jacket together to mimic a jean jacket my daughter owns. It's fully lined and every seam is double top-stitched. The lining also features a denim facing along the front edges.
I hope you love it as much as my girls do!! I grabbed some screenshots (wink,wink) from their social media accounts because these princesses couldn't wait to show them off to their friends.
Visit my
BLOG
for more pictures and details!! Before you go, vote for your two favorites below!
Now it's your turn to help out! Use the voting widget below to vote for TWO of the designers:
This week the celebrity sewing guest judge, Mandy
of Sugar Bee Crafts really has her work cut out for her!
1/3 of the designers score is determined by the guest judge
1/3 of the designers score is determined by the panel of judges
1/3 of the designers score is determined by YOU, the audience!