I knew it was going to feel like this when we got to Signature Style week because of the shortened Season this time around, but WHERE has the time gone? It's already time for the Signature Style looks, and the Season 22 designers have really brought their A game!
Be sure to scroll all the way to the end of the post so you can support TWO of them with your vote.
The Sewn Edge - Barragan in the City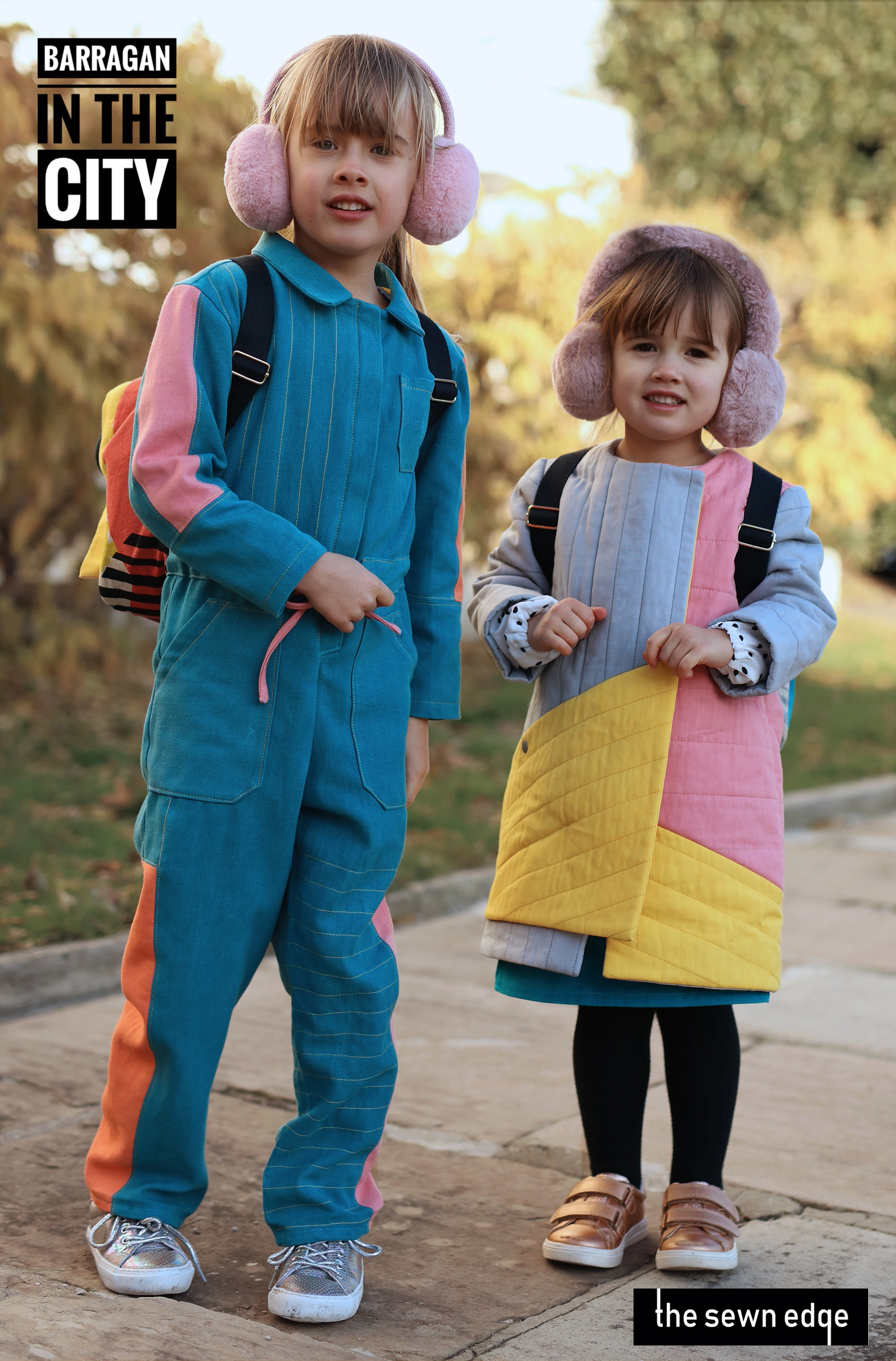 It's the final!! I can't believe it's here and I'm here, thank you so much!
For signature style week, as an Architect myself, I have chosen the work of Mexican Architect Luis Barragan as my inspiration. Barragan strove to create "emotional" architecture. At the time of his Pritzker prize win
, he was alarmed that architecture had banished "Beauty, Inspiration, Magic, Spellbound, Enchantment, as well as the concepts of Serenity, Silence, Intimacy and Amazement." His work can be thought of as minimalist but sumptuous in colour and texture. Particularly I've taken inspiration from his use of pinks, yellows and oranges set against the blue Mexican sky and his love of rhythm, texture and water.
These outfits have been conceived as outfits for the spring. Now that the girls are big enough to handle trips on the train and days out in London they are looking forward to visiting the Natural History Museum, lunch with their Auntie and looking super stylish while they do it!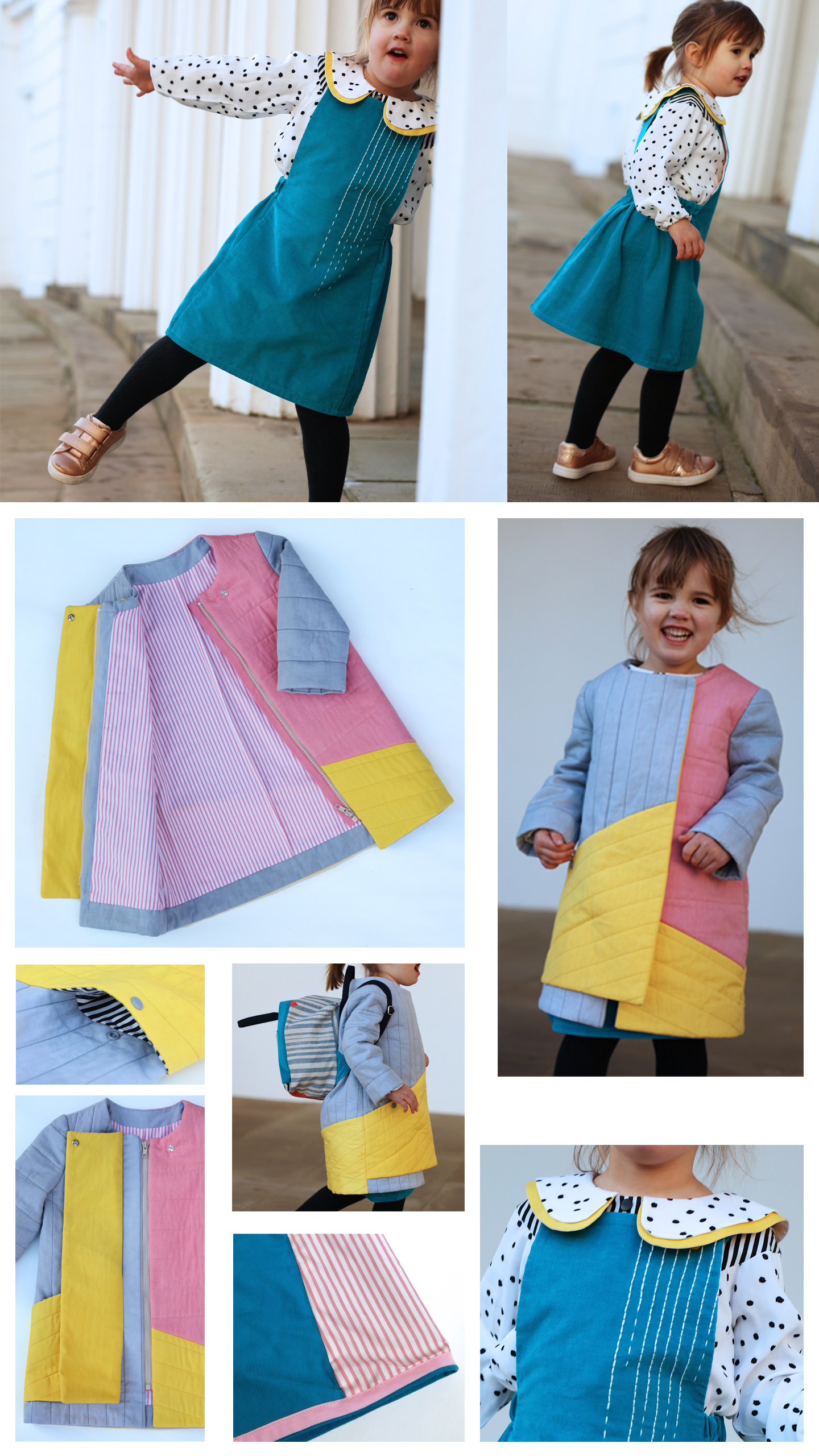 My youngest daughter, who loves clothes (she has been selecting her outfits every morning since she was 18 months!), is wearing a quilted coat that I designed for the final week. I wanted to make something restrained and elegant, but also bright, joyful and wearable. I spent some time considering the seam placement (some quilting lines are also seams), closures and the hemline to ensure the quilted blocks of colour were uninterrupted and took centre stage. The outer layer is made from white organic cotton which I have dyed to get these perfect shades of pink, yellow and grey. It is quilted onto a polyester wadding, with lines running vertically, horizontally and diagonally, at different offsets (depending on the colour) and wrapping around her body, to add texture and rhythm. The lapel is designed to be shorter at the front hem to give a stepped effect. It covers the zip and gives the coat a lovely asymmetrical line, it is closed with a popper hidden inside. The coat is faced internally in pink and lined in pink striped cotton with white polyester lining in the sleeves. There is a small lined pocket sewn into the outer yellow layer, which is closed with a grey popper.
Underneath she is wearing my own pattern, Treasure Hunter Pinafore in a teal coloured needlecord, which is lined in the same pink stripes and has a pink bound hem, I have embroidered several white lines down one side of the bodice, to represent Barragan's use of falling water in his work. It also adds contrast, texture and interest to this simple dress. The dress is closed with one yellow and one teal coloured popper.
My little one's blouse is the Irma cardigan pattern by Ikatee which I've made in a spotted and striped viscose. I have added a double collar to give a little splash of colour to match the coat. I love the way the layers of stripes, spots and yellow sit with the top of the pinafore.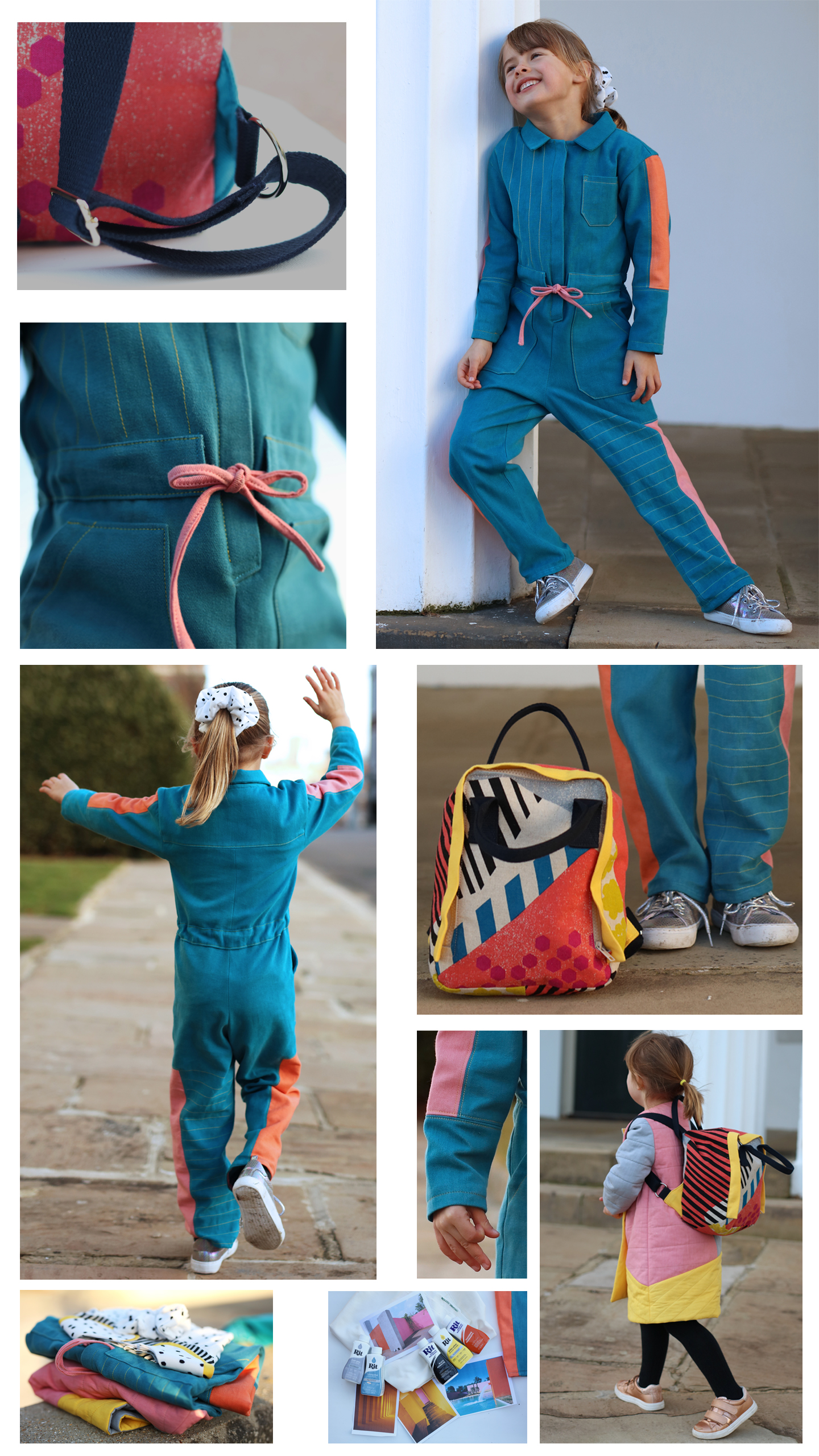 My eldest daughter (unlike her sister) has finally outgrown the, "only dresses or skirts" stage and is embracing lots of new styles. She is less interested in pretty things than her sister so we decided to make a boilersuit (pattern by Ikatee) over a simple black Titchy Threads pattern t-shirt for her. To match with the modern, urban feel and to get a robust finish I wanted to use denim for the boilersuit. To achieve the right balance of colours I, again, dyed this organic cotton denim using Rit dyes, from MinervaCrafts.com. I did this in my kitchen sink rather than the washing machine so that I could control the quantity of water, dye and timing to get the right colours. I have added colour-blocked strips of orange and pink to the upper sleeves and lower legs of the otherwise grey/blue suit. These colours match diagonally across the body. The pattern has a small heart pocket, to balance this and add further interest and rhythm to the bodice I have added several vertical yellow topstitched lines, reminiscent of the quilted coat and have balanced these with a series of horizontal lines running around the opposite leg. I have also added a placket to the front to hide the fastenings, which I felt would distract from the clean finish and made a little pink denim tie for the waist. The t-shirt is in a black jersey and a great basic, it was also really fun to make something so simple after a week of complicated cutting and sewing! She is wearing a viscose spotted scrunchie matching with her sisters blouse.
A bag is a necessity for any day out! I've made each girl a little backpack from an Echino cotton-linen blend. The pattern is the Raspberry Rucksac by Sarah Kirsten. I've left the front pocket out, so as not to disrupt the bold graphic print of the fabric. The kids love these backpacks which open right up and can be used as a den for all the teddies who have come along for the ride!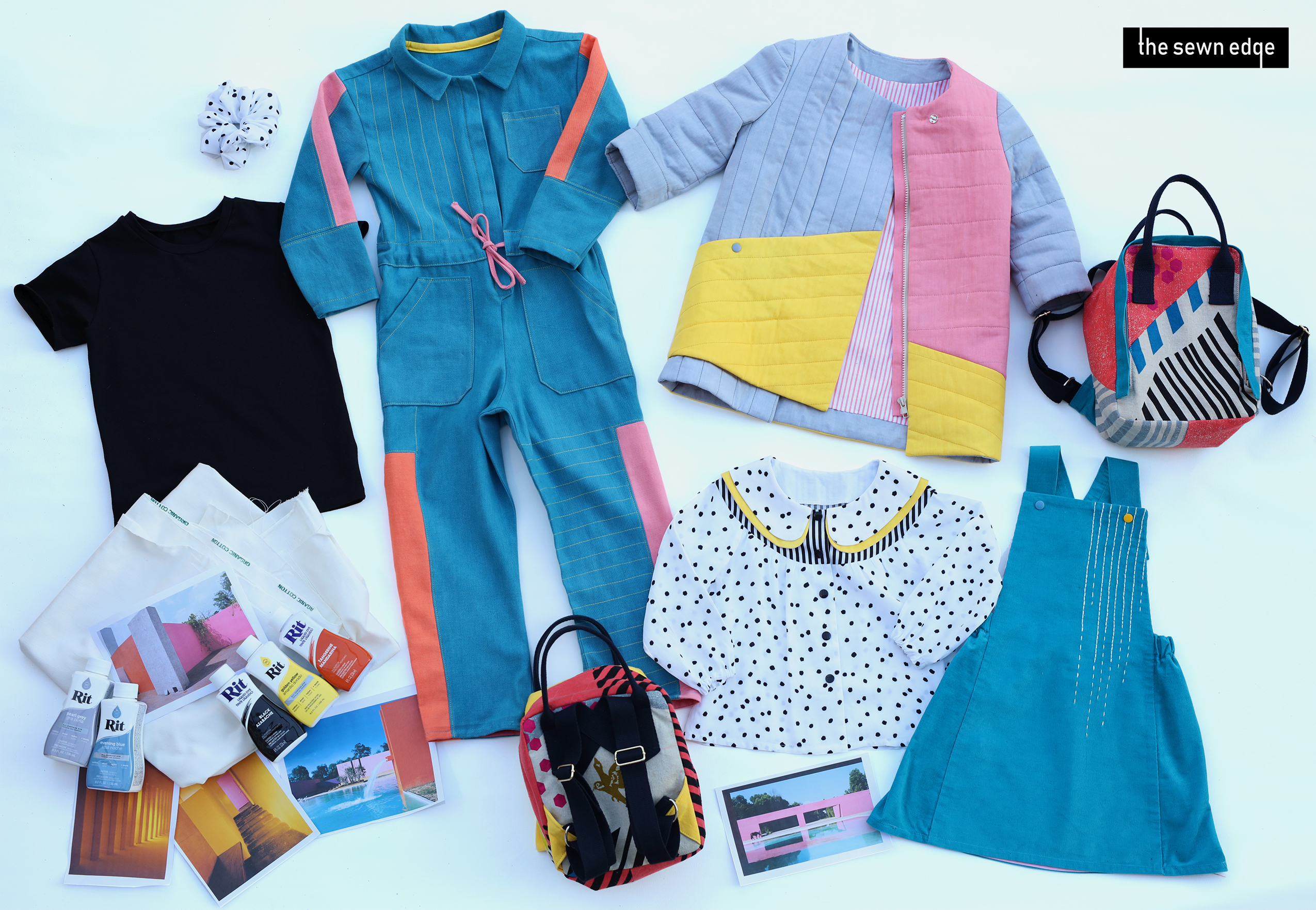 I loved making these outfits. I haven't practised architecture since my children were born and it has been a real treat to share some of my old life with them. I hope that you like what you see and have enjoyed Project Run & Play, Season 22! Don't forget to scroll down to vote...
You can learn more about my work and these outfits over on:
My patterns (of which there will soon be more), including the Treasure Hunter Pinafore are here:
Made by Jack's Mum - Everyday Dress-Ups
Wow! I can't believe it's the final week already! I've enjoyed the creative process so much and it's been a pleasure hanging out with some other wonderfully talented designers. However, I have to admit I'm looking forward to dialling down the pressure next week!
The theme for this week is 'Signature Style'. The driving force behind everything I design and MBJM as a whole is the idea of '
clothing for adventure
'. Adventure for children can mean so many different things and in
week 1
and
week 2
I shared looks for outdoor adventures - for climbing rocks, throwing leaves, paddling in streams and investigating woods. They showed the 'run', this week is about the 'play', and about imaginative adventures.
Out of everything I have ever made for my boys, the hands-down winners, the things that they reach for time and time again are the dress-ups. They adore make-believe play and being able to dress up as their favourite character takes their games to another level. Over the last year I've also started a fun tradition of making outfits to match the movie whenever we go to the cinema. (Check out
Buzz & Woody
and
Hiccup
!)
However, I'm a practical person and character costumes are not often small-child-friendly. Everything these boys wear needs to be suitable for not only playing make-believe games, but also playing football, running races, dancing, going to the shops...
Which brings me to 'Everyday Dress-Ups'. Every item in my look this week is inspired by a rather popular cold-themed movie BUT can also be used as part of an everyday outfit. Since Jack was taking his girlfriend (!) to see the movie I obviously had to include her in the fun!
Jack's Kristoff vest began life as the
Hygge
but I removed the collar and changed the curve of the bottom hem to more closely reflect the original. I found the most perfect, soft wool from
Minerva
(who kindly sponsored this season of PR&P) but it was far to thin for my needs so I added a layer of thick batting for a squishy, quilted feel. I lined the whole thing with teddy for extra warmth. The fur trims are all removable and attach with snaps meaning Jack can snap the fur on to play then snap it off to wear everyday. His top is made using a mystery knit I've had in my stash for ages. It's too thin for a regular sweatshirt but looks perfect under the vest and makes a great base layer to wear on cold days. After the joy of plush-backed sweat in
week 2
Jack has firmly requested all future clothes be made from the same fabric. I always aim to please so his Kristoff trousers are made from a beautiful rust coloured sweat using the
Four Seasons
pattern. I added a topstitched seam at the knee and faux-leather piping along the outside leg for added interest.
Charlie's Sven vest is a mash up of the
Hygge
and
Woodland Wanderer
. It is fully reversible with one side made from the most luxurious faux fur from Minerva and the other side is a green wool blend. I added some appliqué Christmas trees to the green side since I see this being worn a lot over the next month! I used leather for the button loops to tie in with the piping on Jack's trousers. I left about 5cm (2") open along each seam down the middle of the hood to allow the addition of antlers (or in the future maybe ears for a different dress-up?!). I actually sewed some beautiful, padded, corduroy antlers but just before the photoshoot they were accidentally damaged. Dressing-up is all about using your imagination and what you have to hand so I grabbed some washable paper 'leather', cut out a new set and we were good to go! We all know how much Sven loves carrots so I created some using Merino craft felt. Charlie's sweatshirt is an
Adventurer Raglan
. The dark grey sleeves go with the reindeer outfit well, but the contrasting lighter body make for a stylish sweatshirt when worn on its own. His trousers are also
Four Seasons Joggers
made using plush-backed sweat with appliquéd carrots to tie in with his character.
Lola's Elsa outfit is basically a deconstructed
Emi
dress. The top is the 'all in one' sleeve option, sewn as a t-shirt but cut at the dress bodice length creating an almost-cropped top (fun without being too cold!). I used a gorgeous iridescent sequinned fabric and fully lined it with jersey to avoid any scratchiness. Worn on its own it suddenly becomes just a fun, sparkly top with no hint of snow queen. Her skirt began life as the
Emi
circle skirt before being transformed to reflect the patterns on the bottom of Elsa's coat. I added a white pom pom trim which always makes me think of snowballs! Lola's shrug was my favourite garment to create since I designed it completely from scratch. With the exception of the cuffs, the whole thing is a single piece of fabric with just one seam under each arm. I added faux fur around the edge to tie in with the snow theme. I finished the whole look by hand-stitching some beautiful sequenced lace to the back.
No one could ever look at the first photo and not know immediately which film it was inspired by. BUT, every piece is comfortable and can be worn on its own without looking like a costume. In the second photo collage Jack is wearing his jeans and hoodie from week one and Lola is wearing Jack's trousers from week 2 to show how easy it is to mix the dress-ups in with everyday clothes. The possibilities really are endless! Charlie has simply mixed his reindeer outfit up and looks completely different!
Thank you so much for your support during this competition! I've loved the challenge and the opportunity to learn new skills (who knew Elsa braids would be something I would need to do as part of this job?!).
For more photos please check out my
blog
.
The boys are very keen on playing with their bows and arrows (they've even made some at forest school), so I decided it was time to add to their wardrobe with an Archery themed outfit. And who better than Robin Hood and his cousin Will Scarlet!
I looked at traditional medieval archers outfits (and more fantastical versions). Archers need to dress lightly for movement purposes so would usually have armour in leather and chainmail hauberks (tunic undertop). I decided Robin Hood as the chief outlaw and the best archer in the land, would have a ornate 'leather' jacket, with matching gaunlets, and, a chainmail hauberk, over a laced up shirt with hood. This has been made in French terry and CL throughout.
I took the my
Gawain
,
Mystic
and new pattern from last week and blended them all together. I used chainmail fabric with printed leather belts, added the laceup shirt element to the top and made sure the split in the hauberk at the bottom matched with the belt element on the chainmail top. I added the jacket elements as a normal blocked top but then sewed the front jacket overlap into the blocking so it would be one top but look like 3 altogether. I added decorative stitching to the 'leather' parts of the outfit, on the jacket and the shoulder spaulders and gauntlets as often these would be highly ornate pieces of armour and showed status. The sleeves are also in chainmail as the hauberk is long sleeved and I've added thumbholes to make the gaunlet gloves more authentic. The gaunlet shape has also been changed to resemble proper archers gloves. The colours were chosen to help blend into the forest background which made photos slightly difficult!
Will Scarlets armour is slightly different. Again he is an archer, but he was also known as the most skilled swordsman of the troope. With this in mind I've given him a more armoured look, with a chainmail hauberk but with a 'leather' overtop with hood and matching gaunlets. This means he can still move quickly but has more protection from swordplay. The front crest is made from vinyl to give a more leathered look to the armour. Again I matched up the hauberk split to be in line with printed belt fabric and the hauberk sleeves are chainmail. The gaunlets again are decorated with cuffs and the shape is different because Will Scarlet liked to be slightly more flamboyant than the rest of the band. This is also reflected in his choice of clothing colouring - rather than the green/browns favoured by his friends. However I did find that this colour red did blend fairly well into the background for photos so perhaps he knew what he was doing!.
These outfits should have been completed with cloaks but sadly due to illness I wasn't able to get those done in time.
The trousers on both outfits are lightly padded in the knee area as archers need to spend time kneeling etc and have some leg protection. Robin Hood's has been quilted with a fleece and cl backing and Will Scarlet's has been pin tucked and again backed with cl. I also made some proper medieval style undershirts (my own pattern - based on a Viking style shirt their father has) - so these are designed to be worn tunic length with a belt. These have been sewn with French seams to prevent irritation and have eyelets, have side splits and a lace up front finish.
I made the belt from vinyl leather and I had to use clasp fasteners as the proper ringed belt hardware was lost in the post. These have been sewn and riveted. However these are easier for the boys to get on and off so I will leave the 'proper' style for another time.
The quivers were also made from vinyl leather and the boys picked a theme each - Will Scarlet's is stars and moon and Robin has of course gone for leaves and berries. These have been sewn together and riveted - and are adjustable with quick release clasps in the front. The arrow feathers are cut out out and glued onto sticks.
Lastly, for a bit of fun, I had to make some 'proper' Merry men hats. I found a couple of DIY guides on Pinterest, measured for size and then sewed them together out of felt with matching feathers.
These outfits have been a great hit with the boys and have been worn daily since making,(to the sounds of Robin Hood, Robin Hood riding through the glen) - which of course is the most important thing when making an outfit for anyone. If you'd like to see more photos etc then please go to my
blog post here
.
Now it's your turn! Use the voting wi

dget below to vote for TWO of the designers.
Our celebrity
guest judge, Lisa from Sew Over It really has a big task ahead of her this week!!!
The designers scores are determined as follow

s:
1/3 of the score is based on YOUR vote
1/3 of the score by this week's celebrity guest judge Lisa from Sew Over It