This week, the designers get to share what makes their country special!!! And the rest of us get a very special tour of Australia!
Idle Sunshine - Hunter Valley Homeland
We certainly love our homeland! Our entire family of 5 were all born in Newcastle in the Hunter Valley of New South Wales, Australia. When you think of the Hunter Valley, you think of the city of Newcastle, the beaches of Port Stephens and the beautiful Hunter Valley with its vineyards, horse industry and coal mining. It is such a diverse area, but since we are all going to the beach next week for our next theme, we had to visit the beautiful Hunter Valley vineyards this week! It is such a beautiful area, full of attractions for the whole family, and a favourite for picnics, weekend getaways, concerts, gourmet food & of course wine.
The imagery that first came to my mind, was the asymmetrical patchwork patterns of the vines up and down the hills and valleys, which led me to the idea of an asymmetrical dress. I went to my stash and found this gorgeous mossy green corduroy, which I had purchased some time ago from a thrift store, and it gave me the perfect lines to work with. I drafted the bodice using the last dress I made my daughter, which was a hack of the Laguna dress from Simple Life Patterns Co. It is almost unrecognisable now after I changed the armscye shape, squared and added bodice height, lengthened the bottom, and changed it from a centre back opening to a asymmetrical front full placket. I drafted the a-line skirt to skim over her hips, added a waistband for visual interest and a pleat to the skirt front and back, to give some ease of movement. The 8 bold black buttons, which were recycled and also from a thrift store, represent the posts that support the vines. The sandals I found for the girls mirror the buttons beautifully too!
My second vision was a dress that represented a glass of red wine! The colour would be perfect shot amongst the vines for starters, and would tone in beautifully with the green cord and the theme I was planning to use. I sourced this gorgeous
Maroon Cotton Elastane Jersey
from
Wicked Fabrics
. Vivi is a friend of mine and I was thrilled to see she was sponsoring the Aussie makers of this season of Project Run & Play! I pictured a strapless dress with a rippling hi-lo mermaid skirt and to add a point of asymetrical difference, I cut the skirt waist front deeper so that I could add pleats at one side. I started with the Simple Life Pattern Co. Skyler Dress and cut the shoulders off the bodice and sleeves! It had far too much ease to stay up as a strapless dress, so I cut it down a cm or 2 on each side of the bodice and a couple of inches from the width of each sleeve. I drafted a curved shoulder band and attached it with elastic in the seam for stability. Once I had basted the pleats and the skirt was attached, I hand cut the hem higher at the front, before hemming. My girls are leaning towards more solid colours as they grow up, so they love these looks! You can visit
my blog
for more pictures and details on how I made these visions come to life!
Oh how fun it was to create our look for the kids for Week 1 of Project Run and Play - Patriotic Parade! Our brief to create something that showcased our wonderful country got me thinking about things I truly love. I love our landscape, big, wide open spaces, dry and hot summers, our native plants and of course, our unique animals. It was also important to me to find a way to incorporate some amazing Australian talent too, as far as fabrics and accessories go. With those things in mind I set off to design each pattern to create these three outfits for Ellie, Zara and Jack.
For Ellie, I designed a pattern for a sweet baby doll style sundress. The dress has 3 gathered tiers, elastic back and flutter sleeves. Ellie is all about comfort, so I made this using a super soft double gauze - the native Golden Wattle floral print was just perfect. In a former life this was a muslin wrap from an Aussie mums baby bedding business,
One Harper Lane
. For Jack I decided to design a fitted retro style t-shirt, with raglan sleeves and a Henley placket. I'm fairly new to sewing knits, so this was my first raglan, and first Henley placket and I gotta say, I am hooked on making this style! I opted to finish the sleeve and neckline with binding, adding to the retro feel! How cute is the kangaroo knit???? I loved the quality of this Elvelyckan knit, and the cord for the sleeves and placket matched up beautifully - this was from
Sems Fabrics.
His shorts were a true challenge... I was aiming for a nice slim fit, and wanted to make sure they had all the features in shorts to make them boyish and tailored. All the seams were reinforced, front pockets and welt pockets on the butt, and a fly! I used a linen to make these, and even though they wrinkle like nobody's business they turned out pretty cute!
For Zara, I designed a two piece outfit, consisting of a cotton blend tank top (with a Henley placket too because at this point, I think I have an addiction to this style) but also with a lovely deep scoop on the back. I finished the arms and neckline with a self made bias binding. To match the top, I created a midi skirt with waistband and waist ruffle. The skirt was made from a really gorgeous cotton linen blend, designed by an Australian textile designer Annette from
Thats Graphic Design.
I added in some belt loops to house the gorgeous bovine leather belt I made. Yes... I made the belt.. and the ties are kangaroo leather!!! Never in a million years did I ever imagine to be working with leather. In January I did a leather making workshop with someone I admired greatly -
Annie Zorzo
- and learned how to cut, sew and plait with leather. If you would like to see more pics and detailed info of my entry, head over to my
blog
to read more. We took our photos ''outback'' on a rural farm, in 42 degree weather (107 farenheight), so a big huge thanks to the kids for being such champions.
Tadah Patterns - Aussie as Mate!
Our gorgeous, sunburnt country is such a eclectic mix of landscapes, food, and cultures and that is reflected in my two very different looks for this weeks theme of Patriotic Parade!
I drafted this crop blouse with a round neck to represent the harbour bridge (albeit upside down!) and the shoulder feature is the towers at each end of the bridge. I used this beautiful fabric designed by indigenous artist Roseanne Morton, called Dropping Seeds, to represent our beautiful blue harbour. The layers on the skirt represent our opera house, which is a favourite location for our family. We've seen some wonderful pantomimes and concerts in those great halls.
"We're happy little Vegemites, as bright as bright can be" is a song almost every person from my generation can remember word for word. Love it or loathe it, it is an iconic part of our culture. My kids and I love it, so we thought it was only fitting to make a Vegemite outfit to represent the "aussie" food we love. I used the
Tadah Dolman
tee for the top and hand cut the little letters in iron-on vinyl to make this super cute little Vegemite Top. I borrowed the circle skirt from our
Breeze Dress
pattern and adjusted it to be a skirt only and then layered it with some sparkly black tulle for the "vegemite."
You can read more about our look and see some more pics on our
blog
.
Happy sewing
Tanya
Bubby and Me Creations - Iconic Australia Landmarks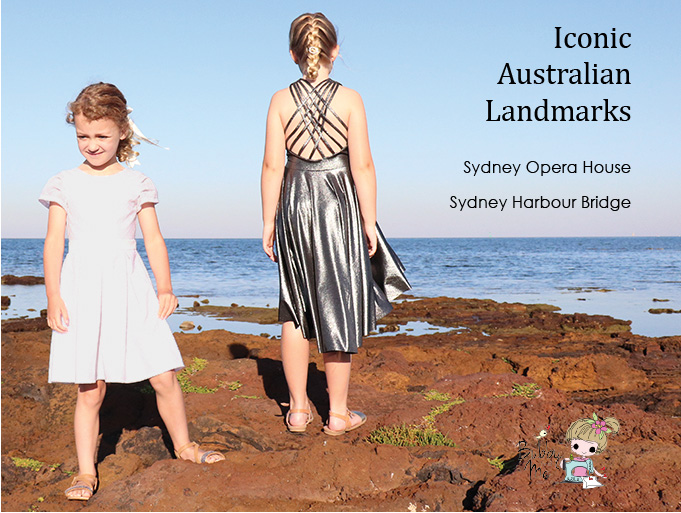 Hello and welcome to my very first look for Week 1 - how exciting! The
Sydney Opera House
and the
Sydney Harbour Bridge
are world renowned symbols of Australia. And while I'm not actually located in Sydney, I have tried to recreate the look of these iconic landmarks in my outfits.
The Opera House dress is a woven cotton dress that features three pleats on the sleeves, depicting the peaks on the Opera House. It has a fitted bodice, waistband and box pleated A-line skirt (if you are familiar with my patterns, you'll know I love a pleated skirt!) For the bodice and skirt, I chose a broderie anglaise fabric that has a tile like design to it, reminiscent of the tiles on the roof of the Opera House, and the waistband is a contrasting white cotton sateen. The back plunges down from the shoulders to the centre back waistband where an invisible zipper closes the skirt. The bodice is fully lined with voile and the skirt pieces were sewn as one with the lining. The pattern is my original design.
My Harbour Bridge inspired dress uses the Boo! Designs Skater dress bodice and coordinating Mermaid Skirt pattern. I scooped out the back section to allow for the intertwining straps, which reflect the steel structure of the bridge. For stability and to avoid stretching, the straps have elastic in them and have been bound in the same fabric as the dress. The dress is made from a lightweight foil polyester knit and has a fully lined bodice. See more on the
Bubby and Me Creations blog
.

I was very excited for the first week of Project Run and Play and the theme - Patriotic Parade. I live in Melbourne, Australia - a vibrant city full of artists and cafes, known for it's love of personal expression and delicious cafe lattes. I knew exactly what I wanted to portray and stumbled upon the perfect fabric to make it come alive!


For this look I combined a couple of
Puzzle Patterns
- for the pinafore (a classic Aussie childhood outfit) I combined the bib of the
Flying Fox
dungarees and the skirt of the
Merry Go Round
. Underneath I took the bodice and ruffle sleeves of the
Merry Go Round
and lengthened the bodice 7.5 cm (3") to make a top that fit perfectly underneath giving just that little bit of flair with the sleeve. I kept it simple because Melbourne's look is effortless chic.

I found this fabric and loved its background grey neutrality with the graffiti-esque print that looks like it could have been created by a child's imagination. Lottie and I grabbed a babyccino and a flat white and wandered our favourite graffiti filled laneways watching artists as they tagged up the walls, tourists as they took in Melbourne's free galleries on the side of the city's buildings and enjoyed all the atmosphere this colourful city has to offer.
For more pictures and details on this look you can check out my blog post
HERE
.
I'll also be posting more pics on my Instagram feed
HERE
.
Unfortunately, due to crazy weather in her location, one designer is not able to continue with Season 19. We're sorry to see her go, and wish her the best of luck! What this means is that ALL the other designers get to move on to week 2!!! Please support them with your vote, using the voting widget below.