How can it be Week 4, Signature Style week, of Season 23 already? This has been such a light and joy in a very dark time. The designers are TRULY to be congratulated for sticking it out to the end! And they will be rewarded...did you see
yesterday's prizes post
?
Okay without further
ado, here are the designers' Signature Style creations. Be sure to scroll all the way to the end of the post and support TWO of them with your vote.
Baby Nest USA - Rosita the Riveter
Hi there again! It's Richelle and Reine for Week 4. We can't believe we reached the finale week! Thank you so much for all the love and support! We had so much fun doing these projects. It's a welcome distraction during this difficult time. We had fun sewing and doing mini photoshoots on our front yard during the whole season. This week's theme is Signature Style and I wanted this theme to not only involve my sewing style and techniques but also Reine's preferences. My daughter is 10 years old and is very opinionated about what she's gonna wear, the style and the colors. We are Filipino-American living in the United States and I thought it's the perfect time to represent both. For this week, I give you Rosita the Riveter.
We were inspired by Rosie and decided to add our Filipino heritage in the collection. There's nothing more signature than our DNA. My daughter loves art and for this week we went for retro pop art colors. For the top, I used the Bebekins Laney Top and modified it to have this Filipiniana sleeve. Filipiniana also sometimes referred as traje de mestiza or simply terno is a traditional dress or top worn by women in the Philippines. We wanted a fun and playful look and used this Ruby Star Pop! Soda Fabric. I also added an inset with bias tape weaving. I love using bias tape and piping and I made sure I incorporated that for this look. I omitted the ruffles and opted for flat piping instead. Instead of using facing, I enclosed the seams using bias tape binding.
Rosie needs her infamous red bandana so I made this self-drafted red linen bandana scarf/headwrap. I wanted to keep the androgynous and utilitarian look from the 1940s and drafted a pair of shorts that was inspired from one of my RTW shorts. I added patch pockets, back felt pocket, belt ties, removable sash and removable suspender. The short features a flat front waistband and elasticated back. Reine loves rompers and requested that I make one for the Signature Style Week. The red linen is Robert Kaufman Brussels Washer. Both Soda and Red Linen Fabrics were from our local shop StitchologyAbq. The yellow blender fabric for the piping and weaving were from Ziggie Lane Fabric. I also wanted to add accessories that still have the utilitarian vibe. I made a denim flat cap style hat using the Little Lizard King Beccar. The look is not complete without a purse so I decided to make a matching denim satchel using the Little Lizard King Coralie pattern. I omitted the mermaid face and fins and ended up adding rows of yellow topstitching that also match the hat. I also added yellow flat piping from the same yellow fabric used for the top. The 12 oz Blue Designer denim was from CaliFabrics.
For more pictures and behind the scenes, visit us at Instagram and Facebook. Reine also made printable coloring pages for your kids. We had so much fun doing these and thank you so much for keeping up with us every week! Remember to vote! Maraming salamat!
Sew A Little Seam - Classic Comfort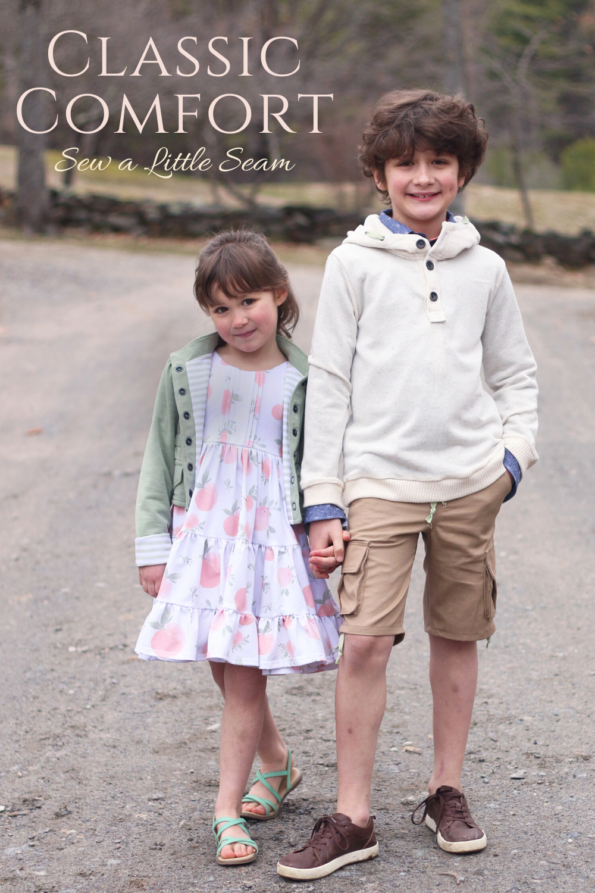 I'm so excited to have made it to the final week! This has been such a rewarding experience - many moments of doubt and seam ripping, but a lot of fun! I thought this week would be the easiest week, but I struggled a bit trying to pinpoint what my signature style is. When looking back at my makes I found that I'm drawn to classic looks with little details to make them unique. I love making comfortable essentials that my kids will love to wear and get lots of use out of.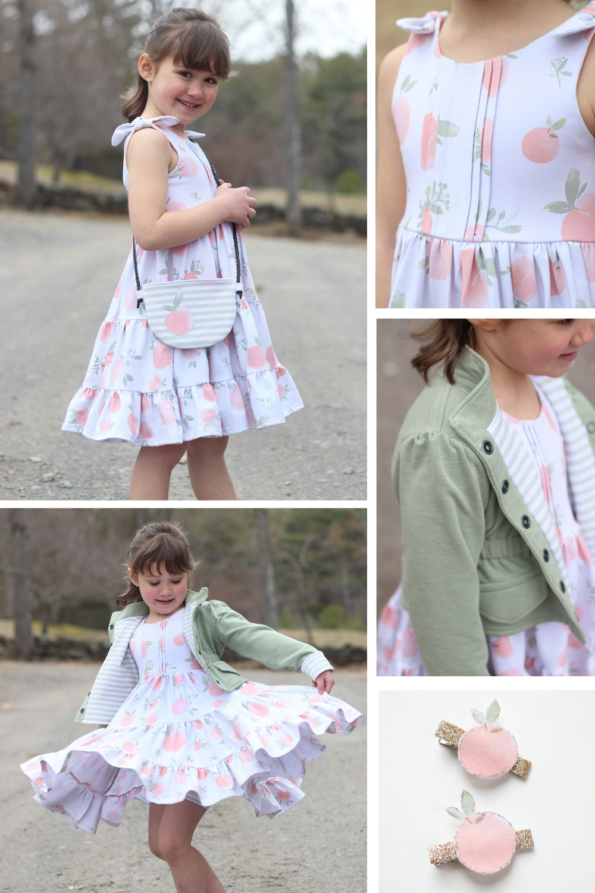 For my daughter I like soft colors and ruffles, with just a bit of edge and she loves dresses with twirl factor. So this week I used the Willow dress as my base in a pretty peach fabric from The Styled Magnolia. I added six rows of pintucks to the front bodice, narrowed the shoulders a bit to add a tie, and raised the back. To make the skirt super twirly I divided it into three layers, each layer double the size of the last. That was a lot of gathering, but she loved the result! Jackets are also a big part of my style, so I used the Ollie Bomber Jacket pattern to make a utility jacket from a soft French terry and fully lined with a striped cotton jersey. I added a gathered sleeve cap, a placket for snaps, a stand collar, flap pockets, and elastic waist. I removed the bottom waistband, and made the cuffs so they could be rolled to show the contrasting fabric. Since I knew she was going to be doing a lot of spinning, running, and jumping, I used the Movie Night Pajama bottoms to make a pair of shorts to wear under the dress. To finish the look, I made a little striped bag and a pair of hair clips. For the purse, I cut out a peach from the fabric and fused it to the front of the purse then added glitter around the outside edge. For the clips I hot glued glitter faux leather to the clips and then interfaced the peaches before adding them, and then finished the edges with glitter glue.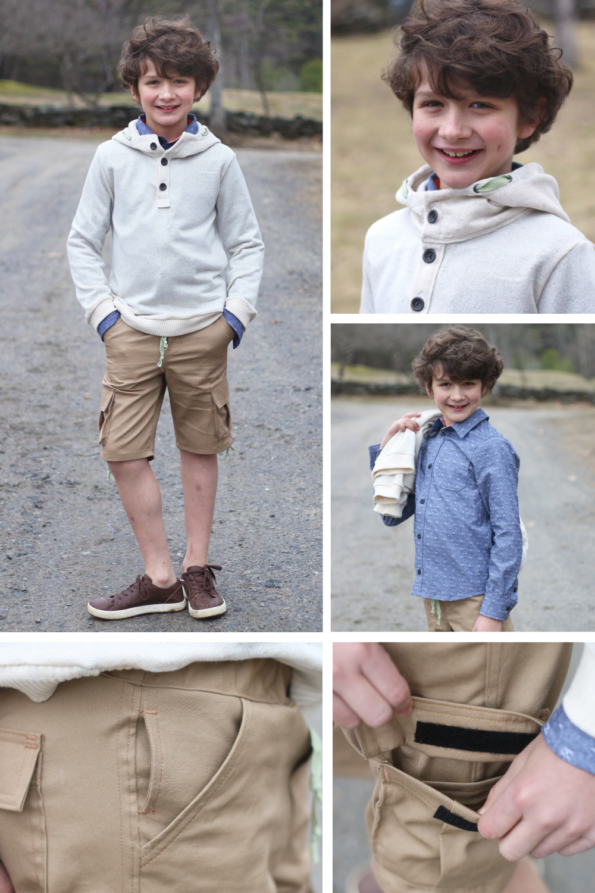 For my son I love classic looks that are a bit preppy and he still likes whatever I make him. I used the
Constance pattern
as a base for his hoodie. I added a button placket, and altered the hood to have a high collar in the front. I added grommets and a drawstring to the sides of the hood for a fun detail. I had a thick rib knit that matched the French terry perfectly to use for the waistband and cuffs. I layered the hoodie over a
Birch Button Up
shirt in a chambray, patterned fabric. The button up has a traditional full button placket for the front and tower plackets on the sleeves. All seams are flat felled for a nice finish inside. The shorts are the
Grady pattern
with some modifications. I made them slightly wider through the leg and added the cargo pockets from the free
Linden add on pack
. Each pocket is closed with Velcro to make them easy to get in. I added a secret pocket at the side seam and also one inside the cargo pocket. My son thought that was really fun! I added grommets and drawstring to the waistband and I also added grommets to the inside hem of both legs to add a drawstring that hung down for a little extra detail.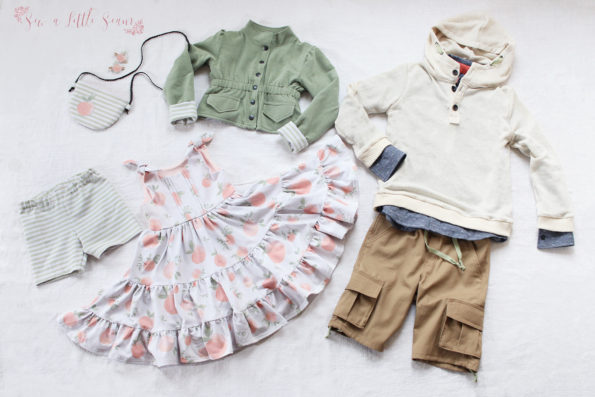 I've really had so much fun this past month! Thank you for reading along and as always you can see more photos on
my blog
.
That's Sew Kari - Squeeze the Day
Wow! It's hard to believe it's already the final week of Project Run and Play. My girls and I have had an absolute blast throughout the weeks and it's been fun to find creative ways to source forgotten materials. We are so incredibly thankful for the all the love and support too! So, thank you all!!! Before this all began, I had an idea for my Signature Style week, but as it came down to sew it, I realized that I just wasn't feeling it. It wasn't cheery enough and right now, I need all the things of happiness. So, I delved into my massive stash (much to my husband's dismay, I'm sure) and happened to come across this lemon fabric on navy and white mini stripes. Wahoo!! Yellow lemons scream happiness. Mini stripes make me giddy -- I love, love, love them! Add in a few of my other favorite things and I've decided to "Squeeze the Day"... (I had to explain this to my 9 year old...lol)
I knew right away, I'd sew the lemon stripes for Aurora. She loves wearing fun, bright fabrics and they suit her personality. As I decided to include my favorite things, I absolutely started with Little Lizard King. My girls have grown up in these patterns and I owe much of my growth to the countless tests over the years. I took Carmelo and made some changes -- most notably, I changed the front neckline, moved the zipper to the side seam for independent dressing, combined the back pieces into one and added a built in pettiskirt so all the seams are enclosed. In lieu of the bias-tape folded style straps, I used rouleau straps that I learned from Duchess & Hare. No outfit is complete without a purse, so I turned to my most sewn purse pattern for the girls -- the Pinky Promise Bag by Little Moo Designs. I left off the top flap and sewed the front piece in white for contrast and added a Squeeze the Day iron-on with my Cricut Maker.
Marissa is a bit more sophisticated in her outfit choices and loves skirts and fitted tops. I chose a dark chambray and used the skirt pattern I drafted last week. I slimmed the skirt down a bit from last week to add front pockets that she requested. For the tee, I found a remnant of this bright yellow gingham knit from Spunkin Honeyhead Custom Designs and started with the (retired) Free to Be Me tee by Little Lizard King. I removed several inches in length, left off the sleeves and brought the neckline up slightly and finished with a facing. I finished all the openings with my coverstitch machine, one of my best investments. To complete her outfit, I drafted a mini purse-belt that can also be worn cross-body. It features a zippered top opening as well as an adjustable waist so she'll fit it for years to come.
I have really enjoyed sharing my creations with you over the past few weeks! Please take a second to vote below and be sure to visit my blog for more photos and details --
CLICK HERE
And now it's your turn!!! Use the voting widget below to support TWO of the designers with your vote.