Project Run & Play excitedly presents the Pajama Party Collection! And we're launching a Basics Line!
We're doing something we've never done before: pricing the Pajama Party Collection at a Buy 3 Get 3 Free discount by purchasing these patterns together in a bundle! Plus we have a gift for everyone: one of the patterns is TOTALLY FREE!!!
Here are the individual patterns in this super fun collection:
Sleep Tight Tee & Nightgown is such a great pajama pattern! This pattern includes a tee and nightgown. The Sleep Tight Tee & Nightgown is a slim fitting pattern. There are 2 sleeve options. Short sleeve with narrow cuffs to finish and pull them in for a tailored look and a generously long sleeve option with a cuff. The gathered nightgown cascades down to below the knee. Fast and easy to sew…now if only bedtime could be the same!
Sweet Dreams Pants & Shorts are THE pajama bottoms pattern! There are options for everyone whether they like them long or short. The four pants options include an elastic ankle, hemmed bottom, knit cuff, or contrast cuff. The three shorts options include hemmed bermuda shorts length, hemmed shorts, and a rolled up cuff version. All of the Pajama Party versions can be made with knit or woven fabric, and the comfy elastic waist will have them sending up Zzzzz in no time!
All Wrapped Up Robe is your new go-to robe pattern! The best part is the HUGE variety of knit and woven fabrics you can use to sew this one! This pattern includes everything you're looking for in a robe including 2 length options and pockets. The tunic version hits just below the seat and is perfect for layering over the Sweet Dreams Pajama Pants and Sleep Tight Tee & Nightgown! The long version is such a classic and both can be made from just about any fabric. Expect to make a beautiful finish inside and out. Last of all, the pockets are just the right size to hold every treasure as well as keep their hands toasty warm.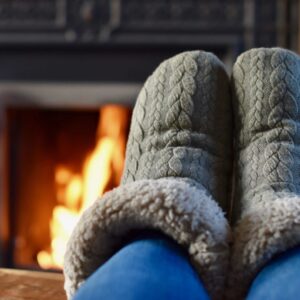 Fireside Slippers are a warm and cosy, boot-style slipper. There are two height options and the taller boot can be rolled down to show the lining. You can add a reinforced heel and additional ties. There are instructions to guide you through several sole choices. This pattern is suitable for enthusiastic beginners. There are so many options, and this pattern is definitely worth the effort it takes to make them! A new favorite.
Still Sleeping Sleep Mask & Digital Designs (THIS PATTERN IS TOTALLY FREE!!!!!)
The Still Sleeping Eye Mask is SUCH a fun pattern! It is quick and easy to make, can be made from almost any fabric for almost any person. Dress it up with some trim, choose the softest fabrics for the front and back, and personalize it with the digital designs. Just about the perfect gift…and remember to make some for yourself! Plus it comes with 9 different digital designs sizes perfectly for you to put right on the eye mask!
Pajama Party Digital Designs Do your pajamas need some party fun?
The Pajama Party package includes digital designs perfect to add to any project. It includes these digital designs: Bedtime is for Quitters, Dream On, HiBEARnate, I woke up like this, Pasture Bedtime, I'm Out, Sleep Mode, Vitamin Z, Pillow Fight Champion feather-weight division.
Remember
to grab the whole Pajama Party collection at a CRAZY buy 3 get 3 FREE
discount!
And that's not all...here's a sneak peek of our Fabric Panels, Fabric Eye Masks & Tags over at Raspberry Creek Fabrics!