It's here! Week 4 is here! Now we get to see the designer's Signature Style looks. What makes them unique? What defines their sewing? You're going to be in awe.
SewSophieLynn - Mini Modern Classics
I can't believe it's the final week! I've been blown away by all the amazing makes each week and still pinching myself that I'm here at the end. This week was the most fun for me as I get to share with you our signature style. I wanted to really highlight my own design aesthetic while showcasing my girl's own individual tastes as well. This look is the perfect blend of the three of us and I'm thrilled to be sharing it with you. I gravitate towards clean lines and simple silhouettes. While I love florals, stripes, and fun prints, I knew I wanted to use this amazing geometric print as our main fabric. The colors are all the colors I love lately and I knew they'd be the perfect palate to start from.
I absolutely love making dresses for my girls. My youngest daughter loves big pleats and I knew the Blake Dress from Mingo and Grace would be a great base. I used it for my first look the last time I was here and it was only fitting to use it for our last look this time around. I added sleeves from another pattern and a fun faux leather collar (the same fabric I used for her leggings last week that she has loved wearing any chance I let her!) I finished the dress with a pretty, exposed lace zipper to bring a slight feminine touch. Those hidden pockets are one of my favorite features of this pattern and one my girls can't live without. The finishing on this dress is so clean and all that hand sewing was perfect for our 'Greatest Showman' movie night. This week I had to squeeze my sewing into any spare minute I could find!
My oldest daughter is my mini-me through and through. I always think that if I'd wear it then she'll love it too. For her look I recreated one of my own favorite makes from last year, the Willamette blouse from Hey June Handmade. I started with a big 4 pajama pattern and then re-drafted just about everything to be like my inspiration top. I did a dolman sleeve instead of the set-in sleeve, added a back yoke, back pleat, sleeve cuff, and all the seams from my original top. I used all the clean finishing techniques from the Hey June pattern- french seams and a burrito rolled yoke for no exposed seams. This top has modern lines but in a classic gingham print, it's just so us! Her skirt is a simple slight a-line skirt with back patch pockets, front inseam pockets, and an invisible side zipper. I wanted something simple and slim to complete the look and one thing missing in her wardrobe is skirts. This pretty blush color can be worn with so many things in her closet already so it'll be a great piece to have this spring. We've certainly had a blast this past month creating each new look. For more pictures and all the details of our signature style head over to
SewSophieLynn
.
Phat Quarters - Childhood in Modern Chic
Where to begin? Layers, details, separates, tween approved, playful, fabric driven, bright & bold, clean lines, causal, modern, & chic. As I tried to define my signature style these are the terms that I kept returning to. I love to create because of these three amazing ladies! I started to create because I was not satisfied with the clothing that I found in stores and I wanted to give them more options that were modest but fun & ready for all the adventures of childhood. Today, I give you my last and final look for Project Run & Play, my Signature Style of Childhood in Modern Chic! I hope it inspires you to create something beautiful for some one you love! You can read all the details and see way to many pictures over at
Phat Quarters
. Here I will give you the run down on each self-drafted, handcrafted, made with love piece, starting with the dress. It was the starting point for the overall look of all the outfits. I found this fabric on Cali Fabrics and fell instantly in love with the bright red bursts of color paired with the vibrant blues. For me spring is not about pastels but about the bright red, yellow, & purple flowers, rich blue skies and rich green grasslands. This dress is everything I love about spring. I created a fun take on the trending style of cold shoulders by using a large ruffle. Then, just because I love details, I added long ties that I could fasten as bows. I know this little lady loves to twirl so I wanted the shoulder bands to be thick and able to hold the weight of the dress. She kept telling me that she loved feeling the sun on her shoulders! The lined bodice is made from a bright yellow swiss dot fabric that I also received from Cali Fabrics. It is a simple square bodice with an overlapping back button closure. I adore how the thick wood buttons on the back of the bodice add to the organic feel of the dress. The skirt is made from two layers of a squared-circle skirt. I fell in love with the circle skirt in my last look and wanted to play with the concept more. By leaving the sides of my skirt square I was able to create a really fun multi-tiered handkerchief skirt that has major twirl factor (visit my bog for some fun twirly pictures!). Overall this is a simple dress with a huge visual impact. The fabrics are so soft and light and the drape is all girl, all spring, and all fun! Nothing goes better with floral fabrics than stripes as far as I am concerned so the next thing I did was search for fabric with stripes. I found this amazing cotton print that had stunning lace running along each side of the selvage & I knew it was what I wanted for my sporty girl who likes to dress up but does not want anyone to know that fact! For her I made a chic raglan-based tunic. I cut a deep, but appropriate 'V' into the front bodice and scooped out the back to make pulling it on and off easier. I really wanted to show off the lace so I cropped the bodice a few inches above her belly button and added a gathered tunic length skirt using the edges of the lace. The sleeves turned out to be one of my favorite parts of this look. Instead of adding the traditional raglan sleeve I cut a large rectangle of the lace, folded the top of it to create an elastic casing and then added & adjusted the elastic to get it right. It became the perfect mix of the sporty raglan style she loves, the easy relaxed style I like, and the lace that she does not want anyone to know she craves ;).
This top needed a great pair of capris that had simple lines that curve with her long muscular legs. These capris are my take on the 1950's cigarette pants that I love! I used a bright coral stretch denim to allow movement while keeping the capris tight. The front of the capris are made from two separate pieces which allows for the fun tailoring that conforms to the body & style lines to accent. I top stitched the seams with two threads running through my needle to give the stitching more definition. The side seams and back yoke seams are all flat felled seams which also add to that tailored look and details that I love to create. The over-sized waistband comes just below her belly button and is flat at the front with an elastic back for comfort. I hemmed the capris just below her knees knowing that her summer days will be filled with bike riding and climbing trees. I love the bright pop of coral underneath the navy stripes and dark blue lace! Another great basic that I love to make, and had to include as part of my last Project Run & Play look, was shorts. We love shorts in this family but they are hard to find at the right length in the stores. They are either way too short, or too boxy and boy-like for my tweens, or at the length of capris. For this reason I make a lot of shorts. My oldest now has a body that includes hips and as she approaches her last year of Jr. High, pull on elastic back shorts just do not make her style list anymore. So I made her a grown up, zipper fly with pearl snaps pair of girly shorts. The hem of the shorts are curved with a slight 1.25" rise as it approaches the side seams. This allows me to create the inseam length that we like and yet still gives a 'shorts to leg' ratio that is flattering. She is comfortable when she sits and loves how they look when she stands! The waistband is top stitched, again for that tailored look I love, and has belt loops perfect for a textured belt. The back yoke is again flat-felled and there is elastic for comfort. The pockets on the front of the shorts are my favorite! I wanted the shorts to have some fun details and she hates inseam pockets that rub her legs. So I created a large outer pocket piece that curved into the hem and tucked the pocket between that and the front of the pants. I used lapped seams to attach the pleated ruffles to the outer pocket and the outer pocket to the shorts. The pocket is lined with a bit of the blue striped fabric from the raglan top just for a secret pop of color and style. I adore how the pleated ruffle gives the shorts a little touch of soft girly detail without being too juvenile for this young woman. I think I will be making these for me next!
To finish off her look I made a simple dolman scoop necked top. I love the ease of the dolman style! I cut a high/low hem so that she can wear it as a tunic on another spring day if she wants to. For today however, I made her tuck it in so that those amazing pockets could be seen, LOL!!! This floral knit fabric was another Cali Fabrics find! It is soft & light and the texture looks scrunchy or crumpled in a fantastic way that adds texture to the overall look of whatever you will create from it. To add a little classy chic to the dolman I added non-symmetrical armbands and long gathered ruffles. Doing this gave the top movement and drape that contrasts with the structure of the shorts resulting in a overall effortless ease to the full look. I let her wear my favorite earrings & my favorite blue striped wedges and all of a sudden she grew up right before my eyes! This is such a great look for her and it reminds me why my Signature Style is still growing and evolving. As my children grow through new phases of life and develop their unique personalities & styles, my signature design style will evolve with them. I fell in love with sewing and designing because of my love for my children and I want to continue to design and create clothing that they will love themselves in, year after year after year! I have had such an amazing time participating in this fun competition! I have made new friends, grown closer to old friends, stretched my creative brain and drafting skills, and have created looks that make my heart happy! I love everything I have created and this last look is my favorite because each outfit is a little piece of my heart stitched up in the styles each of my girls uniquely love and exemplify. My girls are fun loving, full of tiny developing details, layers of personality, and bold spirits all dressed up in Modern Chic #MommyHandmade clothing perfect for Childhood. We love it all and hope you do too!
Pear Berry Lane - This Is Us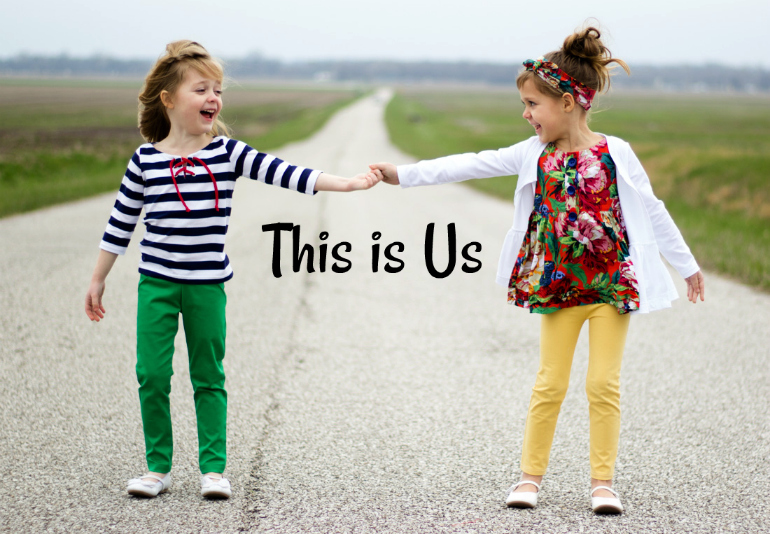 Wow, it is the final week of Project Run and I never thought I would make it this far. I'm honored to be able to be joining in with two other awesome ladies in the journey. You don't get to see the behind the scenes, but I'll tell you we've supported each other through these last few days to make it through to the end. For this week, I've tried to create looks that feature both style and wear-ability while showing you a little bit of my personal design style. I titled the look This is Us because it is reflective of what I make, what the girls wear. and how they are silly and fun. We have one road (we call this "The Picture Road") close to our house where I almost always shoot photos, so I felt it was appropriate to do these photos here for our signature look. Don't forget to swing over to my blog for even more details on my creations for this week.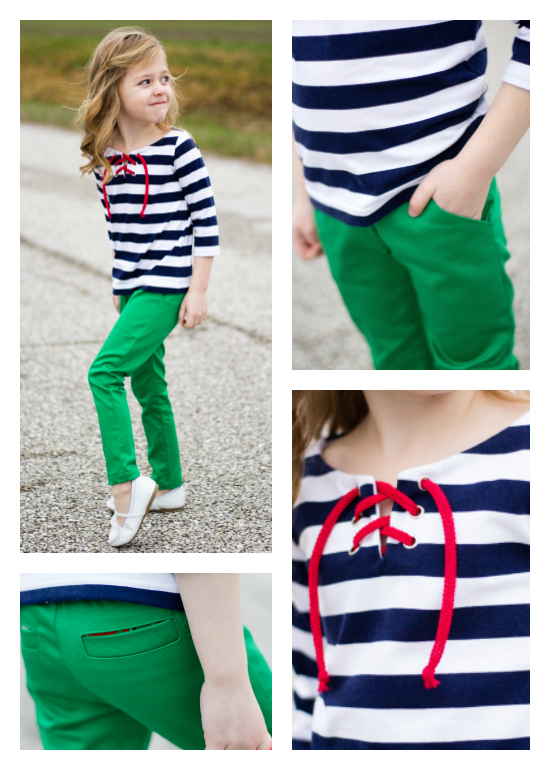 For the first look l created a pant and top combo. I started with the flat front pant in a stretch sateen fabric. I love the bold green color and I was really looking for colors and patterns that would pop on screen for you to see. I started with the Lil Luxe Slim Trousers as my base. I made several adjustments, but the largest is the addition of the back welt pockets. This pattern calls for a faux pocket flap. I actually really like welt pockets. They are one of those things that everyone is often afraid to try, but once you do some you discover they aren't as bad as you expected. Because I like to be fun and sassy, we added a fun lining into the pockets. (You'll see more of that lining fabric later.) For the striped top, I've been thinking of this design for a while. I'm so glad I made it to the final week because that motivates me to tackle ideas that I've been putting off. For this shirt I started with the LLK Perfect 10. I reworked the neckline by bringing it up and widening it. The goal was to be closer to a boat neck. To finish the neckline and provide extra support for the grommets I used a facing to finish the neckline. I under-stitched the facing to keep it nice and flat yet not visible on the right side. I'm so proud I put those grommets into that knit fabric without incident. They all lined up perfectly. #winning #itsamiracle One thing that I really love is 3/4 length sleeves. I felt it was necessary to include this as part of my make because I would definitely say it's a signature feature for myself when creating new pieces. I love how you can stretch ¾ length into multiple seasons. They are so flexible. Together these two pieces make a great look for spring. The style is classy, practical, and has a hint of a nautical vibe.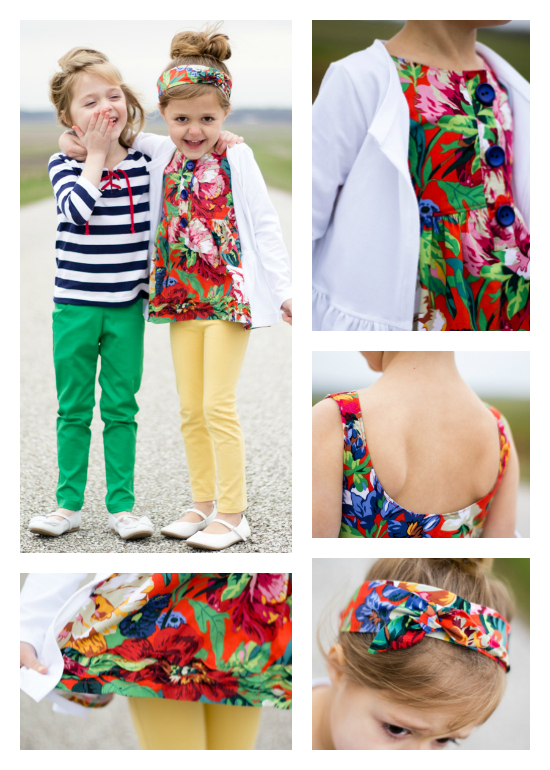 For the second look I began with the idea that people who follow me know I love florals. It is definitely something that contributes to my designing style. I went on the hunt for a bold floral for this project and found this beauty. All the other pieces for this week were inspired by this print. For the red floral top, I started with the SLPco Molly bodice. I removed the button placket, adjusted the width in the back and added a more decorative placket to the front. This allows the scoop back of the bodice to be a focal point. It's so feminine. Next, I stitched the wave pleats into the skirt portion of the top. I think this is such a fun way to add a simple (yet time consuming) feature that adds texture to the look. I paired this top with a simple pair of leggings because in my house comfort wins over style. #thisisus The last piece to complete this look is the white cardigan. I wanted to add another layer to help keep the girls warm during our photo shoot. Our weather has be more horrible than I can tell you about. I started with the Perfect 10 pattern for this as well. It's such a good building block pattern. (Don't you love how the pieces look so different but started from the same base?) Since the red top is a little more sassy, I put together a cardi that has a little more interest compared to what I've done in the past. I changed up the construction of the neckline from the cardigan I created last week and love how it turned out and I'm very happy with the finish. The ruffled hemline dresses the cardigan up a notch without going overboard. It's comfy and stylish. Lastly, I threw in a hair piece to wrap up the look. My favorite part about this look is that the pieces can all be interchanged. It's like a mini capsule. For me, I always want to try to get the most out of the pieces I have, especially when it comes to sewing for my girls. I need tops and bottoms to be able to be mixed and still look like they go together. I feel like these pieces allow that to happen. Yay! for flexible clothing. For even more details, don't forget to hop over to my blog! Thank you again for all of the amazing support you have offered through this journey!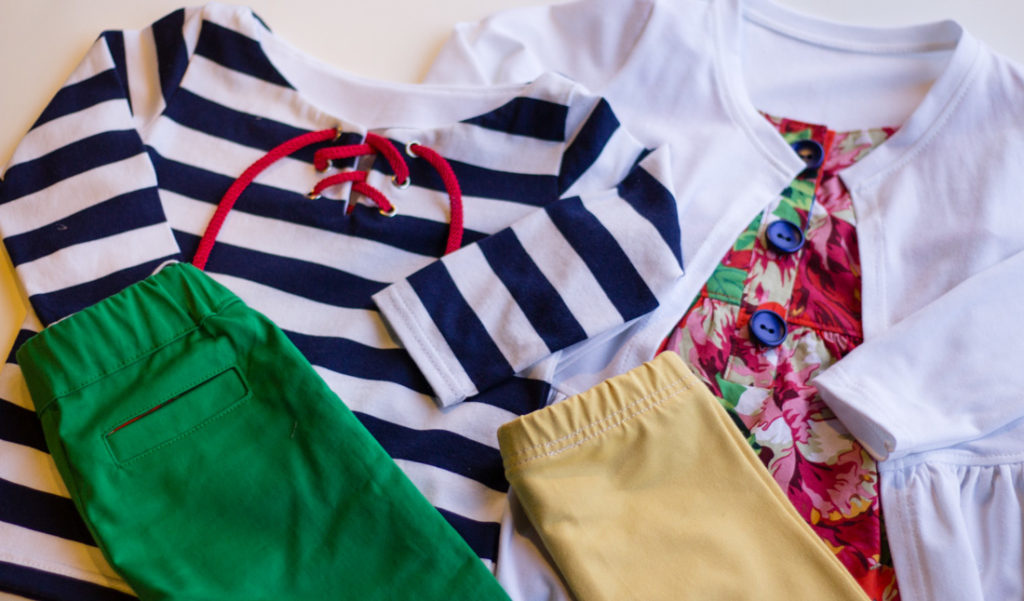 Alright everyone! Vote for your favorite Signature Style look. Voting starts now, and closes at 8pm EST on Thursday April 5.
One third of the designer's score is based on your vote!
One third of their score is determined by the
panel of judges
.
One third of their score is determined by this week's guest judge, Mimi from Mimi G Style
!