Have you ever been to Europe? If so, while you were there, did you see any amazing children's fashion like the designers have created this week? If you haven't been there, this week the designers have a wonderful treat for you...fasten your seatbelts, sit back and relax! The journey of a lifetime is about to begin!
Iris May Patterns - Wanderlust
WEEK 1 : May, a beautiful month in Belgium


Wanderlust, what makes Belgium special, what makes our location unique, that was the theme for this first week of 'Project Run and Play.' To make an outfit that fit this theme, I was inspired by the beautiful forests here in our small country. Unique for this period of the year are the hundreds of forest hyacinths that are currently in full bloom. I therefore opted for a viscose fabric with a beautiful floral print.
I drew a completely new pattern for this dress. After several test versions the collar was finally what I had in mind, I wanted them to be subtly present in the design. Because I wanted a comfortable dress, I drew the sleeves fairly wide. The dress closes with buttons at the front. To make the skirt slightly wider, I chose to provide pleats at the side seam and at the centre back. Whoever follows my blog will notice that the start of the skirt that I used comes from my
Lucy dress
. However, I extended it quite a bit. To complete the look, I made a matching knotted headband.
Each of my designs are given a name, this dress will be named 'May - Belle.' 'May' referring to this wonderful month, (and of course also to my blog name.) 'Belle', beautiful, because I secretly am very proud of this design. If you want to see more details, Click
HERE
to go to my blog!
Sofilantjes - Small but Beautiful
When you live in a city that has it all, where do you even start when you are asked to show this in one blogpost? Well, you google right?! I mean why not. We google everything else so why not this. So I googled. Yes, really I googled. I googled my own country, my own city. As if I did not know everything I found online. All I wanted was the easy road, but Google did not want to play along with me. No easy road. No new answers. Nothing. So I had to do it all by myself. Thanks for nothing Google. I 'm unfriending you (for a few minutes.) So, my city, my country. We live in the Netherlands. It's small. It's busy, but it is beautiful. This country is full of history. We have the most beautiful buildings and canals. In our cities you'll find old and new buildings hugging each other. You'll find nature and water. You'll find something to do for all ages. You'll see a lot of bikes parked everywhere. I mean everywhere and people. You will always find people. So I based my outfit on these elements. Let me explain.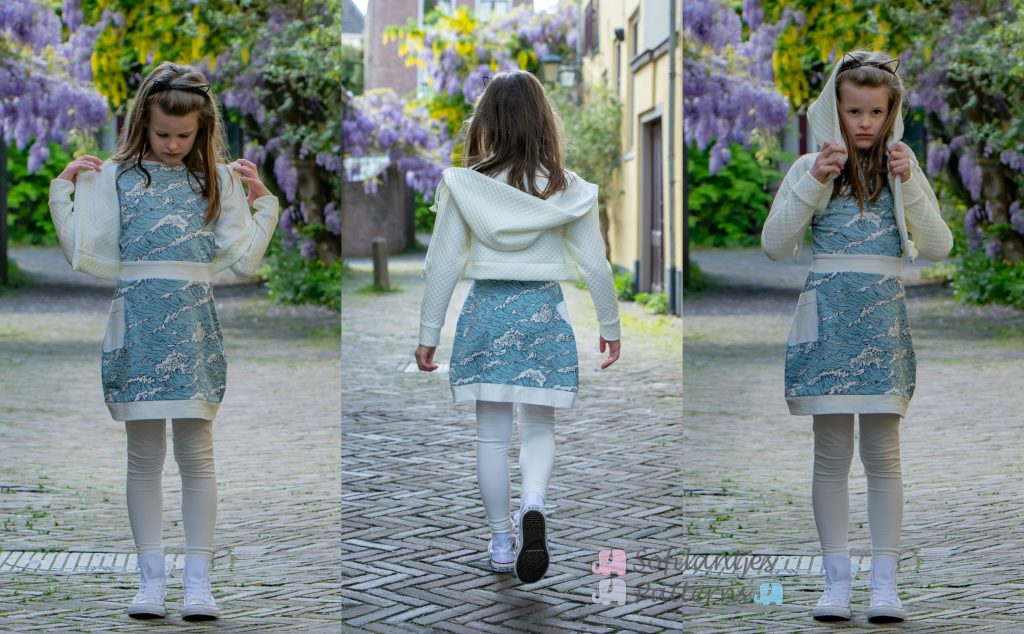 To show off our country, our city, I chose a blue fabric that shows water. Water is something our country has a lot of! We even made land by draining water. We have the most beautiful canals in our city and we love them. We walk next to them. We eat and drink next to them. They are a huge part of our city and if you ever visit, you need to see them. So the blue fabric came from my stash. I combined it with white jersey fabric that matched the white in the blue fabric. Next, I found this lovely white "quilted" fabric that I never found a good project for. I used it to create a jacket. Why a jacket? Did I tell you about the water? It also comes from the sky... a lot. On top of that it is spring time over here and spring means warm weather but chilly breezes. So the little one needs a jacket. The fact that mommy loves to sew has absolutely nothing to do with this. You believe me right?! So I took all these pretty fabrics and sewed Miss Diva a dress, a jacket and matching leggings. I bought the shoes to match the outfit. I really hated that I had to buy her new shoes ;-)
The dress is a new pattern design that I thought would fit the theme perfectly. It is flexible and covers her up. Meaning she can climb and hang upside down in it like a real lady. Plus it shows our Dutch personalities. We love to just act normal and tell others to act normal, but secretly we love to be different. So I gave it something different, a fun faux wrap back. She'll be normal and still stand out. I also added a patch pocket to the skirt so she can take her money with her, because in our city you need money. You need to be able to buy yourself a drink or some ice cream. Especially ice cream. So you can sit on a bench on the side of the canals and watch people passing by. Just because you can. The jacket is an old design that I adjusted to fit her needs. I added zipper facings, changed the waistband and widened the cuffs. I also added more ease to the armholes to make it more comfortable since the fabric, even though it has stretch, is a little more firm that the jacket pattern is drafted for. I also added a cord to the hood to make the look complete. The leggings, well they are just that. Nothing changed to those.
This was fun wasn't it. Next time I'll skip Google and just save me some time ;-) Thank you for stopping by! Don't forget to vote for your favorite. Please
visit my blog
for more photos and information! Love, Anne
*fabrics. - White Jersey Lillestof - Water fabric Nosh Fabrics - Quilted fabric I have no idea * Patterns. - Bonnie Leggings M4M - Foliis jacket and dress Sofilantjes - Risu dress (not released yet) Sofilantjes
Käferlgschäft - Wanderlust in Bavaria
The boys and I, we often spend our free time at the river Inn in Bavaria. There, you can find a little sand beach, where the kids are looking for lots of lovely things: heart shaped stones, sticks, drift wood, feathers and you can also spot some animals like swans, if you are lucky. There is also a long swing beside the river, which is attached to an old big tree. For the kids, it is freedom nonstop.
This outfit means so much to me. It is modern, but has some Bavarian touch. For the trousers, I used the pattern "Milchmädchen shorts" from Lotte&Ludwig, but changed them slightly so they fit my idea. I made it longer, so it is used as a "knickerbocker trouser", which is often found in the Bavarian culture. I was able to keep the deep bottom pockets in cut. They are inviting to carry lots of things in them. The front is made out of several pieces, which were set in with a jersey ribbon. That is how I created this unique look. I also sewed in a small part as color accent in the front pockets.
The vest has got a big stocking-cap hood and is made out of a fabric called walk. This is quite a traditional material in our region. Therefore, I used the pattern "Drückeberga" from Rabaukowitsch. I changed it a little bit and added a diagonal button row. I purchased the buttons maybe 50 times at our local store for sewing stuff. They are my all-time favorite and have just the right size for kids clothes.
Furthermore, I added a small animal emblem of a wild goose nearby the hem to pick up the pattern of the sweater again. Therefore I use Snappap, a washable paper in leather look. For that, there exists especially hardwearing stamp color, so that there is a long lasting enjoyment on the stamped motive.
For the jumper, I traced an old one, which suits my son very well. I added a plain triangle to the collar, which makes it more special.
Suco by Susana - A Day out in Belém
Hi! I'm so happy to be here in the first week of Project Run and Play. When I found out the theme for this week, Wanderlust, I immediately knew that I wanted to take my kids out to Belém. We live just 5 minutes away from this part of Lisbon, it's such a beautiful location filled with history, and we go there a lot.
There's so much to see and do in Belém. There's the beautiful monastery and the Torre de Belém both from the 16th century, there's a planetarium, monuments, pastry shops with delicious custard tarts, gardens, and several museums: the Navy museum, the archeology museum, the electricity museum, the modern art museum, the Republic museum and, our favourite, the Carriages museum.
After deciding the location, I started planing the outfits. I decided to make clothes for both my children, clothes that would be comfortable and fresh for them to spend an entire day out walking around. I started designing each garment, and asked for their help to choose the details and fabrics. My daughter loves helping me with the clothes' designs and my son is a huge help to go shopping for fabric. It's always more difficult to find and choose fabrics for boys than for girls (right?) and it's very easy for him to pick out what he likes in a fabric store. So I take him with me whenever I can.
For Luís (who is 11 years old) I made cargo pants and a tee. For the cargo pants I used a beige chambrai that is very lightweight and soft. I started with my
Super Tough Jeans pattern
, made cargo pockets with a pleat in the center for the back and for the legs. I also changed the opening of the front pockets to be slanted instead of rounded, and included a seam just below the leg pockets and above the knee for visual interest. These pants have a zip fly and adjustable waist. For his top I made a
Safari Raglan
from Titchy Threads with a high-low hem and a side split, that fits him perfectly.
For Joana (7 years old), I made linen shorts, a tee and a bomber jacket. For the tee I used
my Rita nightgown pattern
with cap sleeves, and the body shortened. The shorts were the most work as I used
my Arthur Chinos pattern
for boys. I made pleats in the front, shortened the legs, redesigned the front pockets opening, added patch pockets in the back, added ruffles to all the pockets, and sewed the zip fly front in girl's style (turned to the opposite side than for boys.) For the bomber jacket I used
my L&J Hoodie pattern
but made welt pockets with a zipper opening and a rib collar instead of a hood.
Both my kids love to draw and sketch, so I also made a Sling Bag from Made it Patterns. My son chose the fabrics and the red zippers, and I added an interior pocket with dividers for pencils and pens. They loved these outfits and couldn't wait to wear them. I'll share more photos and details on my blog at
Suco by Susana
, if you'd like to check it out.
When I heard about the theme proposed for this first week I knew right away that I wanted to use my city, Barcelona, as an inspiration for my designs. Then came the most difficult part. How would I translate all that Barcelona has to offer to the people that visit it into clothes? It crossed my mind to sew something based on a building or an iconic site but somehow that seemed too obvious to me. After thinking about it more, I decided that the clothes I created would be inspired by the personality of the city. Barcelona is a modern, open and inclusive city that cares about the environment, worries about its history and offers a safe home for new companies and startups to investigate, create, design and invent for the future of all. The thousands of people who visit us find that Barcelona is a welcoming, prejudice-free place that has good food, good weather and hundreds of activities so as not to get bored for a minute.
I have created two complete outfits, one for my daughter and one for my son. These garments are comfortable but do not lose their urban chic point. They are easy to wear and created with fabrics such as tencel or viscose, both are fresh and have bright colors. For my daughter I have draft a basic tank top with two diagonal seams to draw some interest, the tank is sewn in yellow viscose. I designed the skirt by mixing the
Oliver and S "Lunch Box Culottes" pattern
with a full circle skirt, to create this garment that looks like a very short skirt but is as comfortable as shorts. It has an elastic waistband for extra comfort. The fabric that I chose for the skirt is the same as the top but in a sky blue tone. Her outfit looks very sporty because I wanted to pay a small tribute to the Olympic Games of Barcelona 1992, from which the city went through a gigantic change and began to become the modern city that it is now.
For my son I took the pattern of a basic T-shirt and I drew a faux envelope neckline, this type of neckline I love for babies and for older children. I sewed it in a fun knit tencel crepe. The pattern of the trousers is a modification of the Sisa Patterns Veronica trousers changing the waistband, adding hidden side pockets, and faux back welt pockets. It is sewn in deep green viscose. These type of pants are very fun rolled up! All the fabrics are from the next spring-summer collection of
Chat Chocolat (Belgium.)
I adore viscose drape and colors but I really had a hard time sewing those extra thin fabrics.
All the garments are simple, as I like them, but full of details that make them special. I have added some labels in "faux leather" in which I have stamped an emblematic symbol of the city: its flower-shaped tiles. The photographs are taken in the wonderful Park Güell, by the famous architect Antoni Gaudí, built in 1900 and declared a World Heritage Site by UNESCO. You must visit this park if you are in Barcelona.
Please come visitg
MaMeMiMo blog
for more pictures and information about these clothes.
Unfortunately, our last designer, Melissa of Missichen, lost her little sisters (who model the clothes she sews for them) to a fun summer vacation in Asia, and isn't able to complete Season 20. While we are sad to not get to see her creations, this means ALL 5 of the remaining designers get to move on to Week 2!
And now it's your turn!
Please support these talented European designers with your VOTE! Their scores (and the
prizes!) will be determined based on the following:
1/3 of the score is based on YOUR vote
1/3 of the score by this week's celebrity guest judge Fleurine of Sew Marie Fleur