We're finally to Week 1 of Season 23!!! The designers have really outdone themselves, so prepare to be amazed!!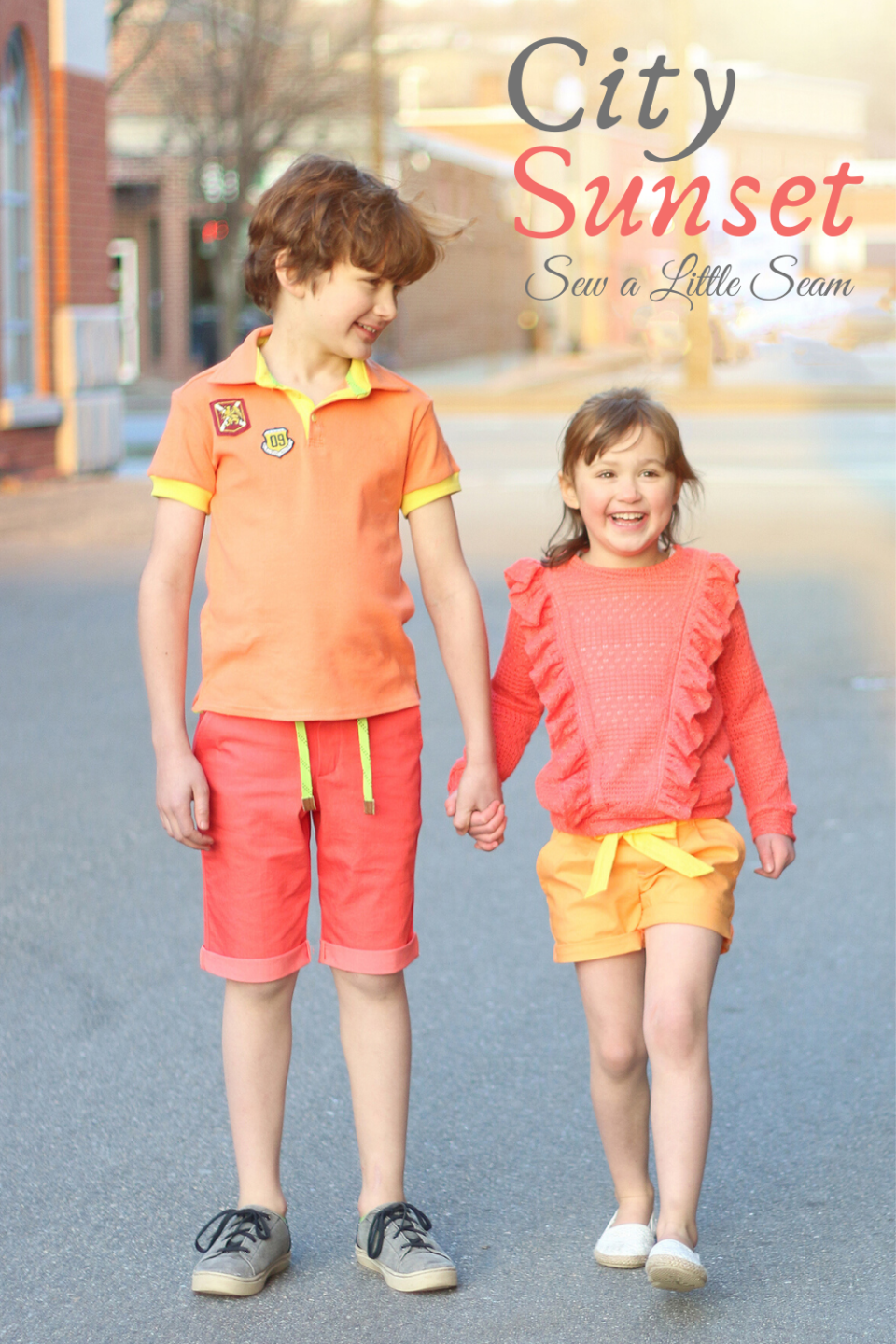 I learned a lot from this week's theme. I usually keep it pretty simple with my color choices, so it was a lot of fun to step outside my comfort zone and try something new. I'm not going to lie, I was intimidated starting out. I kept second-guessing myself, and my sewing space looked like a rainbow exploded, with every color of fabric I owned tossed across desks and chairs. I ended up basing my colors off a photo of a sunset. Mother Nature knows how to do analogous. I really liked how the colors came together in the end and I think I'll be trying out a lot more color combinations now!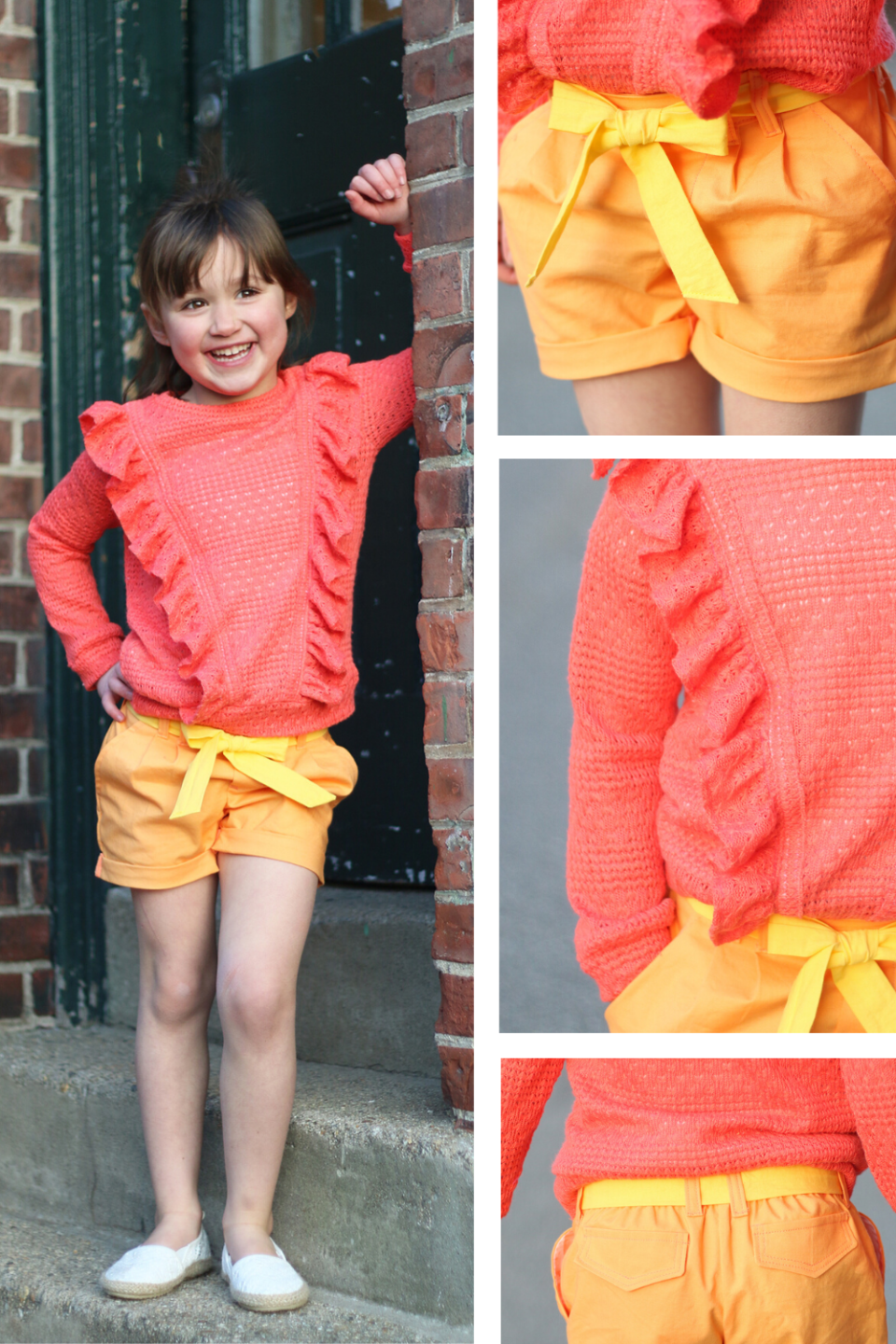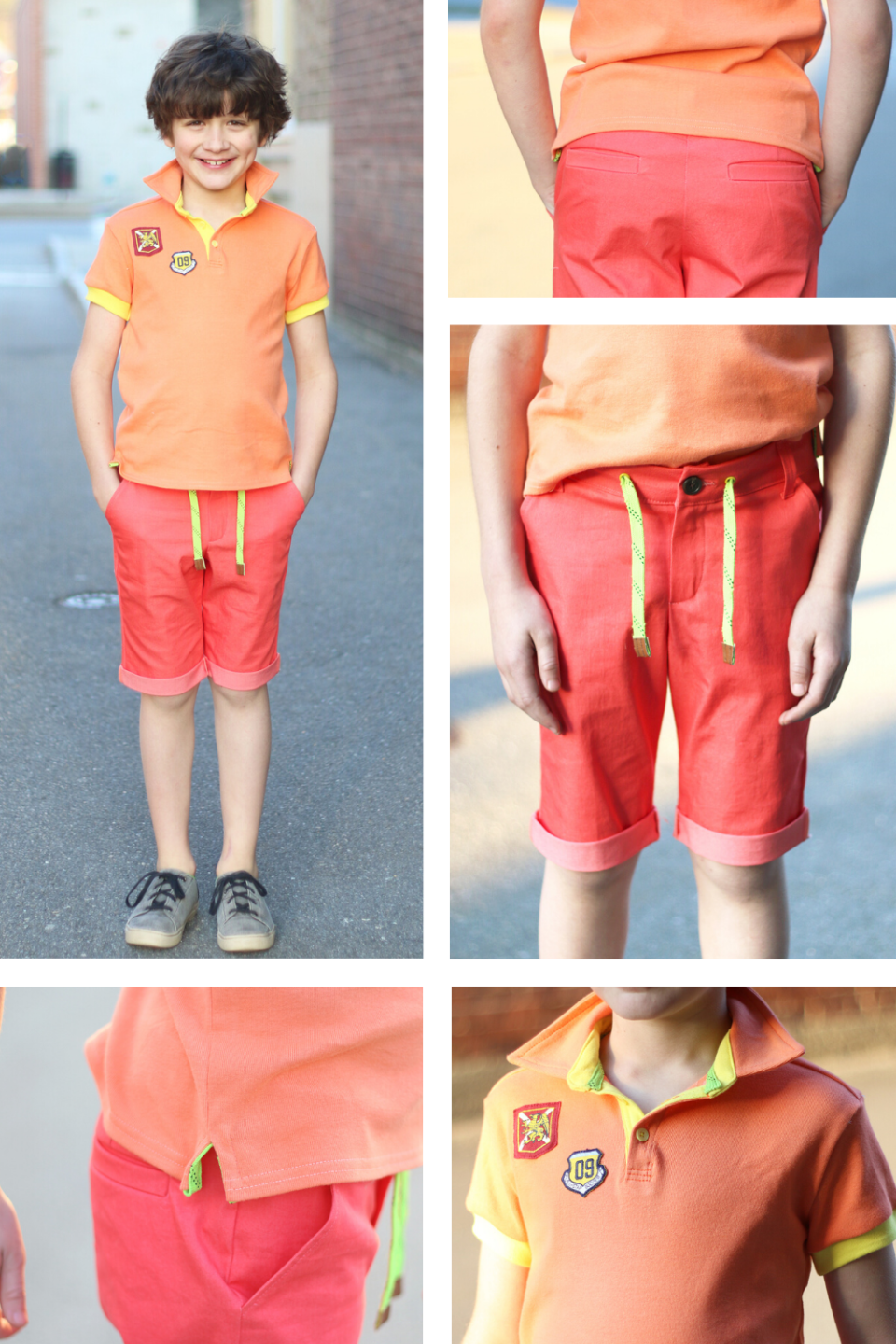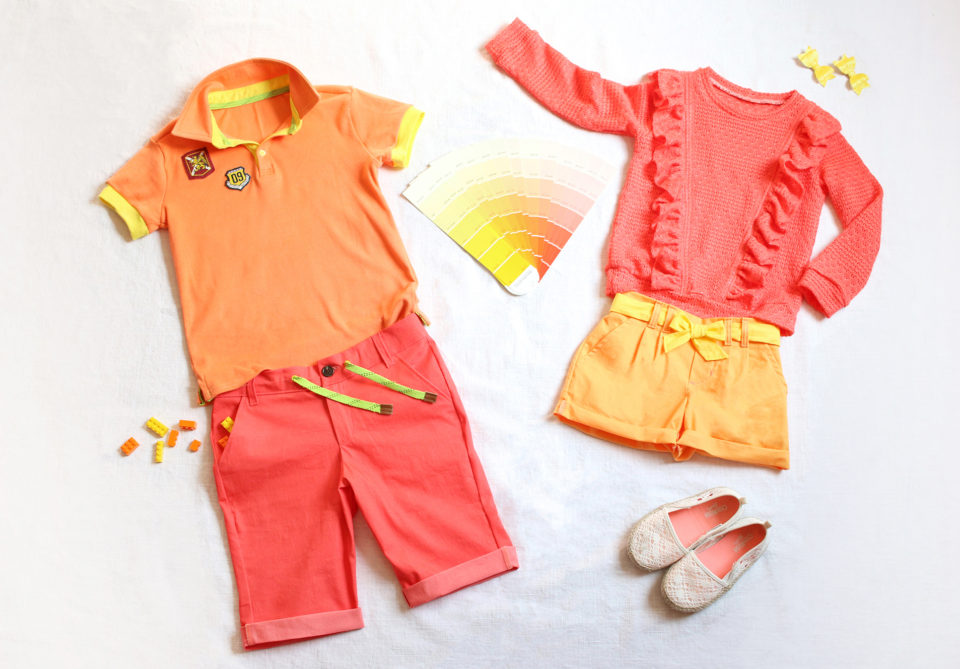 The colors I used for my entry are: Yellow-orange, Yellow, and Yellow-Green.
These colors reminded me of Lemons and Pineapples.
For my oldest daughter, I used a yellow-orange DBP with white pin stripes for a long summer maxi. I started with the bodice of the Capri pattern by Little Lizard King and changed the neckline to a regular scoop. I also added a front seam so I could run my stripes at a 45-degree angle for added interest. Then on the back, I added a scoop back between the straps and raised the strap attachments to mimic the front bodice. I also free-hand drew the bottom curve, taking inspiration from the Magnolia pattern. For the maxi skirt, I used the WOF in total, but added seams on both sides so I could add pockets. Then I drafted a Pineapple Cell Phone Cross-body Purse with quilted body and a leafy portion on the front.
My younger daughter loves lemons (actually eats them like oranges...) so naturally she needed the lemon outfit. I started off with the brand new Carmelo Dress by Little Lizard King and changed the neckline as well as the back, creating an opening that mimics the end of a lemon. Between the bodice and skirt is faux piping from the yellow-green/white striped fabric from the top of the back bodice. For the skirt, I pieced it together to include my self-drafted "Pucker Pockets" -- each pocket panel is just one piece folded accordion-style to create a pocket. At the top of each pocket, I added a 3" channel of elastic. I added a deep 1.5" hem and used a blind hem stitch. My favorite piece of her outfit is the self-drafted Lemon Slice Purse that zips shut. Then I grabbed my Cricut Maker and added a lemon slice iron-on on each side.
Life Sew Savory - Pops of Color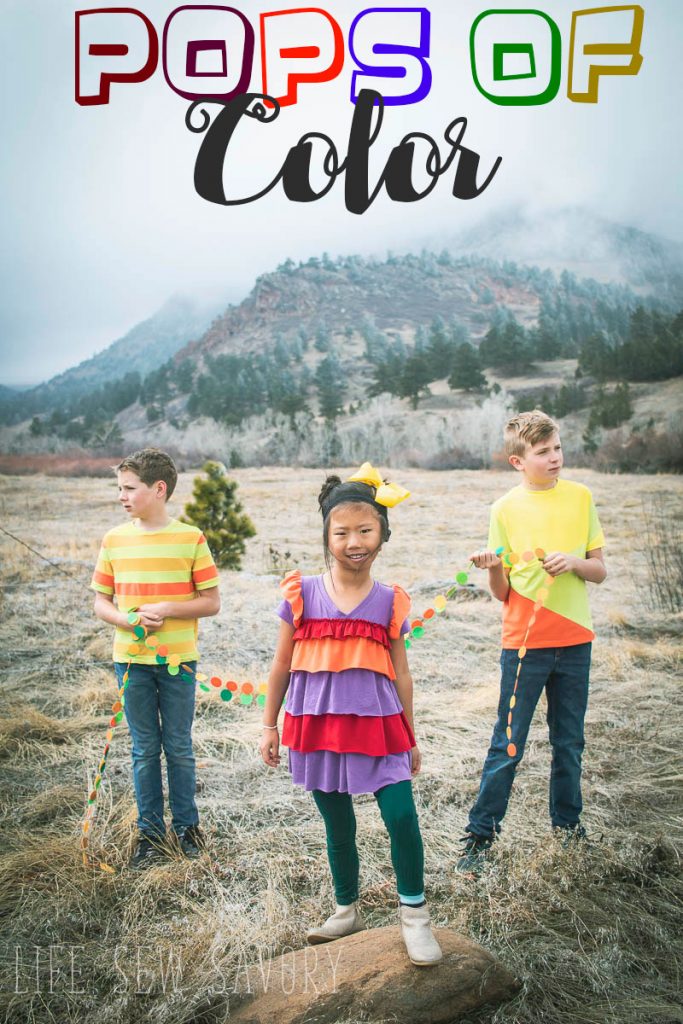 I love that we are starting the first week with COLOR! Working with color on these dreary winter days just makes me smile. I've never made anything specifically with analogous colors, so I had a hard time limiting myself. In the end I made three looks, each with three colors, and some overlap. Orange ended up being the common thread in all three looks and I love them each individually as well as a collection.
Please forgive any strange looks in the photos, we ended up taking photos on a day with temps just above freezing, so my poor kids were literally freezing. I love the way the color of their shirts contrast the bleak landscape and the full look was just what I was going for.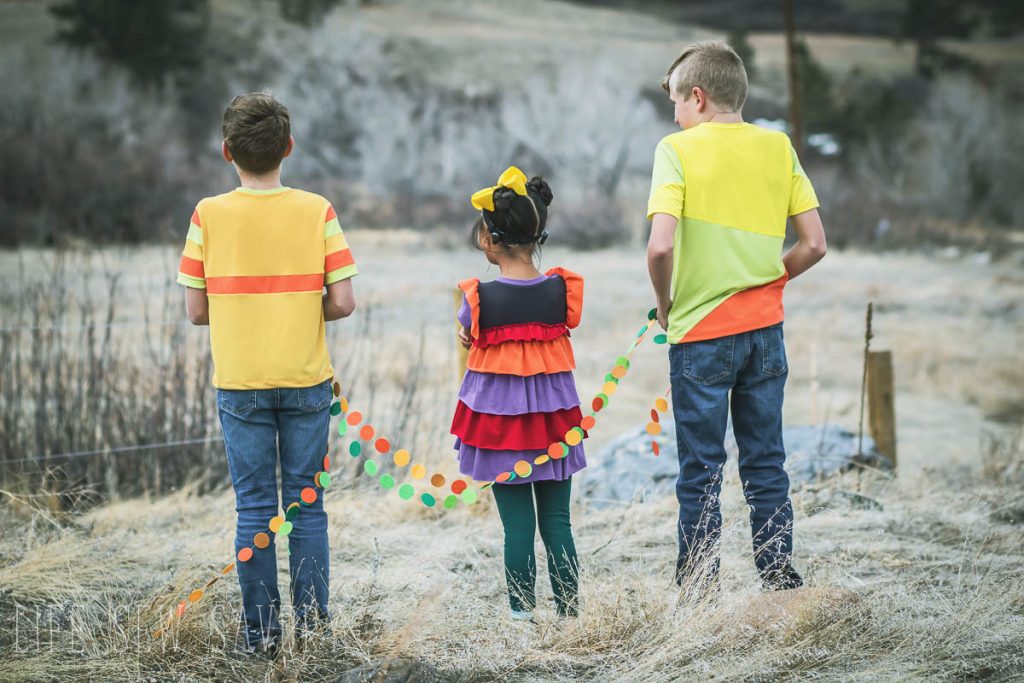 All the patterns used in this post are free patterns from Life Sew Savory with a few fun edits. I used solid color knit fabric from my stash and from fabric.com to get a variety of colors from the color wheel to work with. I had made these rainbow felt circle garlands last year and they ended up being the perfect prop for our photoshoot.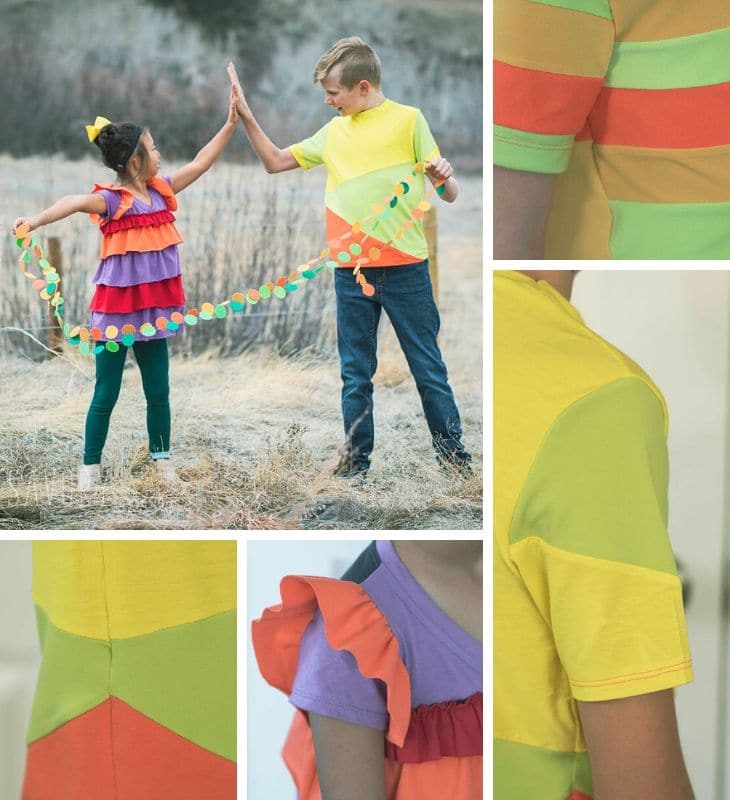 The striped shirt Max is wearing was made from the same pattern with custom fabric. I love making my own striped fabric and first tried this technique on Pjs for the boys years ago. It takes awhile and it not a fast process, but being able to make striped fabric in the colors I want is so handy and I love the way it works here.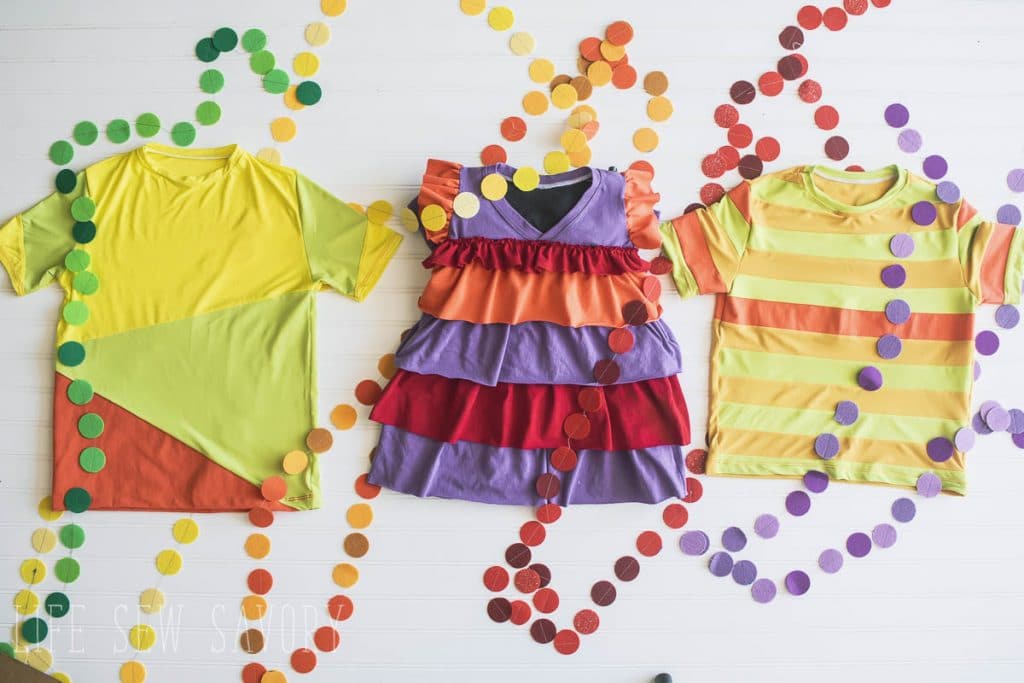 As soon as I saw the theme for week 1, analogous colors, I knew I would be working in the blue/green/purple section of the color wheel. Miss Socialite is all about the blues right now (see her headphones, speaker and slippers-lol). She is also obsessed with anything "holo" or iridescent. So this outfit hits all of her must haves!
The Dia Sweater pattern, by Misusu Patterns, has been in my pattern collection since Black Friday last year, but I had yet to sew it up. I love that the geometric design lends itself to color blocking, which was perfect for this theme. Plus I knew that the diamond would really stand out in the holographic fabric. She's a standout kinda kid, so subtle doesn't suit her. After a little sketching I decided on the color placement for the rest of the sweater and after I color coded my pattern pieces everything came together easily. I opted for the hi-low sweater length so that she can wear these over the matching joggers or leggings in the future.