Today Jenn gets to share with you some of the garments she sewed from the Project Watercolor Beach pattern collection!
The next collection from Project Run & Play is here, and just like its predecessors, Project Watercolor Beach is sure to be your new favorite collection of patterns! I designed two patterns for Project Watercolor Beach: the Viridian Swimsuit and the Cobalt Boardshorts.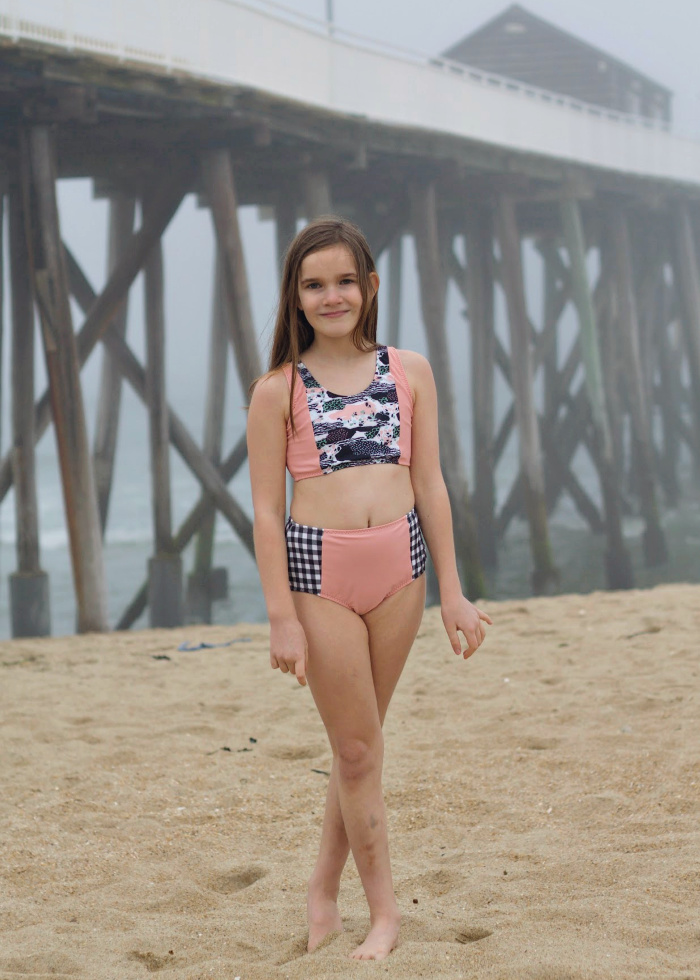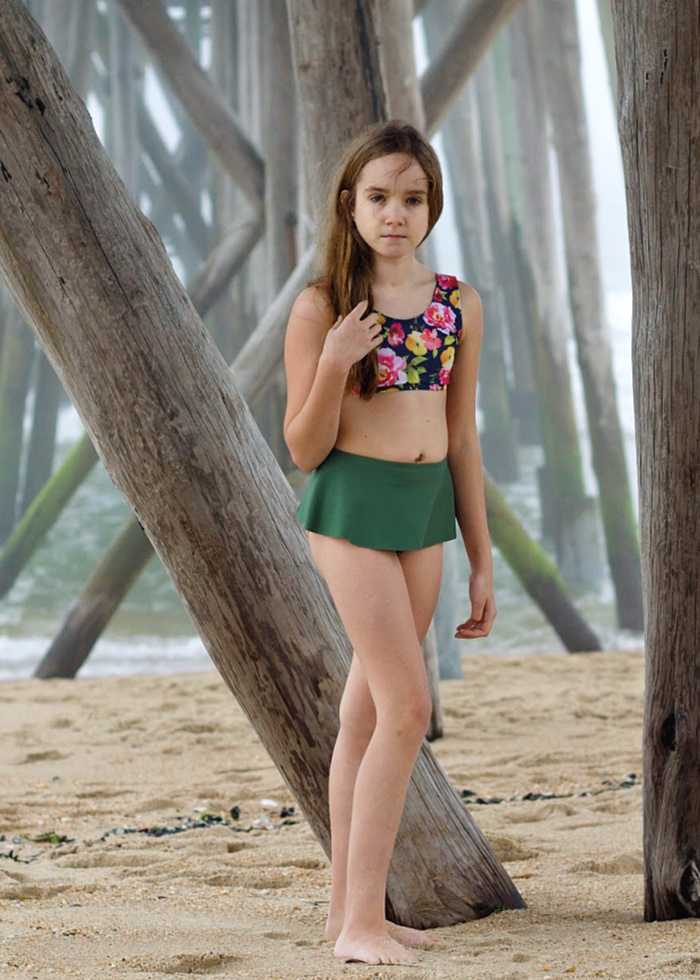 The Viridian Swimsuit is for children sized newborn to 12 years. It has both a one-piece maillot and two piece options. Then for each of those styles there is an optional segmented front that is perfect for color blocking, or adding the included ruffles. There's also an included skirt which can be attached to either the briefs or to the top. I didn't use the included bands for either of these suits, but they're a great alternative to elastic in those places, and adds a little more length.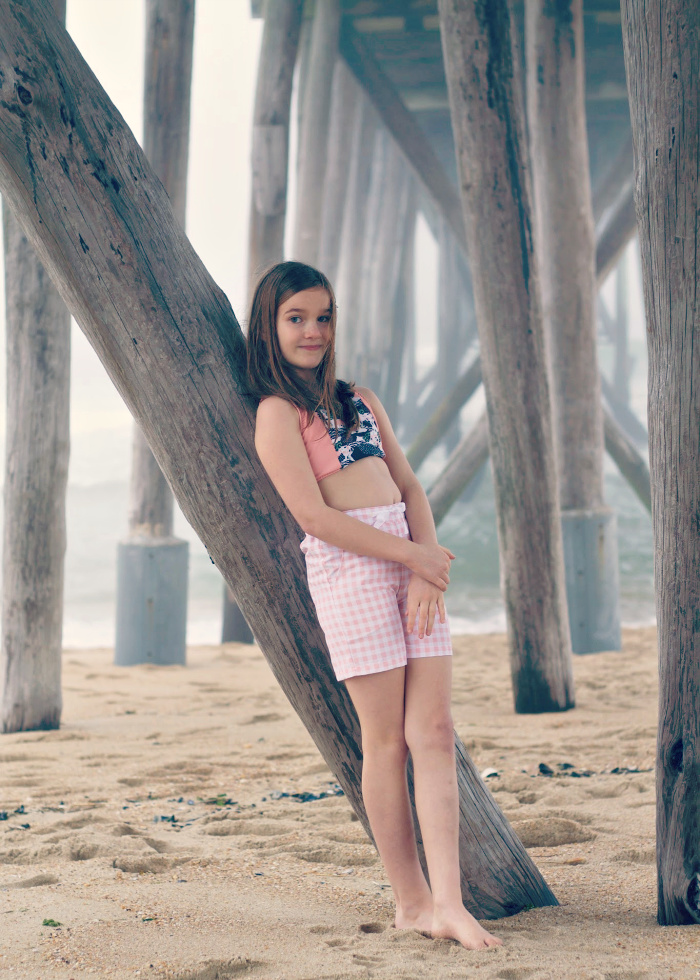 The Cobalt Boardshorts are also for children sized newborn to 12 years. These can be made with three different front options: a half fly, faux fly, or no fly. They are flat front and elastic back and there are options for drawstrings and/or buttonhole elastic to make them very adjustable. Two lengths with great sun coverage - Jamaica is pictured here and is about halfway down the thigh, or Bermuda length just above the knee.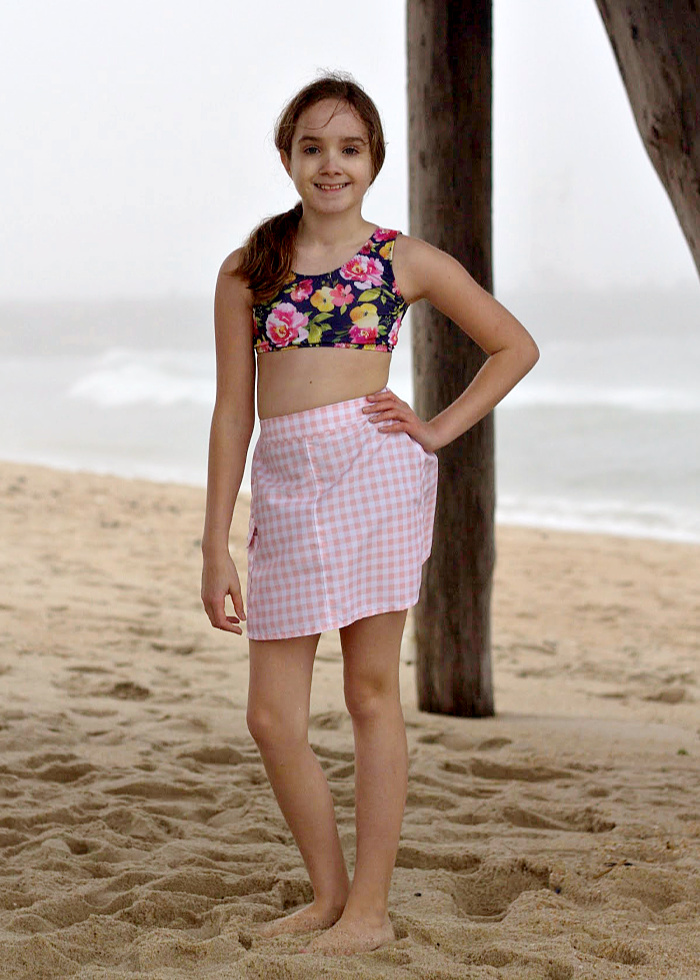 I also did my best to sew the rest of the patterns in the collection, and I nearly made it! I still need to make a Coral Wrap - Arden would love the wrap skirt option. The Ripley Swimmers pattern wasn't finalized in time for me to make one during my marathon sewing week(s), and I also ran out of swim elastic. So here's the Bodhi Board Skirt by Nikki of Bubby and Me Creations. It's for sizes 1-10 and is a flat front, elastic back skirt with a slight a-line shape. There's a great cargo pocket on the side for stashing beach treasures!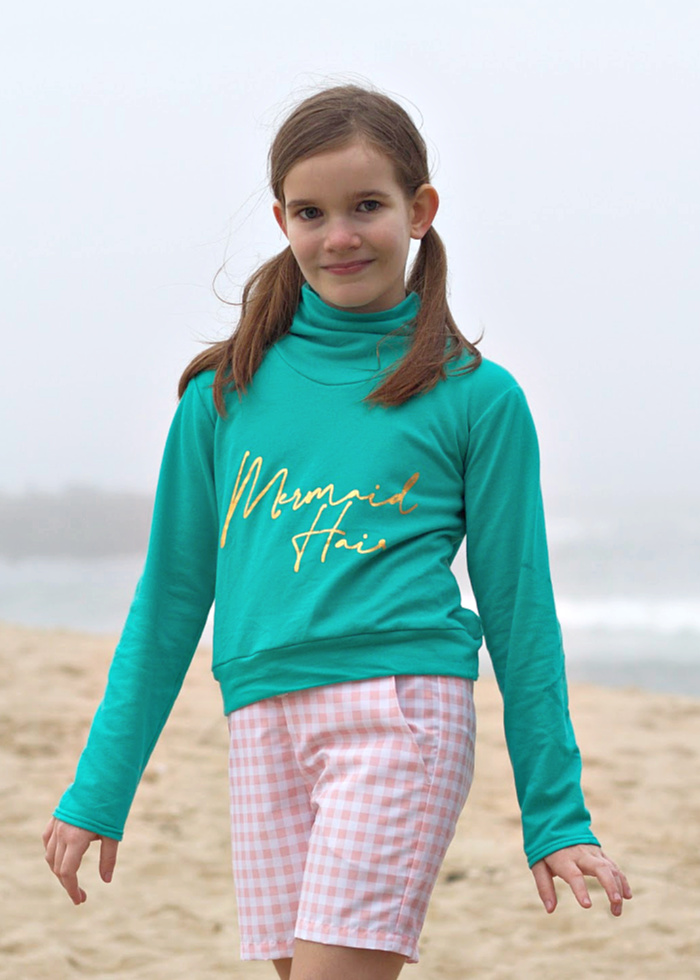 The Chromium Cropped Hoodie is by Ajaire of Call Ajaire. It is for children's sizes newborn to 16. In addition to the cropped length I made, there's a full length and a vented hem option. For the neckline there's a hood, this cowl, or a funnel neckline. There are even animal ears that can be added to the hood! I used this great digital design to cut gold heat transfer vinyl for mine, and I loooove it! The digital files are also available in the Project Run & Play shop.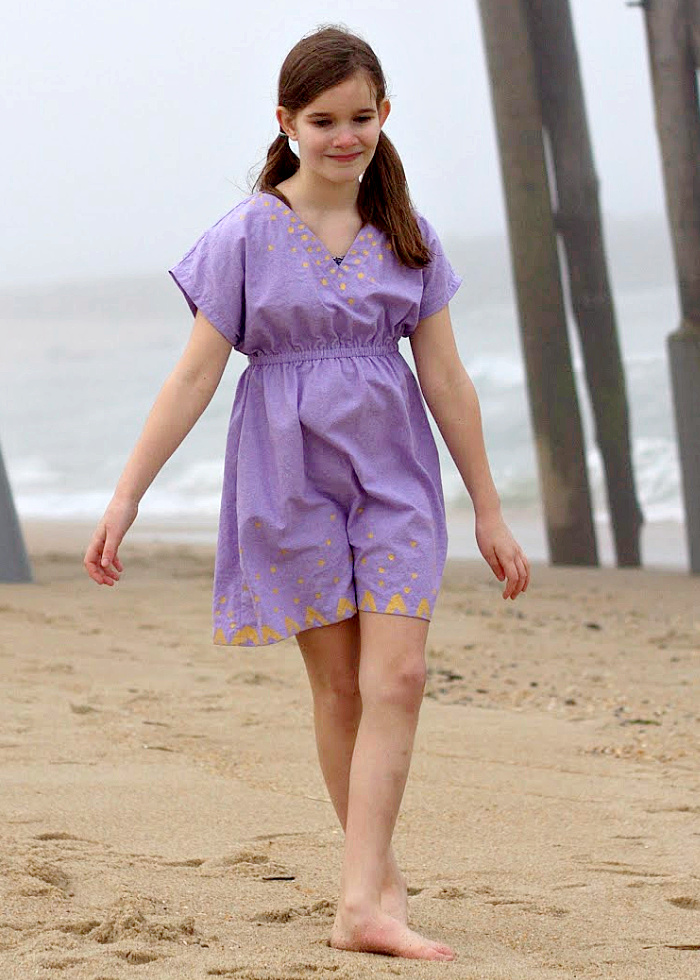 The Golden Dress is designed by Susana of Suco by Susana. It is for children's sizes 12 month through 14. It has a nice V-neck, dolman sleeves and an easy fitting silhouette. Hadley really liked dancing around in the sand in her Golden Dress, which we tossed on over top of her swimsuit once we had taken those photos. I embellished mine with fabric paint during a wonderful virtual (well, it became virtual after Covid-19...) workshop hosted by Katie Kortman. I highly recommend taking a class from Katie as I picked up a lot of great information about color theory, combining colors and patterns and more.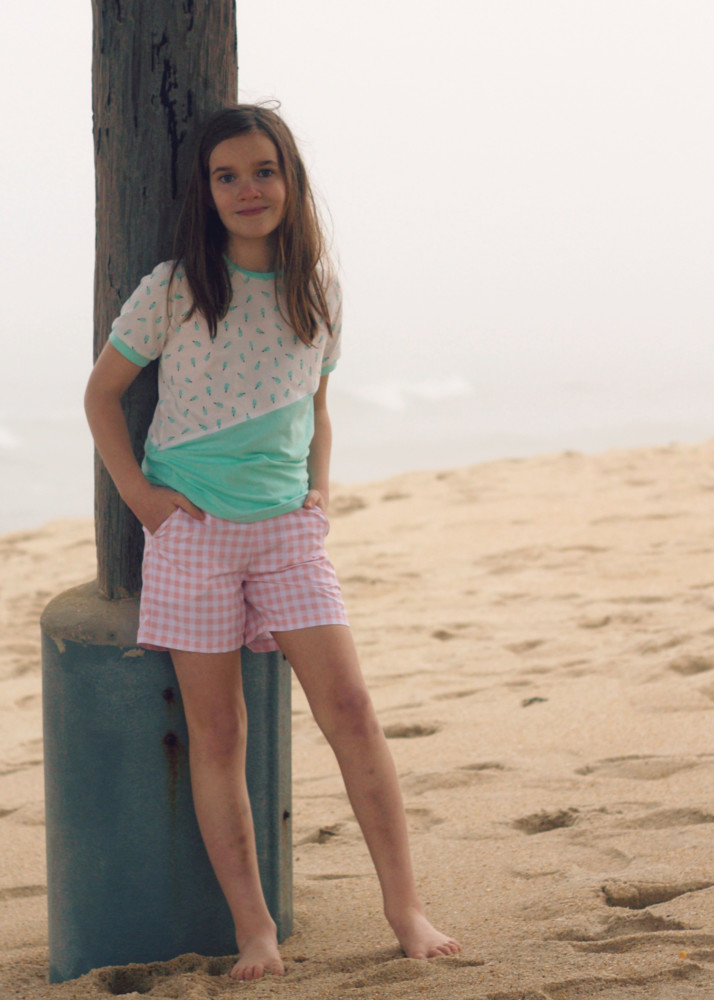 I made two Lemon Tees by Suco by Susana. The other one I paired with a different pattern, so I'll talk about both of those next. There are several different options for color blocking the Lemon Tee. I used the diagonal option for both of mine because I thought it was pretty cool! The patterned fabric is tiny little popsicles with smiley faces - so fun! I used the solid for the sleeve and neckbands for a great ringer tee look. Susana includes a great seam cover for a really nice finish at the back neckline. Paired with my Cobalt Boardshorts, Hadley is ready to play!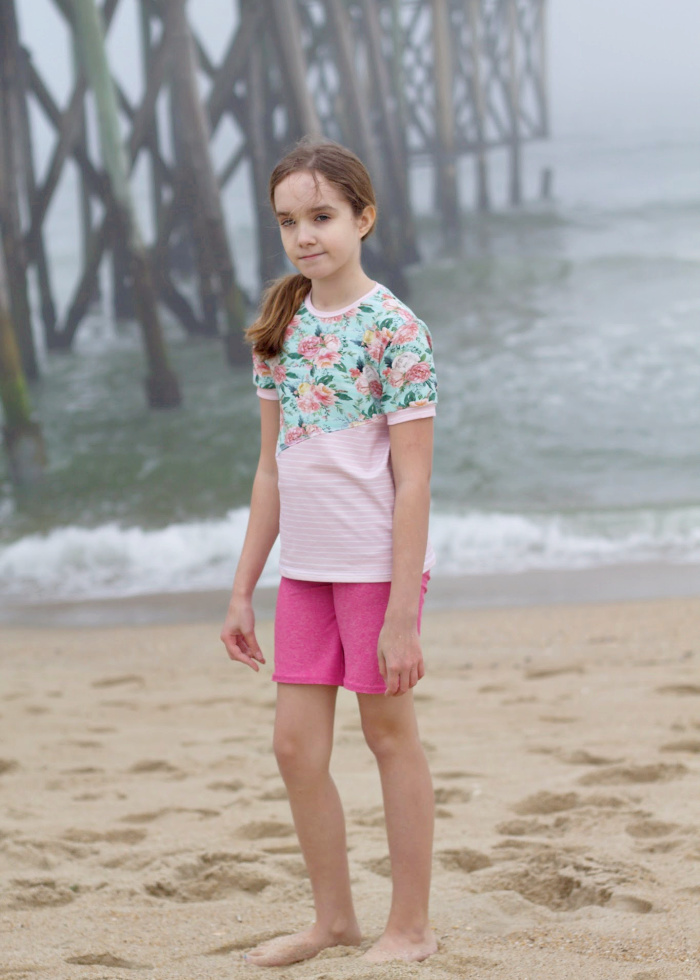 Arden's Lemon Tee is the same style as Hadley's, but in a little more "grown-up" print with a floral on top and hand-painted stripes for the bottom and bands. The shorts are Abby's Marigold Pants by Saskia of The Wolf and the Tree. I really wanted to make the cute little hip ruffles in the capri or full length, but Arden wanted the plainest options. Oh, well! The pattern is for sizes 3 months to 14. In addition to this plain long shorts length version, there are capri and full lengths, optional hip flounce and a waist tie.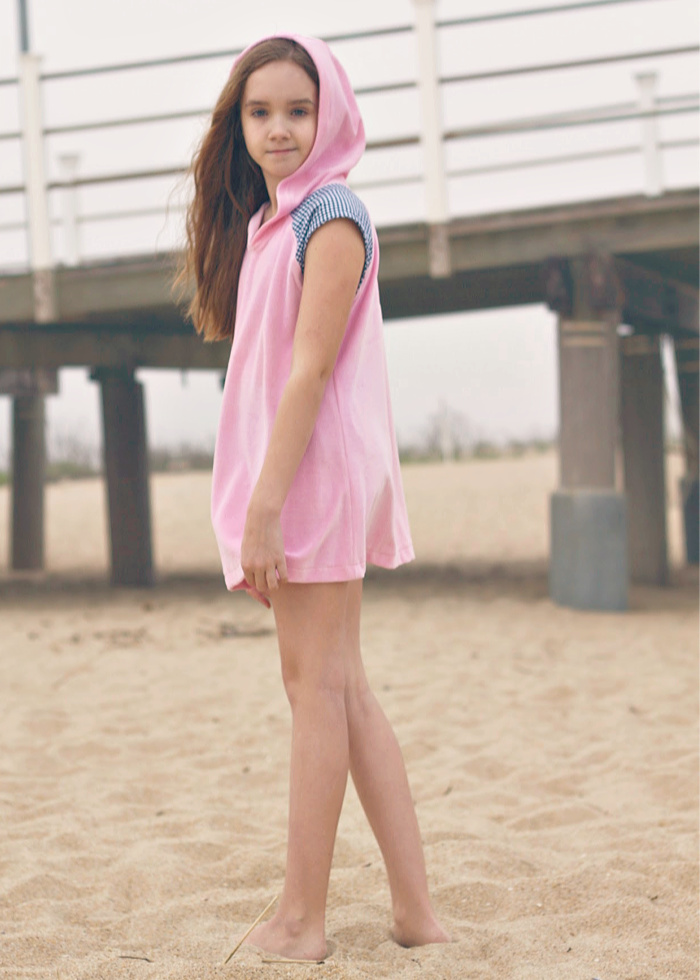 Now we have the Ultramarine Cover-Up by Call Ajaire. This and the Chromium Cropped Hoodie were lifesavers for a chilly day at the shore! It was warm and sunny just a few miles inland, but misty and cool at the ocean. The Ultramarine Cover-Up is super versatile since it can be made using knits or wovens, or a combination of the two. I used a plush cotton velour I picked up in a destash recently and then woven navy gingham for the shoulders. There are options to gather the center front with elastic or ties, but Arden wanted it plain. So there's "what I sewed" as succinctly as I could make it. Be sure to head over to the Project Run & Play Shop and check out your favorites while they're on sale for the release. If you're interested in more than a couple of patterns I highly recommend picking up the whole collection. The discount on that is better than 30% off the full price total of all the patterns, which is a real bargain.
Come back tomorrow to see what another designer sewed from the collection!!