Are you ready? Are your kids ready? Prepare to be inspired by these fantastically talented creations by the Season 25 designers!
Week 1: 1+1=School
No matter what school looks like for your child, they're going to need something to wear! This week, fashion some new togs to elevate the learning experience.
Jong Design: The Weather Changes - So Should You
I have to start with telling you how unbelievable excited I am to show my first outfit for week 1! I had so much fun creating this outfit and my daughter is ready for the start of the new school year! Living in the Netherlands means you can leave the house in wind and rain and half an hour later it's warming up, the sun is breaking through and within 15 minutes you feel all sweaty. Also the otherway round is possible: the sun is shining bright, but short time later rain is soaking you to the skin. With knowing this...My outfit is created as an all-weather outfit and can be combined on different ways.
Well, I had to start planning the outfit. The most important for me is that it is comfortable and a pleasure to wear. Yellow being my daughter's favorite color it was pretty clear that it was going to play a leading role in her outfit. I was already searching for a long time to find a pattern for a raincoat, but so far I did not find what I was looking for. So I drafted it myself. I added reflecting paspel to the jacket for visibility and safety, especially because most children here go to school by bike or walk. The yellow fabric is water resistant and impregnated with a waterproof spray. The seams are finished with water repellent seam binding. The sleeve is a 2-piece sleeve and gathered at the shoulder, both for a better movability. The jacket is fully lined with a coated cotton and of course a pleat at the back - again to give an eight-year-old all the freedom to move.
I found out some years ago how to make an umbrella and it's not just a fun matching accessory. Umbrellas are a must-have in the Netherlands. I used the same water-resisting fabric and the lining fabric and I also impregnated the whole umbrella. Leggings, camis, sweaters, skirts are all basics that will never fail and are perfect for layering. When you have found a pattern that is working for you, there is no need to change it. I got my hands on some awesome fabrics from Minerva fabric (thanks again!). So I used this soft 4-way stretched french terry for the leggings. A thicker soft french terry - also from Minerva fabric - became the sweater and I had exactly enough left to make some legwarmers too! The cami is made from cotton lycra with matching FOE for finishing.
When a stunning plisse fabric caught my eye I could not help it but honor it by drafting a new pattern for the half circle skirt. I left the knit fabric raw at the hem to get the most clean look as possible. The exposed elastic was a lucky find in my stash. Although my daughter does not need a big bagpack for school, a bag for her lunch and a waterbottle is necessary. Still being in drafting mode I therefore created a neat little bag to match. The bag is fully lined and because I used woven material for the bottom and the lining, I was able to use this funny and suitable knit fabric from Minerva fabric. I am happy and so is my daughter! For more information about my inspiration, the patterns I used and where all the fabrics are coming from you can read in my blog, Jong Design. And...I'll tell you how I make my children wear their clothes longer then just 1 season...
Sincerely Shantelle: Welcome Back
I can't believe that Week 1 of Seasons 25 has finally arrived, and I'm so thrilled to share my looks with you! The theme "1+1=School" couldn't have been more timely, as today is actually my kiddos' first day of school for 7th grade and kindergarten! When I found out that we'd be doing back to school looks, a few things instantly came to mind. Fall, and all of the season's glorious colors, plaid, and that "welcome back" feeling of a new school year, which is where my title comes from.
Finding the exact fabrics and exact pattern combo took a little time. I actually bought two other colorways of plaid shirting fabric from a local fabric shop, but ultimately ended up with this plaid from JoAnn that I thought was super cute. I was instantly drawn to it because it had the colors I was digging most from the 2021-22 fall/winter Pantone palette. I drafted the pleated skirt pattern for my daughter using the Ellie and Mac A-line skirt yoke as a starting point (with many, many tweaks), and finished it off with my first ever invisible zipper! For her top, I made a cap sleeve tee out of burgundy double brushed poly (using my pre-season shopping pass from Cali Fabrics), and finished it off with a cardigan I created using the Lounge Sweatshirt from Brindille & Twig as a starting point. I think this is such a darling look, and can't believe my Sweet Bean is heading into 7th grade!
For my son, I drafted a new joggers pattern using the ruboff technique from some store bought joggers he's had for a while that I really loved. I wanted something that wasn't as slim fitting as many patterns I already own, could be used with limited stretch knits, and had more options. I created a few waistband options, different pocket options, and for the hemline to be finished with a traditional hem or 1" encased elastic. For this version, I chose the folded over waistband, side seam zipper pockets, and a traditional hem. I used mid-weight black French Terry ( also using my pre-season shopping pass from Cali Fabrics), which has about 20% stretch. His tops are both patterns from my collection. The button down, I made modifications to the construction to suit my needs, make it easier to sew, and added a facing create a neater finish along the curved hem. I adore how big and put together my little kinder dude looks, while still being able to move and groove without being hindered. He's super active, so his comfort is always my #1 priority when sewing up new pieces. Being cute is a close #2 haha.
I hope you love these pieces and overall look as much as I do! If you'd like more details and photos, you can stop by my blog post! I hope to see y'all again next week!
Sew Whit Designs: Our Year
Today is the first day of school for my kids. I wanted to create a collection that was cohesive, comfy, stylish and age appropriate. I was inspired by classic crayon colors and and vintage vibe. My oldest is starting Middle School and is starting to have an opinion on what is "cool." I made a basic tee from one of his favorite ready to wear shirts. For his pants I started with the Prose and Poetry Cargo Joggers from the Lounge Library Collection. I used this Whale Corduroy from Cali Fabrics. I made the pants zip-offs so he can turn them into shorts now, then when fall hits he can can switch back to long pants. I Topped it off with a Classic Letterman Jacket. I started with the Ollie Bomber from Sew a Little Seam. I switched the front closure from a zipper to snaps and added knit trim for the collar, hem, and cuffs. I lined the jacket with this football play print from Raspberry Creek Fabrics.
For the girls I wanted to create a mini capsule wardrobe. For Miss M. I modified two patterns from Sunflower Seams to create a pinafore and puffed sleeve top. All the fabrics from her look came from Raspberry Creek. To go along with the vintage vibe she needed some knee high socks. I modified the Sew it forward sock pattern and added a cuff and trim to match her collar. If she's not feeling the skirt she can throw on these jean shorts. I used the legs from a pair of my jeans to make the Call Ajaire's Bacca Bootcuts. To create the bottom of the overalls for Miss. P. I also used the Baccas pattern. I drafted the bib and back from scratch and added some lace trim on the pockets and the back diamond detail. For her top I used this darling Red Knit Eyelet from So Sew English. I started with the Sew a little Seam's Willow dress pattern added a placket in the back, with a gold button. Then added a thin binding, made the sleeve hit at the elbow and banded the hem. I also sculpted the girls little apple earrings from Sculpey Doh clay.
For my middle child I went for a more of school uniform look. I started with the Declan Pullover from Peekaboo Pattern shop and added some color blocking. The Navy Jersey and the Yellow Triblend came from Raspberry Creek Fabrics. For his shorts I used a khaki twill, and cut the Vanguard Pants pattern, from Love Notions, into shorts. I added a comfy knit waistband, grommets and a faux drawstring. Lastly, theses little twinners are starting Kindergarten this year. I knew this Notebook Fabric from Raspberry Creek would be perfect! I used the Moto Maxx tee from Love Notions. I added two bands to the short sleeves give the look of a pencil eraser. Then I added some vinyl lettering. The twins shorts are made with the Limone Lounge pattern from Jennuine Design. I added a faux fly and omitted the front pockets and made them out of this Charcoal Chambray, also from Raspberry Creek.
For more details and pics please join me over on my blog at Sew Whit designs. Wishing you all a wonderful 2021-2022 school year. This is going to be our year!
DIY with Manneken: Back to School
The first time I heard about Project Run & Play was when I saw Mónica, from mamemimo, participate in the competition. At that moment I thought, "wow, this is sooo cool, I want to participate!". And here I am, 2 years later, a designer for Project Run & Play.
The first theme is "1+1=School". I really loved this theme and thought I could design a good idea for it. I think school for kids, should be fun, colourful, a place they really want to spend their time at. I wanted my garments to express this colourfulness and playfulness that I want for schools. I also wanted to express a school subject through the clothes. I really loved mathematics when I was younger, and Geometry is the perfect way to show it through the garments.
I made a set for my younger daughter, a top and a skirt. I designed the garments with different geometrical shapes, the triangular yellow panels, the semi circular baby collar, the trapezium shaped frill on the skirt...All shapes represented with different colors.
The main fabric is a denim chambray which is perfect for kids activities, and hide stains and smudges (at least until you can wash them). It's also a fabric which combines well with all colours, so the shapes which complete the outfit could really be in any color you like. I also chose chambray, and not jean, because it is a thinner fabric, easier for the kids to move around.
I used a yellow poplin for the "triangular" shapes of the top and the skirt. It's an easy fabric to sew, 100% cotton, fresh and confortable.
For the baby collar and the left hand side skirt panel, I used a mint green double gauze (with interfacing). For the back of the top and front frill I used a salmon colour double gauze.
The top has a wide opening, easy to wear for the kid, with a hook on the back. The skirt has a side zipper, accesible and easy to pull up.
I also designed the garments so my daughter could use them separately with other basic garments. I bought all the fabrics from Ratucos, a Spanish fabric website.
The patterns are self drafted, and hope to have them online after the competition! You can visit my blog and my instagram for more info!
I really hope you liked my proposal, and help me go on to the next theme!
xoxo
Anita
August Sewing: Le Debut
When I thought about what going back to school meant for my daughter who is entering middle school, the word "debut" came to mind. A new building, bigger and with more kids, many she's never met, and who haven't met her. She is making her debut. She's saying, "hi, here I am!" I set out to make a collection that could be sewn with ease and combined in different ways. The fit had to be perfect and most importantly, my daughter needed to love it. The cornerstone of the collection is the Noelle Phares, Phantom Limb panel used on my Landscape Jacket. I am a big fan of hers and have her panel collection available at Goldie Olding Fabrics. I wanted to have the largest amount of uncut panel as I could, and created the bound seams to act as a frame for the artwork. I lined it with blush silk and sandwiched some Cali Fabrics flannel between the layers. The rest of the collection was built around this piece.
When creating a back-to-school wardrobe, denim is a must. I drafted the Mosey, a chic A-line skirt, made out of Classy Lady Denim from Goldie Olding Fabrics. The pattern features facings at the waist and hemline, an invisible zip and slit. It's a flexible piece that can go the whole year, or at least until she outgrows it. My Hurrah pattern features a crop length, oversized sleeves and a clean finish neckline. I created the graphic to highlight my collection title. The perfect first day of school message: 'Ce n'est le debut,' is French for 'this is just the start'. The blue Tooz dress is in a heavy bamboo rib from my shop. I liked how the weight of the rib really held the silhouette and highlighted the hemline. The dress is simple and flattering. The edges feature a wide binding with a raw rolled edge.
For the last look, I used a marbled PBS cotton print available in my shop. I started with the French Poetry Orion pattern and made some adjustments for size. The pattern features darts in the back and pleats in the front. I eliminated the waistband so the focus would be on those pleats. For the top, I used the Patterns for Pirates Hepburn as a base and created a cap sleeve and redrew the neckline to give it a bit more scoop. The lettuce edge mimics the marbled print, and the simple rolled hem makes it finished, but easy and comfortable to tuck in.
You cant go back to school without a backpack; right? The Noodlehead Buckhorn was perfect for this collection. I hand dyed the linen to match the other organic elements in my collection and accented it with my Noelle Phares panel leftovers. I created organization for pencils and smaller items inside and added a quilted laptop sleeve as well. For more info, visit my August Sewing blog.
Enjoy!
Ivana May Timeless - Ready to Take on the World
Welcome to Week 1 Project Run and Play – 1+1=SCHOOL. I am so excited to show you all what I have been working on for the past few weeks. Back to School is my favorite time of the year. It means cool weather and a colorful fall is coming soon. Just dreaming Texas doesn't have fall…only summer. I would often hear people asking what Back to School looks like for a homeschooler? Don't we just come downstairs and start the new lessons? Do we really do school in our pajamas? Well, honestly, we love homeschooling and we pretty much fancy it up and all. No matter if it is the math lesson at the desk, the science test in the garden or an art lesson in the museum, my daughter loves to be in a dress.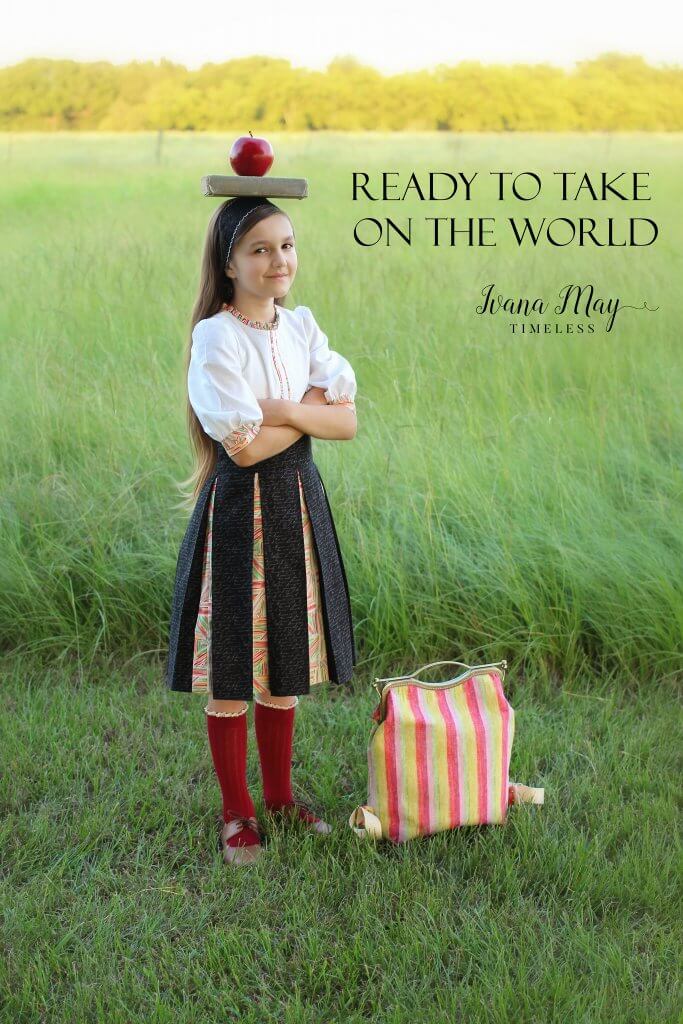 For this look I combined a few of my favorite patterns from
Vintage Little Lady
. White Top – I used
Layton
bodice with a ruffle collar, added 4 pintucks and faux piping on the center front. Then drafted gathered 3/4 sleeves with simple cuffs which are elegant and perfect for any occasion. I used Fish School cotton from
Cali Fabrics.
My first Skirt is presenting our love for Art, Reading & Spelling. I wanted to make it really fun so I used Contrast Box Pleat technique with painterly fabric from
Art Gallery Fabrics
. The details are very important to me so I hemmed the skirt using 2 different colors of thread for each section (just a little ocd over here). For the second Skirt I created a simple & casual pattern. I cut the main fabric 6" longer than the lining to create a fun puffy look, with an elastic waistband for easy on and off. We love to travel and have visited 46 states together, so this
Riley Blake
Fabric was a perfect match.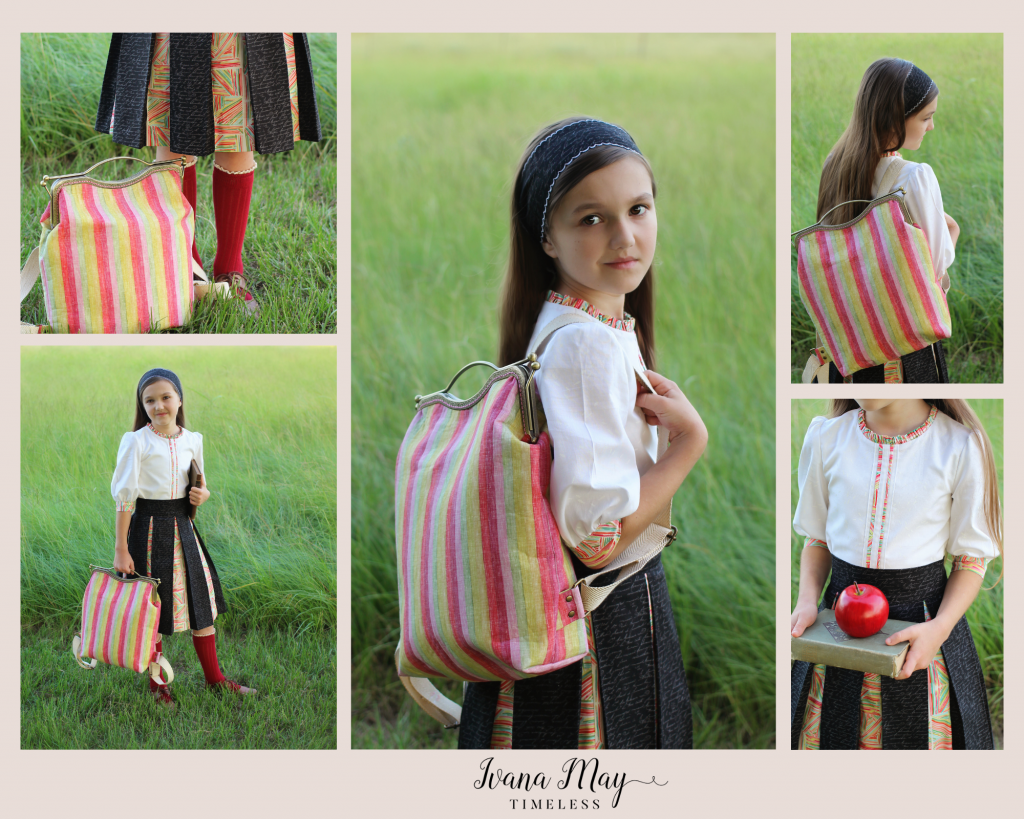 I added a few accessories: small
Bailey bow
and with the same Scallop technique I created a Matching Ribbon Headband. My favorite thing to design for this week was a backpack. I used my 2 patterns
Emeline
and
Ma Cherie
as a starting idea. With a few modifications and a LOT of hand stitching I created a vintage yet modern accessory. It will be perfect for all our field trips.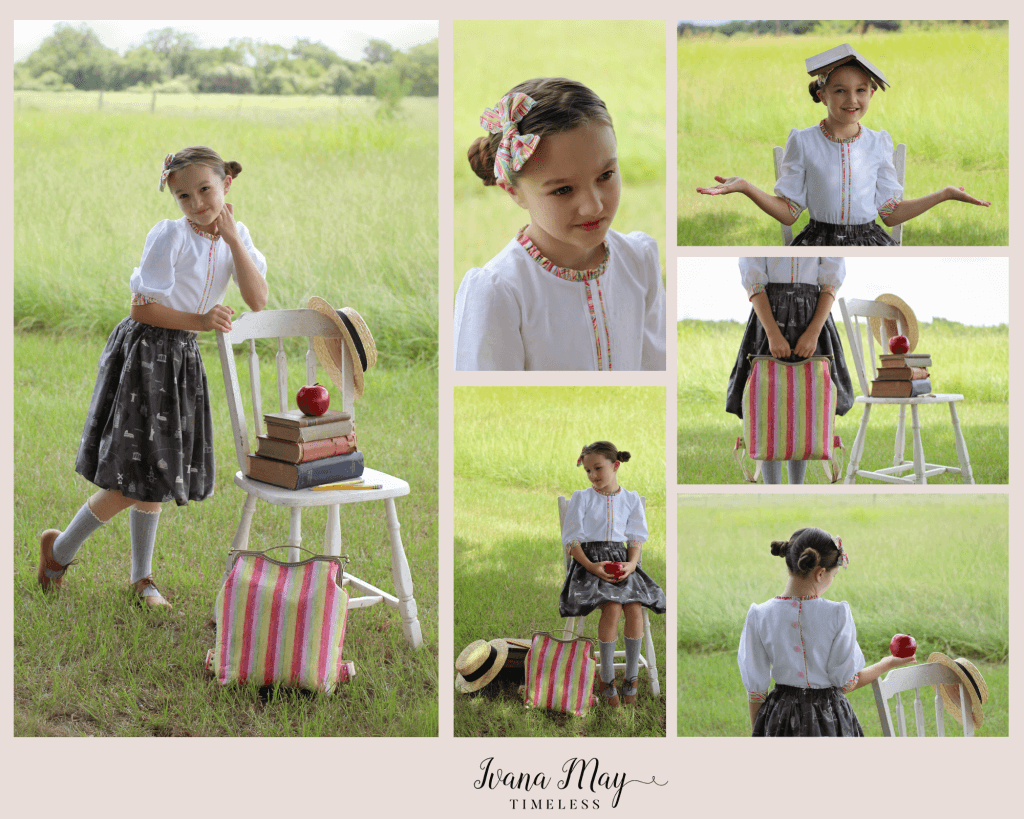 So, we are all set to take on the world! Check my Blog
HERE
for more photos and details. Please be sure to vote for your favorite look this week. With Love, Milja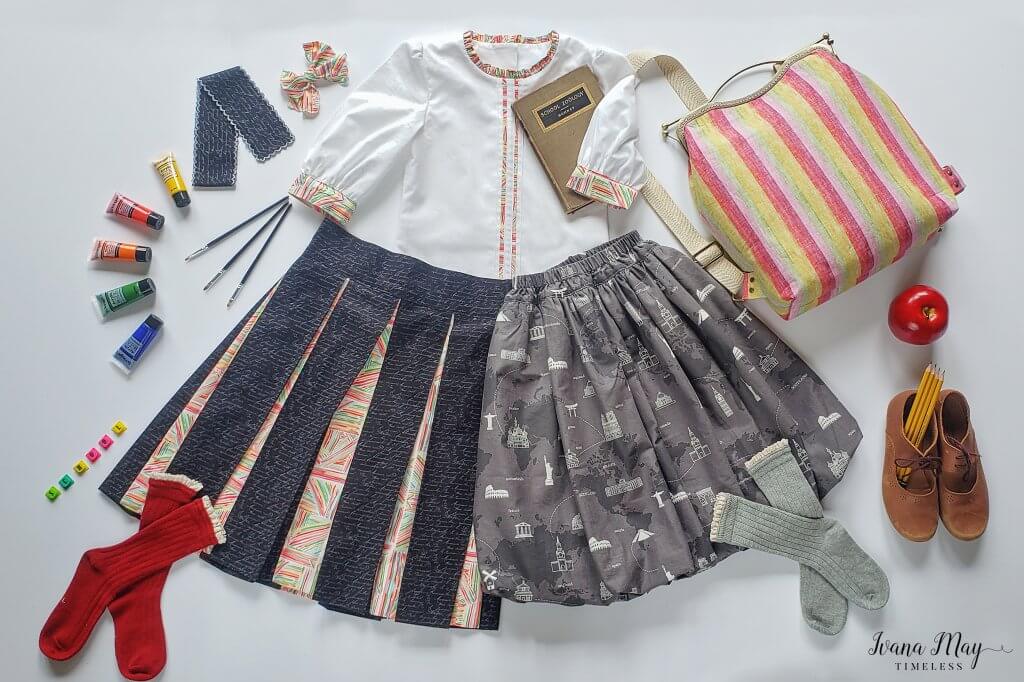 Now it's YOUR turn! Use the voting widget below to vote for TWO of these talented designers:
This week, our guest judges, Tessa and Tami of Love Notions really, really will have their work cut out for them to determine the scores!
The designer scores are determined as follows:
1/3 of the designers score is determined by the celebrity guest judge(s)
1/3 of the designers score is determined by the panel of judges
1/3 of the designers score is determined by YOU, the audience!