I'm simply over the moon (see what I did there?) about the designer's looks for the week 3 theme: Astronomical Proportions! These looks are over the top. They're out of this world! Okay, I'll stop and let you see their stellar designs...
Pear Berry Lane - Space Nerds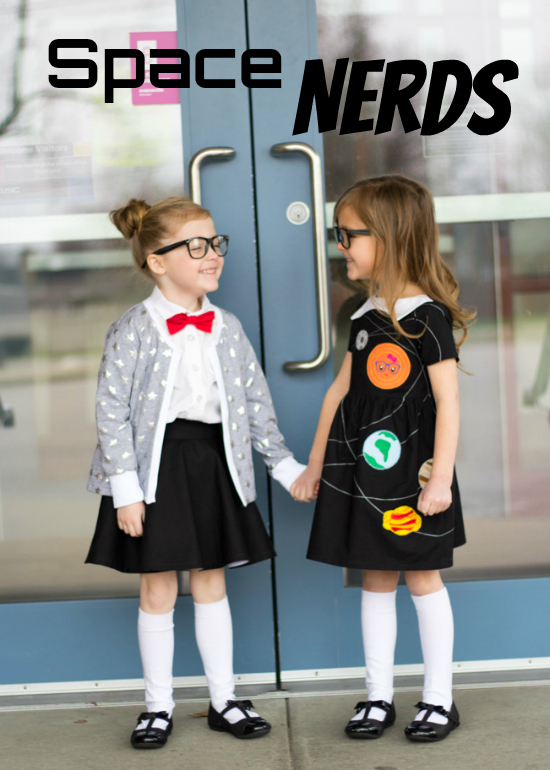 It's Space Week!! I'm just going to tell you I had this crazy idea of creating some sort of space suit look with a fun jacket, but after tackling last week's rain coat I ditched that idea in a hurry. Then I got this idea to go electric. Lights for stars and all the jazz. I'll just say that I attempted a look, but ditched it as well. So two ideas out… What do I think of when I think of outer space, I pondered? I think of school and that solar system mobile that I think every single one of us has had to create at least once in our childhood. Some of us, maybe even more than once. So I create a fun solar system inspired dress and a cute skirt set that is all about stars for my little space nerds. They are so excited about these looks and are already talking about wearing them to school. Be sure to check out a detailed post on my
blog
after scoping everything here.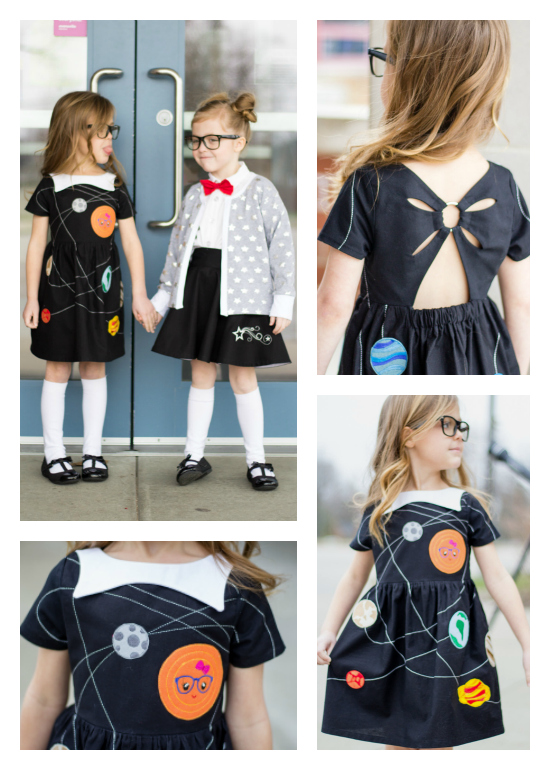 For the dress, I started with the Starlight city dress. But I wanted to do something with the back. I wanted to change it up to create a design that makes us think of the sun and its rays. After a few attempts and some hardware, I love the look. It's fun and original. The planets and the sun appliques are all features that I made using my PE770 and then applied to my dress. Aren't they the coolest? If we have to make a planet mobile for a school project, I'm going to teach the girls how to use the machine and stitch these out. The stitching across the bodice and the skirt is supposed to mimic the orbital paths of the planets. Man… That was time consuming. Do you see it?
For the skirt set I started with a circle skirt pattern from Simple Life Pattern Company and added a Glow in the dark star design. I hacked the Ume shirt dress from Straight grain patterns to make my collared shirt. It turned out so great. It features all the great details including back yoke, pleats, collar, etc. The coolest part about this shirt is I stitched it with glow in the dark thread. All the top stitching and button holes literally glow. How fun. My daughter thinks she's the coolest. I've got photos on my blog of the shirt glowing. The sweater is a hack of the library cardigan from Little Lizard King. I removed the foldover piece and made a new front silhouette.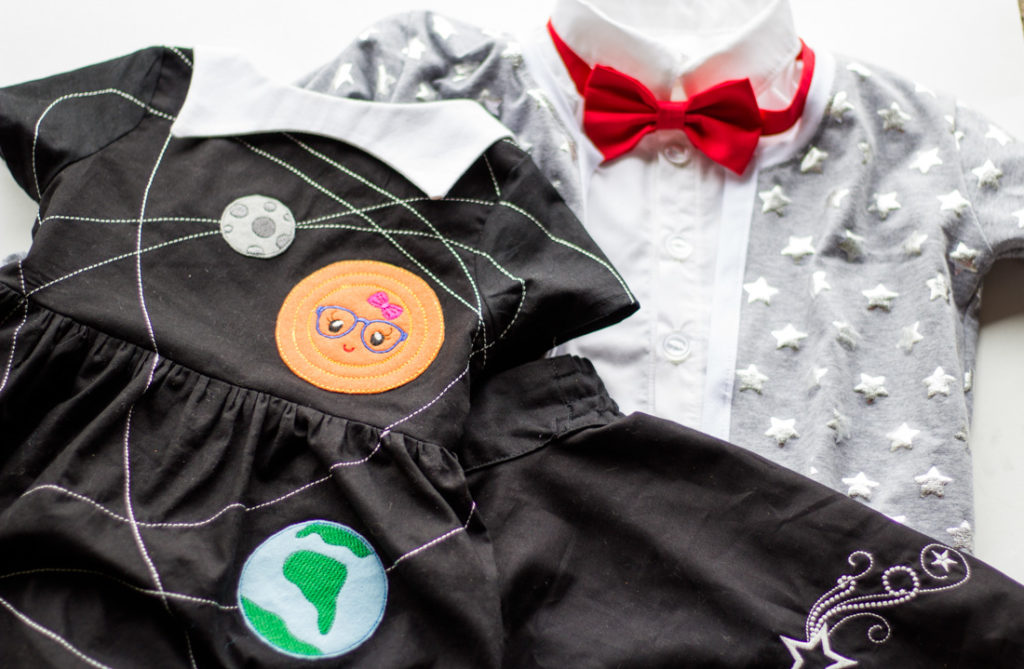 Sew Country Chick - Planet Bling
This week's look is titled Planet Bling. The theme this week is Astronomical Proportions!
I took my girls to downtown Los Angeles where there are an abundance of crazy wild fabrics perfect for something for this week. Gigi loved this black stretch velvet with iridescent glitter sequins. I wanted to make something that was totally her style this week. She's sporty, but also loves lots of bling!
Since this is a skort, she can wear it with the turtleneck to be more dressed up, but also with a tank top for tennis, or even for track practice. Making the skort in stretch velvet gives a more dressy vibe, but the shorts inside the skirt are made of performance stretch fabric to keep cool. For the top, I added an angled ruffle to the shoulders for a futuristic trendy look, and made a wide turtleneck with a slightly lower neckline. I also made a matching headband. You can visit my
blog
to see photos of the insides of the shorts and for close ups of the fabric, which looks amazing when the sun hits it.
I adapted two of my favorite patterns for this project. The basic Jalie T shirt and the Jalie Loulouxe skort. I've used the same patterns before for my own tennis wear. Jalie makes excellent patterns for activewear, and the fact that one pattern can be made for small children all the way up to large adults is a bonus.
I'm very happy with this outfit. My girl loves it, and it's also very comfortable for her to wear. So I would say it's a winner! Hopefully, you will, too! Happy Sewing!
-Justine from
Sew Country Chick
.
Phat Quarters - Galactic Party Dress
This week we were supposed to "Rise above our planet with our out-of-this world creations inspired by outer space." I wanted to create something that was not only 'astronomical' but also played a bit on the 'proportions' or sizes found in the final look. It was a hard balance to create something that was big and still wearable. What was not hard to figure out was how I would be inspired by outer space & find inspiration from a planet above ours - perhaps even....a galaxy far, far away.......OF COURSE I pulled inspiration from Star Wars!!! If you know me at all, you know I have a slightly unhealthy love for all things Star Wars. I really enjoy the character of Padme Amidala; she is strong, respected, intelligent, peaceful, and her outfits are COMPLETELY AMAZING!!!! I love that her looks have fantastic hair-dos and clothing that is a combination of soft draped pieces & tailored pieces. This is one of the elements that I replicated for my look. I created a fun dress with a big moving skirt, a short bolero jacket with tailored pleats, and tied it all back into the 'astronomical' prompt by using Monalunas Moon Phase fabric and tiny silver stars as jewelry.
This little bolero jacket is the perfect tailored piece to mimic the coat from my inspiration picture. I started with the base of Blaverry's
Decklyn Jacket
. I have made this jacket once before and it was quite the adventure! You can read more about that
here
. From this base I started to create the curved lines that are on the inspiration coat. It took multiple attempts but I finally found the lines l was looking for. I then cut out all my pieces, add my seam allowances and got to work. When all was stitched and done the only thing that remained from the original pattern was a shortened version of the lining. On the back of the bolero I wanted to continue the well tailored look, so I choose to create a pleated panel that was encompassed by more of the style lines from the front. Achieving this look made me feel like I was creating a paper pieced quilt. I would add each piece to the base, press it well, top stitch it, press it again to relax the seams, and then add the next piece or layer. The results were exactly what I had hoped for! I topped it off by making a mandarin collar with one over-sized ruffle adorned with silver trim and two star jewels. I lined the bolero with the same vibrant burgundy fabric that is in the skirts of the dress. In the light you can see through the silver broadcloth and the star shapes on the lining shine through. It is a fun coincidence that works perfectly with the theme! I adore how the overall look of the bolero jacket turned out. The metallic silver of the broadcloth glows in the light and the weight of the fabric suits the tailoring well. The vibrant lining is the perfect pop of color and the little details make it so special!
There are so many little details to this dress that are not really noticeable at first glance. I wanted to have a good amount of volume in the skirt to play on the prompt of 'proportions.' I did not want, however, to make a gown that could not be worn except for on special occasions. It love the balance that I achieved with the size of the skirt, the twirl factor, and the unforgiving 'tween' factor! It really turned out to be a fantastic party dress! I wanted a good amount of volume for my dress so I decided I was going to make layers of circle skirts. I'm gonna tell you a secret now....this was my first circle skirt!!! To save time, and because I knew I was going to play with the circle skirt shape, I wanted to use a pattern to avoid math and have a sound base. So I used the skirt pattern piece from the
Take A Bow Dress,
by Duchess & Hare. I found a circle lid in my kitchen and started making the planetary system (like that!?!?!?!!! LOL) along the hem of the skirt pattern piece. After I had the circles spaced out how I wanted them, I used my french curve ruler to add concave semi-circles in between each main circle. Once I was happy I cut out the new pattern piece. The final skirt has 3 curved layers of the woven fabric and 2 layers of organza, all cut on the bias. For textural effects I cut the organza with a pinking rotary and did not add curves to the hemline. I LOVE how the shimmery layers of the organza peeks out from under the woven layers of the skirts! The 3 woven layers all received rolled hems before the full skirt was layered, adjusted so that the hems we all offset from each other, basted together, gathered, and then added to the bodice. Multiple layers are hard to gather as one unit, you can read more about how I did this and see many more pictures of this look
on my blog
. The volume of my skirt is big not only because of the amounts of the fabric in the circle skirts but also because of the visual effect of the hem lines, the different lengths of each tier, and the pop of color in the middle layer. All these components made a really fun, really twirly, and very lovely out of this world look for my dress!!! I also like that the curved lines of the skirt hems mimic the curved lines of the bolero, yet the skirt is soft and bouncy and the bolero is tailored. This is the balance that is often found in Padme's elegant clothing and I was thrilled to capture it in my overall look!!
I self drafted the multiple pieces of the front bodice. For the top center I used a 3/4" wide piece of elastic to create a gathered panel giving it a soft feminine look and mimicking the center panel on the inspiration picture (found on my blog). The rest of the bodice is pieced together and top stitched, again pulling in the tailored aspect that I wanted to achieve. I work with Monaluna's organic poplin often and knew that there is a bit of give running on the crosswise grain, so I was comfortable breaking a few grainline rules and chose to fussy cut my side pieces. I wanted the moon phases to be used down the sides of the dress for a visual straight line. I also wanted the bottom center panel to be a quiet place for your eyes to rest. So again I made a fussy cut, allowing the cluster of star specks to be the only thing you see. They fall from the upper bodice seam line leaving a solid navy band just above the skirt. I love how the front bodice turned out. It is cute and fun and matches the skirt well. The straps of the dress lead into the slight racer back cut line of the back bodice that is elegant for a sleeveless. I added a pop of color & interest to the back by using an large exposed zipper as my closure. Not only does the zipper allow the dress to be pulled easily over the head & shoulders but it also plays on the proportions aspect of the prompt again by being so large and running the full length of the back bodice. I adore how it turned out! Over all I wanted to create a fun young party look with volume, large & small details and proportions, tailored lines, soft feminine elements, a healthy bit of twirl factor that would make my look out of this world beautiful and yet completely wearable! I really hope that you not only enjoy my look today but that you can see my 'out of this world' inspiration. My little lady is going to dance under the stars in her new party dress and will be the talk of the galaxy! To see more pictures head over to my blog at
Phat Quarters
!
SewSophieLynn - Shine Bright


This week's theme was definitely the most challenging for me. Throughout this competition I've tried to stay true to myself and our style while still pushing me out of my comfort zone and trying new things. That's a tough thing to balance and this week was especially hard. The theme 'Astronomical Proportions' had my mind reeling. Going along with the theme I wanted to really push myself and think bigger than I've ever done; sparkling, glowing, vibrant, high fashion are all things I kept going back to. We went with 'stars' as our focus, with my girls shining bright for all to see.
This dress was so much fun! I've always said that I hope to be a good enough seamstress by the time my girls are in high school that I can sew their prom dresses. This dress was a great start! For my looks this week I used mostly fabric I scored as remnants either in LA or my local fabric shops and have been in my stash for ages. While my fabrics were a steal it meant planning strategically around the yardage I had. I wanted this dress to be sophisticated while still being playful and a blouson top, slight flutter sleeve, and circle skirt all add to that feel. The drape of the sequins made them so perfect for this look. I used the basic bodice I created in week one from the Nina Blouse by Coffee + Threads for the base of the bodice then went from there. This dress is the most self-drafted piece I've created and if you know me that's a big deal (I love to have all the work done for me!). The dress is all lined in super soft rayon jersey knit for comfort. I did an elastic waistband casing on the dress lining to avoid an extra seam on the bodice. The boat neckline is a sweet design feature that also makes it so there is no closure, something I wanted to eliminate working with sequins for only the second time ever. My favorite feature of this dress is the fairy lights in the skirt! I added a special zip pocket inside one of the side seam pockets to hold the battery pack and hand tacked the lights throughout the skirt. The loops are just big enough for the lights to slip out when she wants to wear the dress later. With a wedding to attend in the next couple weeks, her biggest question is lights or no lights for dancing at the reception?! The added shorties underneath mean she can spin to her heart's content and still be modest! I used the Love Notions Leggins' pattern, only altering the waistband to be taller and adjusting the length to hit mid-thigh. She picked Chucks to finish off her outfit and this look just suits her sweet personality so well.
Little sister got something a little more her. She's my dancer, goof ball, and drama seeker. She loves the spotlight and I knew this neon pink scuba knit was perfect for her. I used the Hey June City Park tee as my starting point for the top. I did big blouson sleeves, cinching them with elastic at the cuff. While I love statement sleeves, I think bringing them in at the wrist makes them so much more practical. I added width to the bodice to create a boxier look and finished it with a slight high low hem. Metallic stars at the shoulder and hem bring in this weeks space theme. I did faux leather leggings for bottoms. I used the Peony Leggings from Sew Like My Mom and slimmed them down even more for a second skin look. I added height to her waistband also for a high-waisted fit. I cropped them just at her ankles for a chic finish. She's so excited to wear this outfit to school and it suits her funky, cheerful personality so well. These outfits really showcase their styles and also brought out their playfulness. For all the fun pictures of them channeling their inner movie stars and more details on my sewing process this week head over to
SewSophieLynn
.
Alright everyone! Vote for your favorite Astronomical Proportions look. Voting starts now, and closes at 8pm EST on Thursday March 29.
One third of the designer's score is based on your vote!
One third of their score is determined by the
panel of judges
.
One third of their score is determined by this week's guest judge, Dana from
Made Everyday
!
Are you inspired to sew along? Link up your creation
here in our sew along
for a chance to win a prize!!