Today is the day the designers get to reveal their looks inspired by the week 2 theme, Crafting A Story! Grab a cup of something hot to drink, sit back, relax and enjoy these stories!
Phat Quarters - Swiss Family Robinson circa 2018
Picking one favorite book is such a hard thing to do! Yet one of my childhood favorites has also become a favorite for my children and so this week I pulled my inspiration from the pages of Johann Wyss', Swiss Family Robinson. It is a delightful story about making the best of the cards you are dealt and learning to love the unexpected places you end up in life. I grew up spending many days on the beaches of California and I have fond memories of sailing with my grandparents to Catalina Island to camp. While I no longer live close to the ocean, beach life is a major theme of my personal style & pattern designs. This week I created two looks for my version of Swiss Family Robinson -circa 2018.
I chose two of my favorite characters and brought them into the modern times. As I did last week, I hand drafted each of my pattern pieces for these looks. My first look is for Francis, the crazy tiger loving youngest son. I wanted to design a pair of shorts that had all the fun bells & whistles little boys love about cargo shorts, yet were more fitted like a pair of Bermuda shorts. The shorts have two classics back pockets and two seamed pockets. I also created a bonus hem pocket that is perfect for small treasures and shells. This pocket has an exposed zipper that gives the shorts an even bigger burst of color! I made two simple back pockets and a elastic back waistband. I love a good flat front waistband and the addition of grommets & faux ties secured with clear toggles, takes me back to the docks of the Yacht Club! For the top I drafted a knit raglan tank with an oversized hood. This is a great transitional piece for spring and will be perfect on cool summer nights after a day playing in the ocean. I created a larger curve to the armscye at the back of the shoulder blade just because I thought it would look nice and open like muscle tank, and I love it! Add a straw hat and a pair of 'cool guy' sunglasses and my Francis is ready to explore the island in style.
My Roberta is ready for the beachy Christmas celebration in her new black gingham dress with her handmade ombre tassels. I drafted a simple bodice then cut the front neckline to create an age flattering V-neck. I created a deep scoop on the back bodice that features a tie that will ensure she can chase animals across the beach with ease. I made the tassels on the tie white and larger than the tassels that drape down the scoop. For the handmade tassels, that adorn the scoop, I used 3 colors of embroidery floss. I chose the bright coral color pallet to blend with Francis' vibrant shorts and to bring a bright pop of color to the black gingham. I placed the lightest color up at the top of her shoulder blades, the mid-tone in the middle, and the darkest coral at the base of the scoop, creating an ombre effect that highlights the beautiful curve of the scoop. Lastly, I accented the full neckline with a small white lace as a nod to the Victorian age that the book was created in. The skirts of the dress have a slight gather to each of the two layers. This design detail allows for the dress to be full but not overly gathered for my tween. I created an elastic casing between the bodice and skirts to have a flattering fitted waistline while still allowing the dress to be a pulled over her head when she dresses. The hemline of the dress has a men's dress shirt cut line, where the side are higher than the front or back. It is a very fun and on trend style that I adore right now! I finished off her look by making simple little tassel earrings and a huge floral crown. For more details & pictures please visit me at
Phat Quarters
.

Sew Country Chick - Modern Mad Hatter
Gigi wanted me to make something from Alice And Wonderland, and I wanted to make something from one her favorite books, The English Roses. So I'm doing kind of a mix up of the Mad Hatter meets the English Roses. The Mad Hatter is known not only for his top hat, but also for his large bow tie and his bold use of pattern and color. The English Roses are also very colorful and fun, but have more of a sixties look. Meet The Modern Mad Hatter. A mixture of pattern, color, and whimsy. Carnaby Street style!
This outfit is made from a rayon floral print and cotton gingham for the tunic, and stretch ponte knit trimmed with the same floral rayon ruffles for the leggings.
The top pattern was drafted by me using the basic bodice and sleeve slopers provided in the Building Block Dress Book from Liesl Gibson. I used the same slopers to create my pattern for my
Let's Go To Egypt dress
from last week. To make the bodice, I created an empire waist bodice by raising the waistline, then I added a rectangular gathered skirt . I pivoted the sleeve pattern to create bishop sleeves, and added little cuffs to gather the sleeves into. I made a tie neck bow collar by cutting a wide piece of gingham on the bias. Cutting the bow on the bias makes it drape more softly around the neck. The legging pattern was made from tracing an old piece of leggings she already had. I sewed three inch lengths of fabric right sides together then turned them right side out and gathered them down the middle to create ruffles with no exposed seam allowances for the pant hems. Gigi has always liked those ruffly leggings, and I've never made her a pair. And of course, this year it's all about ruffles and giant sleeves!
To see more photos of my design please visit my blog post at
Sew Country Chick
. Bye, now!

SewSophieLynn - Charlotte's Web


This week's theme was sure a fun one! I sat down with my kiddos to brainstorm all our favorite story books and we kept coming back to a sentimental favorite, Charlotte's Web. We read it together last summer and I loved sharing one of my treasured childhood stories with them. I adore everything about this book. I love the message that no matter how small you are you can make a big difference in the world. The friendship between Wilbur, Charlotte, and Fern is such a great example of looking past physical differences and really embracing other's diversities. The power of words is a huge theme throughout the book and I knew I wanted to use that in my look this week too. Since Charlotte's Web is such a classic book, I went with a vintage inspired look that pays tribute to that amazing spider and her friends.
For my son's look, I know he's all about comfort. I mashed a ton of my favorite patterns for one easy-to-wear classic look. For the jacket, I used my favorite raglan sweatshirt pattern, the Samson Sweater from Love Notions, and made a bomber jacket featuring welt pockets and a simple black/grey combo that can be worn long after the competition is over. I used techniques from the Ollie Bomber from Sew A Little Seam to construct it and sized up for a more relaxed fit. All of my fabric this week was provided by Raspberry Creek Fabrics. I knew I NEEDED to use the amazing spider-web print and love that I was able to get everything else there too. The jacket is fully lined in the web print and I did an inside pocket with the saying, "With the right words, you can change the world." Such an incredible message taught by such a tiny character! The t-shirt is an Oliver + S School Bus Tee with a ringer tee mod. I wanted a retro look to go with the 'Terrific' vinyl (one of the words Charlotte wrote in her web) and the slim fit of the School Bus Tee was perfect for it. The pants are modified True Bias Hudson Pants in a rayon linen blend. I really want to make myself a matching pair! I drafted fun cargo pockets because a kid can never have enough pockets- this outfit has seven which should be plenty for all his treasures!
I also need this outfit for myself too! I wanted to do a take on Fern's classic overalls and went with a modern linen version for comfort and style. I used the Linville Romper pants from Hey June as a base. I went down a size for a slimmer look and brought them in a bit as well. I trimmed the waist and drafted the waistband, bib, and pockets. I wanted these to fit for a while as well and the back drawstring closure will hopefully help these last for a few seasons. The leotard underneath is the perfect blend of some of my favorite elements of a couple of patterns. I love the fit and leg cut of the Camilla swimsuit from Made for Mermaids so I blended that with the top of the Boo! Sleeved Leotard for a great under layer. I finished this look with a self drafted headband for the perfect vintage-inspired accessory. For more pics and details of our fun outfits head over to
SewSophieLynn
.
Call Ajaire - On the Night You Were Born
I'm so happy we made it through to week two so I can share with you one of our favorite books.
On the Night You Were Born
, by Nancy Tillman is one of the sweetest board books and one we enjoyed reading over and over and over again to Bean when she was little. This book is the full package: beautiful illustrations, poetry-like writing with a perfect cadence, and a sweet story that instills confidence and wonder. When I was trying to choose a book to base this week's look on, I kept coming back to the illustrations in this favorite of ours.
In the above collage there are two excerpt pages from the book, including the polar bears dancing which is also the cover page. These two pages were my main source of inspiration, but the entire book is full of the most beautiful illustrations. The shape of those polar bears was the inspiration for the chunky, oversized tunic. I wanted that bubble shape of the lower polar bears to hover right around short dress length, but be able to be pushed up or down to create more or less of the bubble shape and be worn as a tunic. With spring right around the corner, my first design of a chunky sweatshirt (which I ADORED so you can bet it'll be a pattern I eventually release!) seemed like more of a winter design, so I opted for a jumper shape over a long sleeved top. The top has exaggerated bell sleeves, which have elastic at the ends to mimic the bubble shape of the tunic/polar bears and a mock turtleneck with a pussy bow attached to add a little more flare. To go with the tops I made a pair of gusseted leggings in this dreamy burnt orange/rust fabric I found through
Cali Fabrics
. It's super soft which is just right for my sensitive girl and the color is the exact color of that umbrella from the inspiration pic so I was thrilled when the fabric arrived. The hat is a mashup of an earwarmer and a nightcap that I drafted this winter and I'm in love with the combo. All of these designs in this look were drafted from scratch by me and I'm super excited about some impending pattern test calls as a result.
To create the look I was going for, I began with a solid white sweatshirt fleece from
Cali Fabrics
for the tunic and a microfleece for the top and then dip dyed them with a blue Rit dye. When I tested my swatches of both fabrics with the dye, I was excited to see how they each accepted the dye in a different shade since my intention was to represent many of the blues that are shown throughout the book. The top on its own (bottom right two pics) looks great with the leggings and I know we'll get lots of wear out of it before the weather turns. The pussy bow in a mustard ponte was a last minute addition (I was originally going to use a gold which would have been too much) to represent the night stars and pull the look together, rounding out the blues, white, and rust. The sweatshirt tunic will be great on its own once the weather warms a bit and my girl loves how soft and cozy it is. And of course those gusseted leggings offer comfort and a wide range of motion (not to mention great booty coverage, ahem) so they're by far my girl's favorite leggings.
I'm so pleased with how this entire look came together and so is Bean. What a fun walk down memory lane we had, reading this book and coming up with ideas for a look that both she and I would love. Please head over to
Call Ajaire
where you can find even more details about how this On the Night You Were Born look came together.
Pear Berry Lane - Arena Ready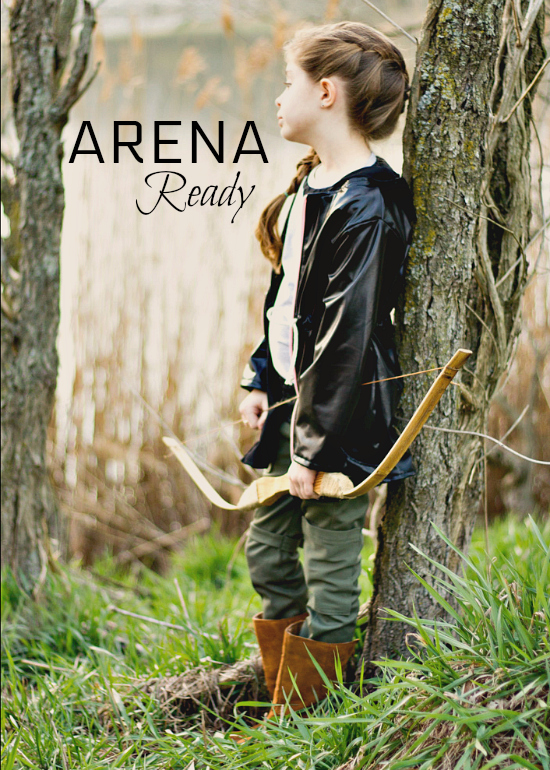 Week 2 is here. I chose a young adult novel many of you are probably familiar with... The Hunger Games. I went with this because I teach middle school (or have for the last 10-ish years) and this series is one I know my students will be sharing with their kids. It's full of action, adventure, and young people that impact their world. For my look, I created an outfit inspired by what Katniss wore in the arena during the games. I love this because in the book, Cena is a designer that actually designs what she wears in the games. I was trying to channel my inner Cena as I was tirelessly working on this look. For more details, be sure to swing by my post
here
.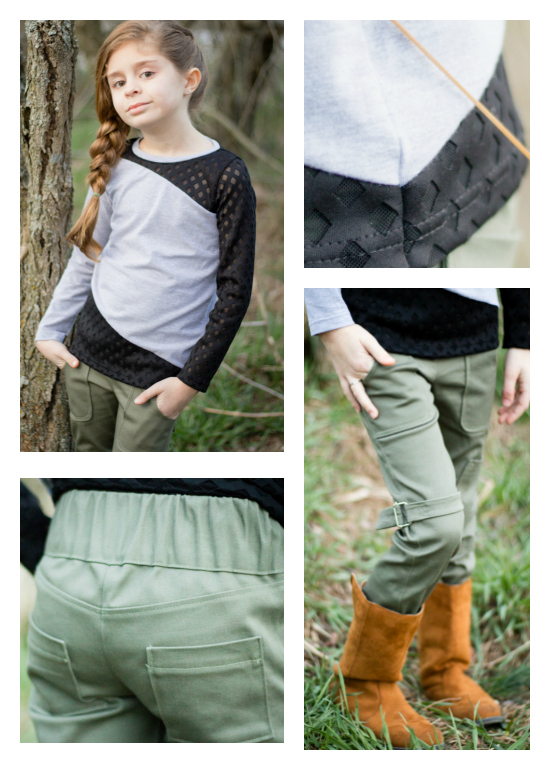 To start off my look I wanted a top that was functional and would make for a great daily wear shirt after this project was completed. I started with the Perfect 10 pattern from Little Lizard King as my base. I blocked the top and reworked the neckline to create a sleek, breathable look with some amazing athletic knit. The black knit has such a fun texture and if you look closely it is somewhat transparent. It took strategic planning to keep the pieces covering important "parts" but is also very on-trend in athletic wear right now. Next was the pants. I knew I wanted a skinny cargo style so that I could pair the look with some boots. I started with a very plain pant pattern and basically just used the inseam from the pattern. I added a yoke to the back and all the pockets (front, back, leg) are my own. I also added a strap to the leg of one side for an extra bit of fun-ctionality. If I was a military wear designer I would call this feature a built in tourniquet. The pants are by far my favorite piece of this look. They are trendy yet totally wearable for everyday. They can be paired with boots or we have rolled them up to capri length and paired with converse sneakers for a modern look.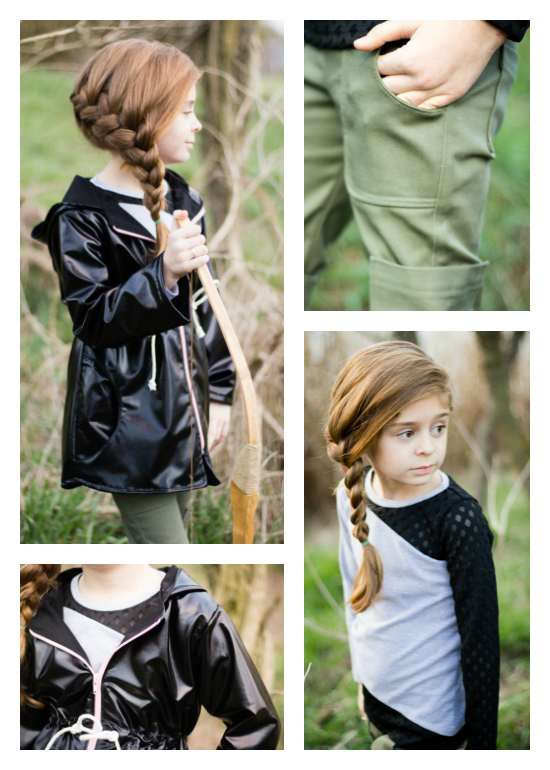 To top of the Katniss inspired look I made a raincoat. I began with the April Showers coat pattern as my base. I modified the front by removing the button placket and replacing it with a zipper front. I added the drawstring waist to give it a bit of shape. It also features a hood and a curved hemline. I'm going to share a few tips on my blog about how I survived sewing with the laminate fabric in case you're interested in tackling a project like that. Man, that fabric wasn't my favorite, but I kept on trudging through and finished. Together all these pieces feature bits of Katniss inspiration with wear-ability for the everyday girl.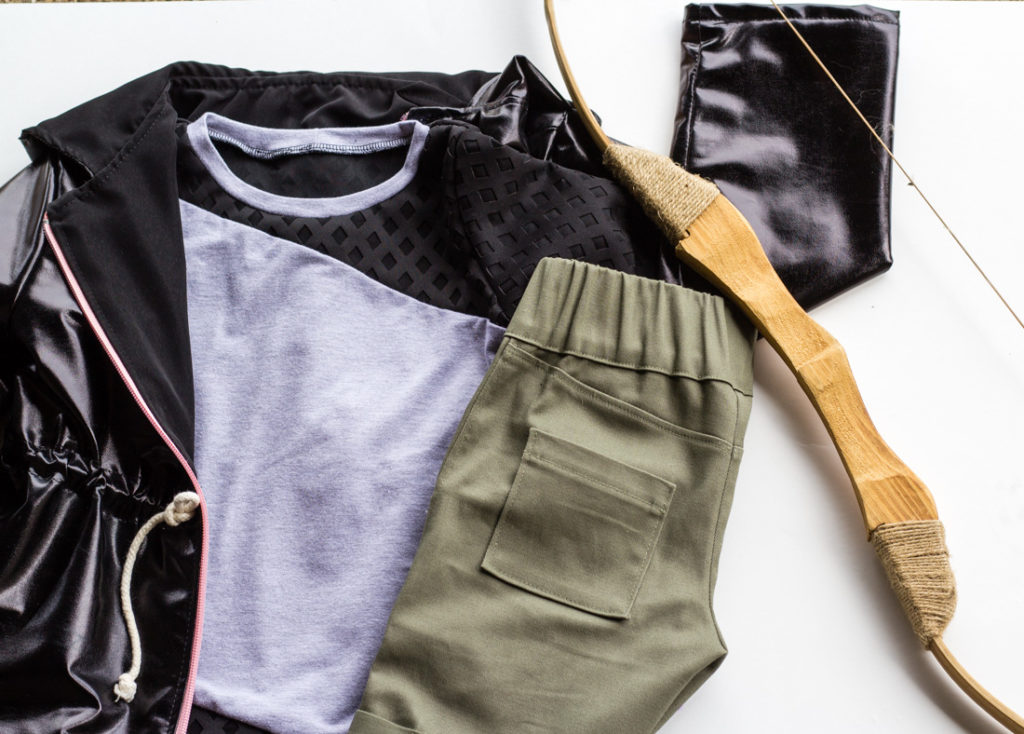 Alright everyone! Vote for your favorite Crafting A Story look. Voting starts now, and closes at 8pm EST on Thursday March 22.
One third of the designer's score is based on your vote!
One third of their score is determined by the
panel of judges
.
One third of their score is determined by this week's guest judge,
Liesl from Oliver+S!
Are you inspired to sew along? Link up your creation
here in our sew along
for a chance to win a prize!!