This week our designers were given the prompt:
Anticipating the fashions creates the perfect mouth-watering holiday aroma! What will your child be wearing to celebrate the Season?
Are you ready???
Here are their creations: (Be sure to stick around to the end of the post where you can vote for TWO of the designs!)
Mother Grimm - Festive, forage and glow
Autumn/winter is such a busy time for us with foraging for the last of the berries/hips etc and taking part in various events such as lighting up the town lantern parade, making decorations and visiting Santa in his workshop.
When I saw this Lillestoff fabric, with the lanterns, I knew it would be perfect for the seasons activities, especially the lantern making and Light up the town parade which finishes in the switching on of the towns lights and Christmas tree. Unfortunately this event doesn't take place for another couple of weeks (and it's in the dark, so there are no photos of the event - yet!) So we had our own light parade in the woods as practice.
I wanted to make the boys a new top based on some wishes and wants that have been mentioned time and time again- so with a tight deadline, it was perfect to try and fulfil those desires. They always want to take a toy (or two) on their adventures but the side pockets are never big enough for hands and toys and backpacks, which mean they don't get to hold or see the toy. I had the brainwave of a pouch type pocket from my baby wearing days - this mean they could still use the side pockets for warm hands and have another pocket to hold the toy safely(sticks, stones, feathers.....) Dad is very pleased to stop being the cart horse for everything.
The other big want was - thumbhole cuffs! They are forever losing their gloves and after seeing me wear a top with such cuffs, they decided that this was the absolute biggest want for a new top ever. As you can see they not only got a thumbs up but they could use them quite easily for foraging and other activities. I have a feeling I'll be making many more.
I decided to also have a bit of fun with the design and include chunky buttons (my favourite) and an open faced hood and top half to give a traditional look with a medieval feel. I also added a flap for over the pouch pocket so it can be closed to prevent any loss of valuables (there is an inner popper closure as well as the outer button tabs. The pouches made it much easier to forage as well for the last of the rose hips and hawthorns as the toys could hide inside the pockets. We will have fun making more ketchup and syrup in the next few weeks for gifts.
(N.B.please do not pick wild produce unless you have a clear ID and always leave 2/3 thirds for the birds etc.)
Please note for decent photos, the toys were removed. The tops are made from organic French Terry throughout. I will be looking at developing this pattern for sale in the near future as I was quite pleased with it.
As well as foraging and lantern parades, we also go to visit Santa in his workshop - a portal opens up at the local mine. You can visit the reindeer, see elves working and get to meet Santa after a guided tour of the workshop and stables! Sadly as you can see, despite peeking in the window, it still hasn't opened up yet. However we spent some time helping make Christmas decorations with Messy Church (and those thumbholes were still being used inside as well as out!)
As the hoodies are button up necks, I needed to create a top to go underneath to keep them toasty warm in the colder months. I hit on the idea of a turtleneck as it will keep the neck warm and provide a nice pop of colour when the tops are unbuttoned and hoods down. These are made from an organic cl and have a lovely drape and cosy feel. To also pair with the under tops, and for times when they will be wearing tops without hoods, I made them a pair of
Coifs from my own pattern
which are great for staying on the head in strong winds and keeping necks, ears and heads toasty warm.
For trousers, I wanted something fairly smart looking but comfortable so I used
MBJM's Twist and Shout pattern
. This is a great skinny trousers patterns and fits my slender boys so well. I used a gifted mustard needlecord from
Minerva fabrics
(many thanks) and a grey from my stash. One of the things I like about this patterns, is the top stitching elements on the pockets, legs and waistline. I decided to have a bit of fun and use a contrasting colour from the hoodies to top stitch and embroider.
One thing I love to do with matching but not matching items for the boys, is to pick out the different colours in the main printed fabric to give completely different feels and colours choices. The trousers and hood lining colours were matched as closely as possible in both outfits to give a cohesive feeling and the contrast thread used in the trousers picked out the main solids used in both tops. For the undertops, I went for complimentary colours to the trousers and main solids - but were still included in the printed fabrics colour palette. If you'd like to see more photos etc, then please visit
my blog here
.
We wish you a cool Yule! And this is how we like to spend our season - how do you like to spend yours?
Made by Jack's Mum - Christmas in the Woods
Christmas in our house means relaxation and fun. We're more the kind of family to hang around in our Christmas PJs than put on festive formal wear. This year we're spending Christmas in a woodland lodge with most of our extended family in neighbouring lodges so my look this week is based on warmth, comfort and adventure.
Jack's joggers began life as the
Four Seasons pattern
. I used a deliciously cosy brushed back sweat for warmth and comfort. I cut the front leg piece into three and added a zip pocket to one of the seams. I created a moto effect on the central piece by using a twin needle and adjusting the tension on my machine until the fabric 'tunnelled'. I added a pop of gold to the waistband as a nod to Christmas.
Jack's jacket is based on the
Park Life
pattern but I switched the original hood for the collar from the
Hygge
. I also moved the zip to create an asymmetric front. I lined the whole thing with teddy which is so squishy it makes Jack even more huggable than usual! Since we are spending Christmas in the woods I wanted to make sure the boys were well prepared and I had lots of fun equipping them with torches, compasses and carabiners
We call Jack 'Jack-Star' so as a final detail I added a large star appliqué on one side. Jack LOVES collecting things in the woods, particularly rocks and pine cones! Lots of pockets were therefore essential and there are two zip pockets on the joggers and inseam pockets on the jacket.
Charlie's sweatshirt is the
Beep Beep Raglan
- a perennial favourite thanks to the big pockets on each side. I added a little leather loop to the inside of one of these pockets to which I clipped a carabiner attached to a torch on a length of twill tape. This means Charlie will always have his torch to hand, can store it in the pocket when it's not needed and he will struggle to lose it! I created the 'Ho Ho Ho' on the front by cutting the letters from tracing paper using my Cricut, using quilting glue to attach them to the fabric and then spraying the whole thing with bleach. This resulted in a subtle but striking effect that suited the overall theme.
Charlie's joggers are based on the
High Kick Harem
pattern. I changed the pocket style from the original and added a metal eyelet to allow the addition of a carabiner and compass. I added a colour blocked strip down each outer leg seam and created an additional tiny pocket at the bottom of one leg to mirror the sweatshirt colourblocking and pockets. I used the same twin needle effect that I used on Jack's joggers on the central leg piece here.
In the summer I discovered that one branch of our extended family are MacDonalds and they were very keen for me to sew for the boys using a MacDonald tartan. I sewed up a snood for Charlie with a tartan wool as the outer and teddy for the lining. I generally make these using stretch fabrics so changed the pattern to use snaps and an elastic adjuster instead. I added another gold accent to complement the one on Jack's joggers.
I love sewing hats and the boys hate having cold ears so the
AJ Aviator
was the perfect solution! I used tweed for the outer (bought direct from the mill whilst on holiday in Scotland earlier this year) and the most luxurious faux fur for the inner.

To finish off both looks I sewed up a pair of Fireside Slippers for each boy (pattern coming later this week!) Charlie's are made from the same tweed as the hats and Jack's are made from the tartan wool of Charlie's snood. I used water resistant, non-slip fabrics for the soles and whilst they're not really intended for playing in the mud, they will be perfect for running down the paths in between the lodges as the boys dash from one set of Grandparents to the next!
A special thanks to
Minerva Crafts
who are sponsoring all the contestants in Season 22 of Project Run & Play and who provided all the cords, tapes and leather trimmings that I used this week. The boys couldn't be happier with their Christmas outfits and can't wait to get back out in the woods and start exploring!
For more photos please check out my
blog
!

Bobbins and Buttons - Vacation Exploration
I'm very excited to be here in week 2 of
Project Run and Play Season 22
. This week the theme is holiday fashion. We are heading fast towards the Christmas holidays so it seemed appropriate to design clothing for these upcoming holidays.
I'm a big believer in nurturing my children's interests, its exciting as a parent to watch different talents and interests unfold in your child. I also think its a massively important part of development and something that sits equally importantly alongside academic work. (I could write another whole post about how I used my first sewing machine aged 7 and it shaped my life forever.) When it comes to school holidays (unless we are going away) they usually comprise of various play dates, visiting family and something that incorporates their interests. My little girl is a huge bird fan, she loves everything about birds so visiting bird parks or a nature reserve for bird watching is always high on her agenda. My little boy loves dinosaurs, our local museum has life size skeletons and lots of facts so he loves this.
I wanted to work their favorite things into the designs for this entry. It was also important that the clothing would be practical and functional for changeable weather and this variety of activities.
I came up with the idea of using applique to create a scene of dinosaurs across the back of my little boys jacket moving into their modern day descendants - birds on my little girls jacket. The jackets would be teamed with layer-able co-ordinates that were comfortable and versatile.
I am in a very fortunate position that despite two years in age my kids pretty much wear the same size clothing. This style of hoody is a great unisex style so I only needed to make one pattern for both of these jackets. I cut the pattern for a longline hoody so it could act as a coat but also feel like a sweater. Both jackets are made in
French terry
and completely lined in the softest
fleece
you've ever felt. For the applique I gathered images on the computer that I could redraw as simple silhouettes. I played around with scaling the images before creating these simple patterns.
Both jackets feature welt pockets, which could have gone horribly wrong as tailoring techniques on stretch fabrics are generally tricky. I used a lightweight interfacing at the opening position to help prevent stretching. Interfacing was also essential when applying the zip to stop this stretching and making it easier to keep the seams across the body aligned.
Underneath the coats Joseph's top is a simple hack from my tried and tested t-shirt pattern. I moved the side seams further round and angled them for a slightly sporty style. The trousers are the same pattern I used from the
first entry
. I added a side panel in these and omitted the reinforced knees. The side seam stripe houses concealed pockets.
Ella's dress is a
Theodor
hack one that I will bring in more detail to my blog very soon. She is wearing it with leggings made from my
Frances
pattern.
I hope you are enjoying the competition. You can read and see more detail about this entry over on my
blog
.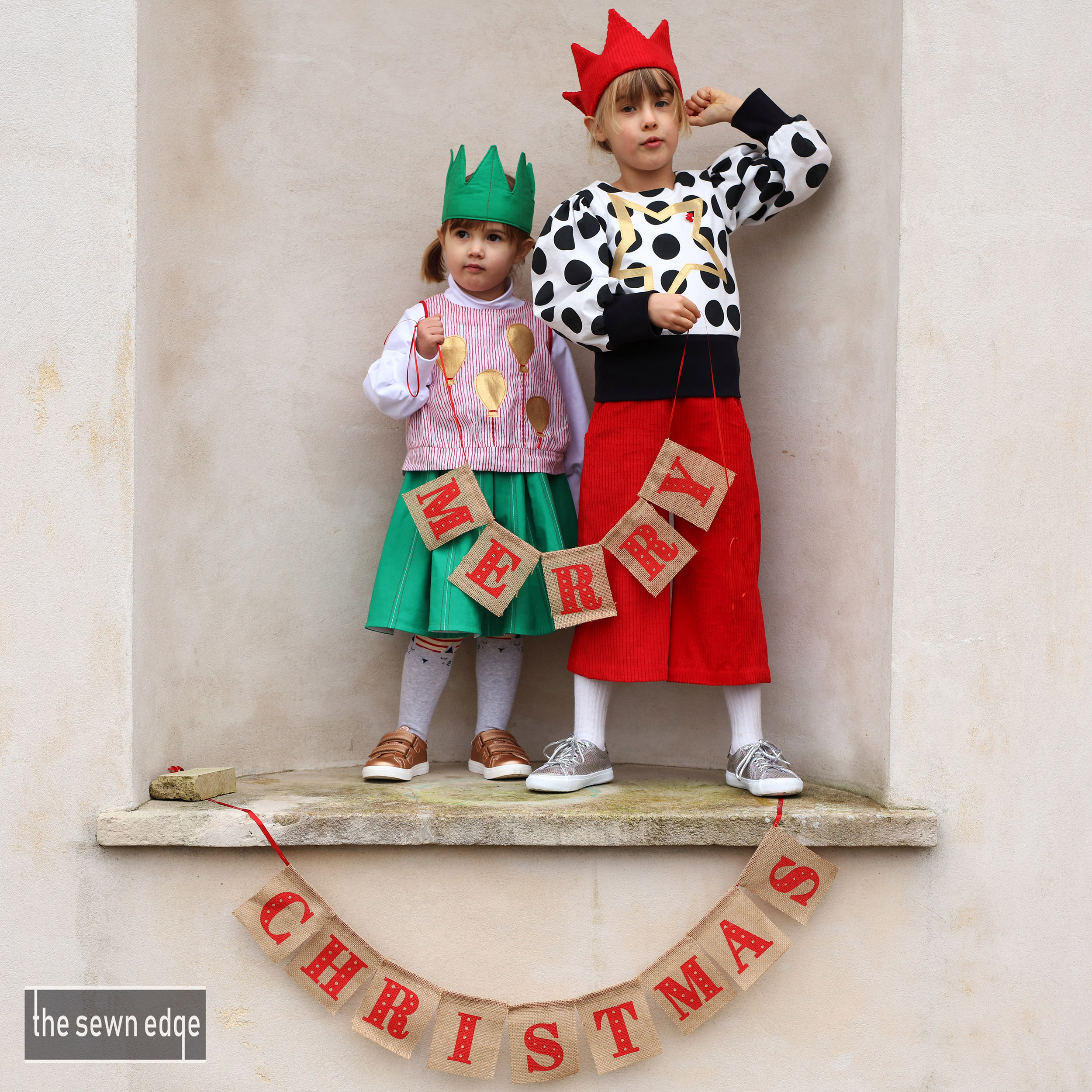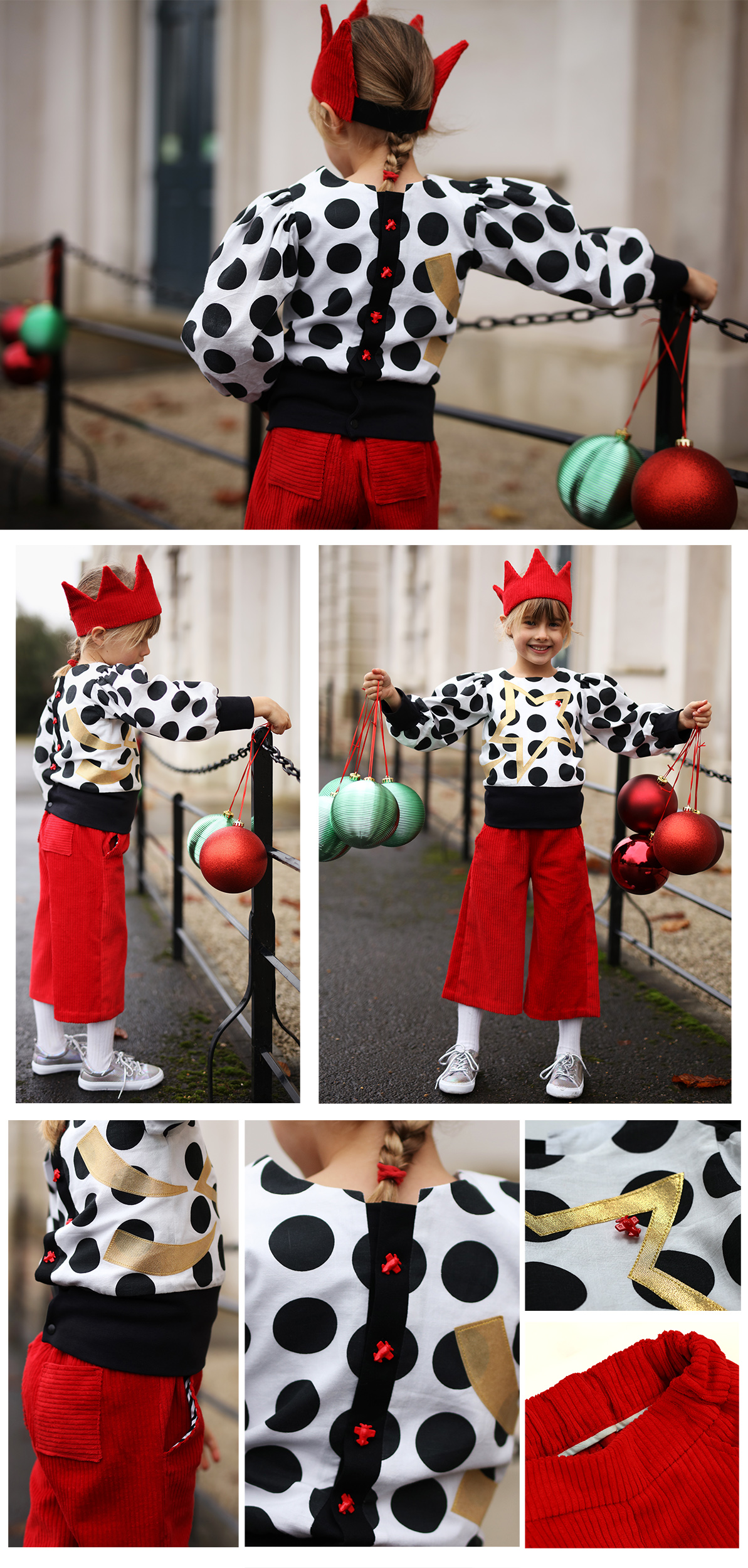 Our celebrity guest judge, Vicki from
Minerva Crafts
, has her hands full this week in judging these fan
tastic creations!
The designers scores are determined as follows:
1/3 of the score is based on YOUR vote
1/3 of the score by this week's celebrity guest judge Vicki from Minerva Crafts.